A Thong That Hides All Lines Is Blowing Up On TikTok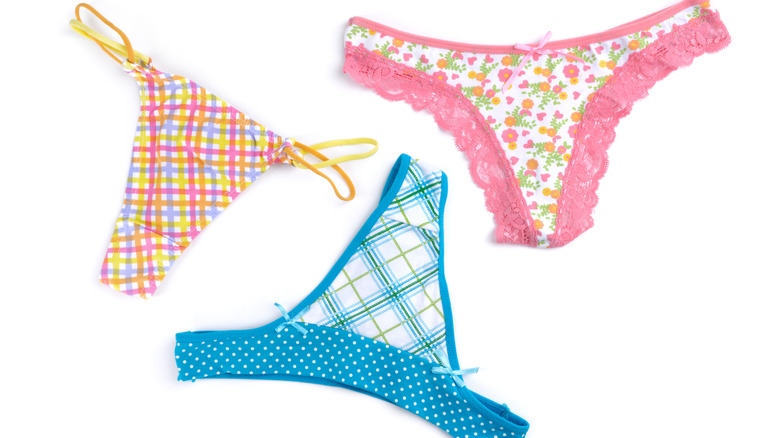 maxstockphoto/Shutterstock
We may receive a commission on purchases made from links.
If you have a vagina, chances are you've dealt with a few inconvenient things in life: periods, pap smears, pH imbalances, and yeast infections — and let's not forget the dreaded camel toe, AKA "frontal wedgie." While some people may be weirded out about discussing their reproductive organs — as evidenced by a 2016 survey by The Eve Appeal in which 65% of young women don't even like to say the word "vagina" — if you have one, chances are, there are things you're going to want to know.
The good news is that a few of the most annoying vaginal issues can be prevented. Camel toe is one of them, and that's thanks to the creation and discovery of seamless, life-changing panties. Gone are the days of unwittingly flashing the outline of your bits to the world. That's because a TikTok creator found a thong that smooths the front area and doesn't give those often-undesired panty lines. Curious about where you can get your hands on them? Luckily, we've got the lowdown.
You'll want to bust out that Amazon app, pronto
TikTok is the epicenter of countless genius discoveries, and content creator @kat.goldd is proof of that. In a hilarious TikTok video, Kat can be seen wearing a tight pair of workout pants with a seamless-looking front. "Do you think I'm wearing underwear? I don't," she said in a now-viral video that has received almost 800,000 likes. "Do you think I have a vagina? I don't. I can't see. I don't have camel toe." She then explains the miracle thong she wears: They're called Voenxe Seamless Thongs.
These thongs, which come in packs of five and are available in sizes X-Small to XX-Large, are crafted with breathable, lightweight material that blends seamlessly under any pant and doesn't ride up the crotch or roll at the top. They also absorb any sweat and moisture accumulated during your workout or daily activities, which makes them the perfect panties to wear to the gym or yoga class. When it comes to the lining, rest assured that it's made of 100% cotton for ventilated protection against bacterial growth and odor. Could you ask for anything more?
These panties blew up on TikTok, with several users giving glowing reviews. TikTok creator @makeupshayla said in a video that these thongs are the "only" panties she wears to the gym. User @megan.ringo calls these thongs her "holy grail underwear," praising them for being comfortable, inexpensive, and completely seamless.
Other ways to prevent camel toe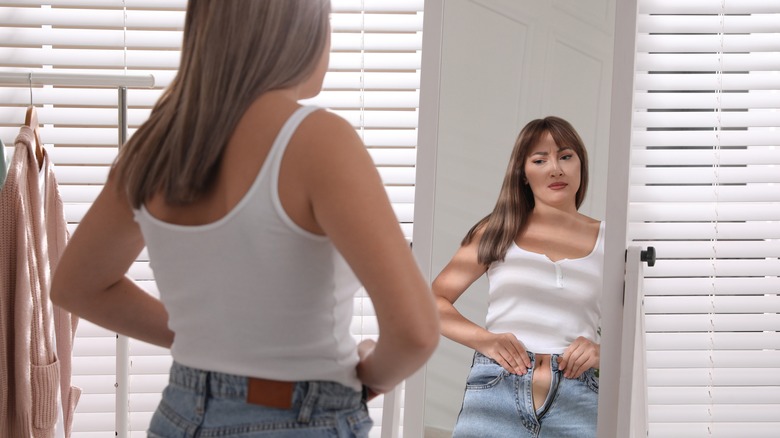 New Africa/Shutterstock
If you can't get your hands on Voenxe Seamless Thongs or have used them all up and haven't had a chance to throw them in the wash, don't fret. The good news is, there are other things you can do to prevent camel toe. A hack shared by Bustle involves placing a standard panty liner pad in your undies, which will smooth out the vagina area. This option is best for those who are wearing jeans or who don't mind panty lines. If you're in a pinch, you could even make a DIY panty liner using toilet paper, which is better if you're wearing leggings or yoga pants.
You may also be wearing pants that are a little too snug. Clothing designer Helena Young told Brit + Co, "Sometimes when women wear a lower rise or smaller fit, they try to compensate by pulling them further up on their hips, causing the fabric to wedge in the wrong places." In this case, it's best to either reach for pants with heavier fabric or choose a fit higher up on the waist so you aren't forcing them up too high. Or, you could embrace the camel toe in all its frontal glory — that works too!