The Ultimate Guide To Achieving TikTok's Viral Poolside Blue Eyeshadow Trend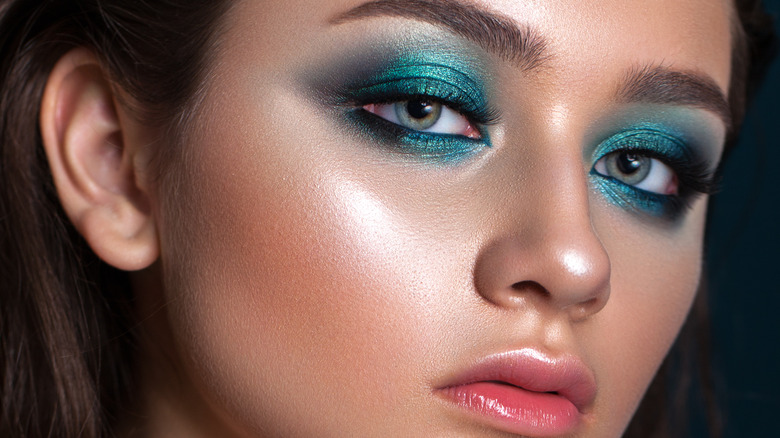 Tata Mamai/Shutterstock
Even if you truly love the cozy vibes of the fall season and fully embrace its warm color palette of oranges and browns, admit it — a part of your heart will always belong to summer. And while the weather won't always permit a pool day — depending on where in the world you live, anyway — that doesn't mean you can't embrace the cool blue waters in another way.
Don't run to your closet and whip out that bikini. Instead, reach for your makeup bag. The poolside blue eyeshadow trend sweeping the internet can be worn at any time of the year and is sure to fill the void for the next several months.
What is the poolside blue eyeshadow trend, you ask? Perhaps unsurprisingly, it centers on vivid blue eyeshadow, but It's more than that. Byrdie describes it perfectly as "a specific shade of blue that's reminiscent of makeup looks seen in Miami Beach in the '60s and '70s." Like the shimmering water of a swimming pool that catches the eye from a distance, the poolside blue eyeshadow is fun, vibrant, and the opposite of subtle. Want to know how it's done? We've got you covered.
It's all about the blue
This viral trend was shared on TikTok by beauty influencer Victoria Lyn. To create her poolside look, she used only two blue makeup products: a cream eyeshadow pomade and eyeliner. You can use any products you prefer, whether it's a classic powder shadow, cream, or eyeliner. Even a blue mascara would be a great addition to this look! Remember, there are many ways to pull off bold shadow, and luckily, this trend is no different.
The one thing you should consider, however, is keeping that blue product close to the lash line. According to Victoria, that technique makes the blue pigment more wearable and flattering. But, for the daring and playful ones, Teen Vogue recommends placing the pigment on more unconventional areas of the eyes where you usually wouldn't see blue shadow — think the inner corners or bottom of the lash line.
For extra vibrant pigmentation, apply a blue pomade or cream shadow on the lid. This can be worn alone or with blue powder eyeshadow on top. For a dramatic wing, use a blue liner instead of black to make the blue the focal point of the look. Apply the blue shadow on the bottom lash line, and feel free to pop on a false lash or coat it with blue mascara. And don't forget a shimmer shadow on top to mimic the look of a glistening pool!
What shade of blue looks best on you?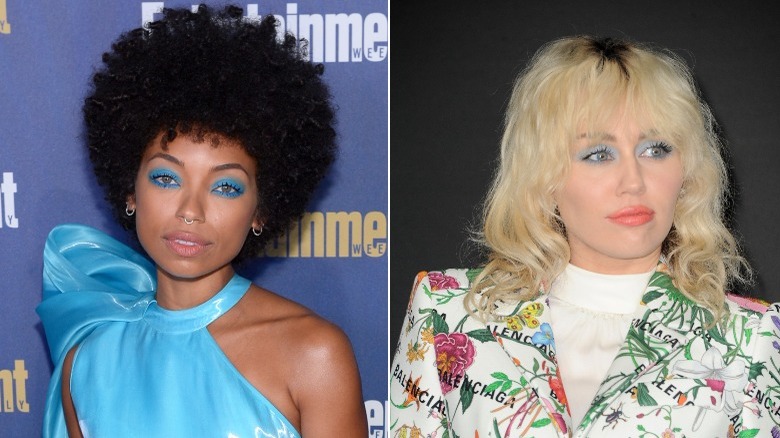 Tinseltown/Shutterstock & Andrew Toth/Getty
Blue eyeshadow is like a classic red lipstick — not everyone believes they can pull it off. We're here to tell you otherwise! The poolside blue eyeshadow trend relies heavily on various shades of aqua blue, but you could incorporate any shade of blue into this look. What is the right shade for you? You can figure that out by simply knowing your eye color.
For blue-eyed beauties, L'Oréal Paris recommends choosing a shade that's darker than the color of your eyes, as you want them to pop, not blend in. Opt for a deep eyeshadow color reminiscent of sapphire for those with green eyes. Hazel-eyed folks can reach for an aqua blue shade to compliment the various tones of green and brown in your eyes. And if you have brown eyes, you're in luck! Your eyes are sure to stand out with any shade of blue.
Regardless of the shade you go with, the poolside blue eyeshadow trend works best when everything on the eye is blue. So, put all other colors down and focus on the hues that will quench your thirst for a gorgeous look.