Sarah Ferguson Refutes Rumors About Her Involvement With Netflix's The Crown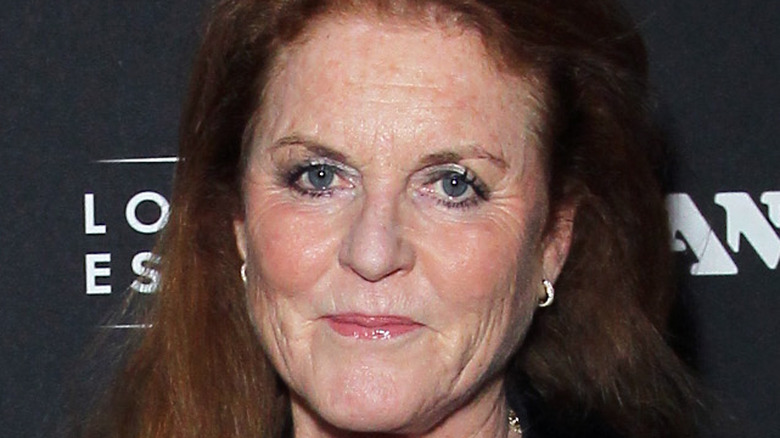 David M. Benett/Getty Images
Fans of the Netflix hit "The Crown," are counting down the days until November 9, when Season 5 leads viewers into the turbulent 1990s (via Radio Times). With its depiction of numerous individuals who are still living, "The Crown" is creating considerable drama off-screen. A spokesman for former Prime Minister Sir John Major released a statement calling the show "a barrel-load of nonsense peddled for no other reason than to provide maximum — and entirely false — dramatic impact," according to The Times.
In contrast, Sarah Ferguson, Duchess of York would like to see her life depicted in greater detail. "Hello? Where is Fergie?" she told Town & Country, referencing her TV counterpart's brief appearances in Season 4. She mentioned contacting the show's executive producer Andy Harries. "I said to him, 'Why can't I help my character?'"
Despite the lack of screen time in Season 4, the duchess is an enthusiastic fan of the show. "The cinematography was excellent," Ferguson told Us Weekly. "I loved the way they put my wedding in as well."
Recently a source from "The Crown's" production company claimed Ferguson's involvement with the show went beyond jokes and admiration. "'She made repeated contact via emails and on the phone," the source told the Daily Mail. "She offered advice and background information and said that she had an inside view which would make her invaluable to the show as a consultant." Now Ferguson is setting the record straight on her relationship with Netflix's fictional royal drama.
Sarah Ferguson wanted one of The Crown's producers to adapt her novel for TV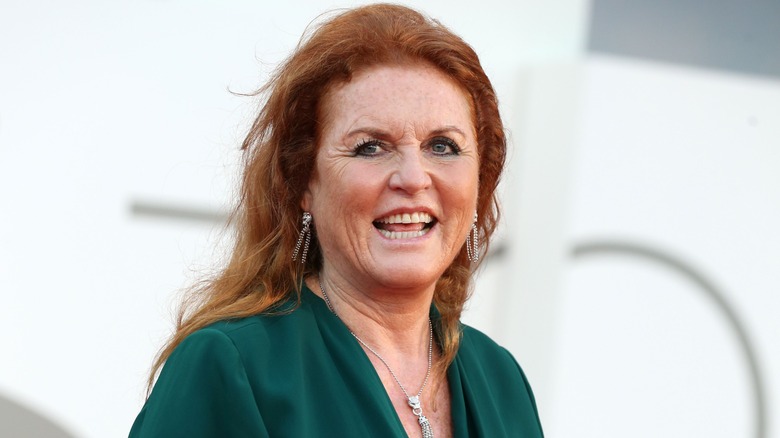 Elisabetta A. Villa/Getty Images
A spokesman for Sarah Ferguson clarified the situation between the Duchess of York and "The Crown." "The Duchess was in contact with Andy Harries, who produces 'The Crown,' last year and they had a discussion about adapting her novel, 'Her Heart For A Compass,' into a TV series," the spokesman told the Daily Mail. "They did not discuss 'The Crown,' or any idea of her helping with the series in any way. Such a suggestion was made separately at one point by a mutual friend, but was not progressed by either side."
"Her Heart for a Compass," Ferguson's first novel, is a historical romance about one of her ancestors, Lady Margaret Montagu Douglas Scott (via The Guardian). In August 2021, the duchess told BBC Radio 4 that she and Harries were talking about her book's screenplay. "I have known Andy Harries and (I spoke to) a great friend of mine who worked with [him] a long time ago," Ferguson said, per The Telegraph. "I said to her, 'Oh, I'd love to get Andy to look at Lady Margaret and then while I'm asking him about it maybe I could say Julianne Moore should play me.'"
Based on her spokesperson's statement, it appears that the duchess did not make her casting request about Julianne Moore. In addition, according to Today, actor Emma Laird Craig will be portraying Ferguson in "The Crown" Season 5.
The Duchess of York is a director as well as an author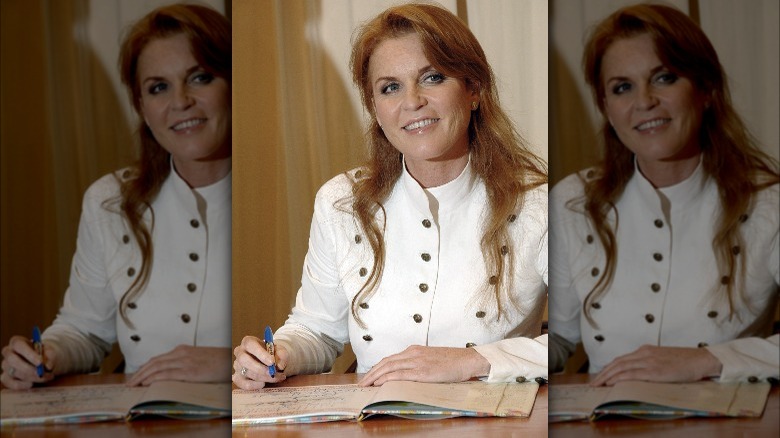 Everett Collection/Shutterstock
In addition to her novel, "Her Heart for a Compass," Sarah Ferguson, Duchess of York continues Lady Margaret Montagu Douglas Scott's adventures in her upcoming novel, "A Most Intriguing Lady," per Harper Collins. However, prior to writing historical romances, the duchess wrote children's books, creating characters like Budgie the Little Helicopter and Little Red (via Mirror).
Ferguson has also pursued TV and film opportunities. Ferguson appeared on the TV show "Friends," and "The Vicar of Dibley," per IMDb. Behind the scenes, she has served as a producer for the films "The Young Victoria" and "Fagara."
"Cinematography is my middle name, and I am a director . . . Would I think the cinematography of The Crown is totally genius? Yes, I think it is," Ferguson told BBC Radio 4, per The Telegraph. After calling "The Crown" producer Andy Harries a "genius director," she added, "And would I want Andy Harries to direct Lady Margaret? 100 percent yes."
As a director, the duchess launched "Story Time with Fergie and Friends" on her YouTube channel. Launched during the lockdown days of 2020, Ferguson, her daughters, and other presenters read children's stories aloud onscreen, per Tatler. To get into character, the duchess frequently dons a costume, such as Little Red Riding Hood's iconic red cape. In her Halloween episode, Ferguson sports an insect antennae headband while reading "Grandma is Probably Not a Witch" in a spooky voice.