TikTok's Winter Blush Trend Is The Key To Snow-Bunny Beauty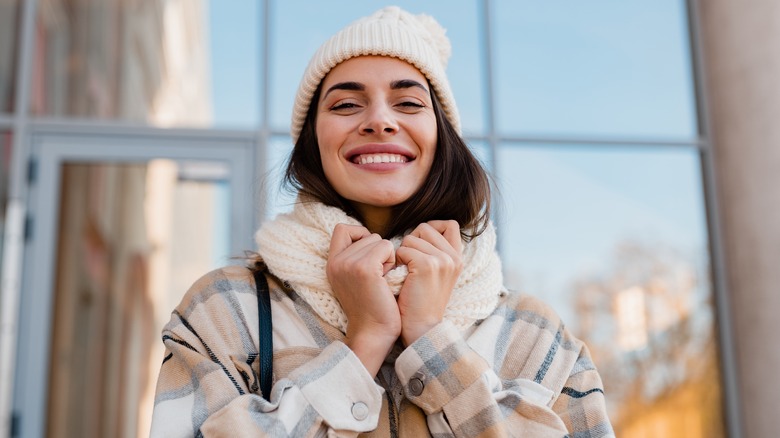 Maria Markevich/Shutterstock
Winter is coming, which means it's time to grab your coat and boots, drink some hot cocoa and fully embrace the holiday spirit. With every season, new beauty and fashion trends come to be, and this season is no exception. Now flooding our "For You" Tiktok pages, the "I'm Cold" makeup is rapidly becoming the "It" look for this winter, and for a good reason, it's absolutely stunning.
As the name implies, this makeup style takes inspiration from the rosy cheeks we get when we are in an environment with low temperatures. "There are ways you can do your makeup to make people feel things, like give them serotonin like a Hallmark movie," makeup influencer Zoe Kim Kenealy said in her viral makeup tutorial. "We're making ourselves look cold!" This cute and sweet makeup is sure to give people a serotonin rush. Here is a step-by-step on how to replicate this dreamy look.
Achieve this winter look in 3 simple steps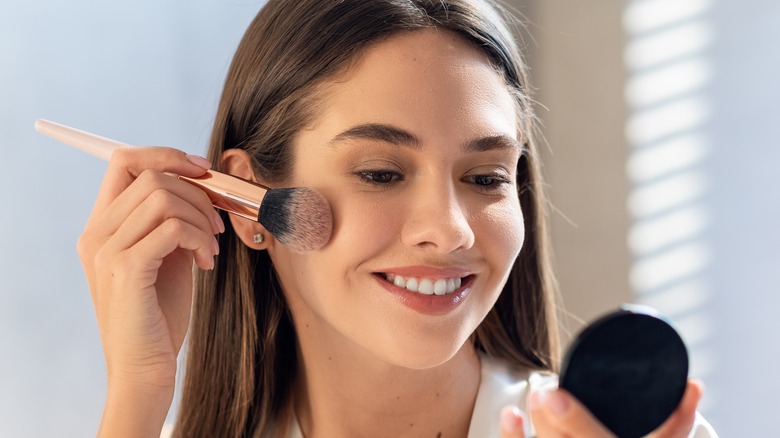 Prostock-studio/Shutterstock
According to makeup influencer Zoe Kim Kenealy, the key to achieving a perfect "I'm Cold" look is making every part of your face look as matte as possible. First, start off by applying a matte makeup primer to remove any glow from your face. Consider Maybelline Face Studio Master Prime Primer, which was named the best overall mattifying primer of 2022 by InStyle. Then, apply the star product of this look: a pigment-rich blush. Kenealy recommends layering pink and orange blushes across your cheeks and nose areas, but it's up to you to choose what blush shade works best with your skin. Not sure what shade suits you best? Try Youthforia Color Changing Blush Oil which reacts with your skin's pH to create the perfect shade for you, recommended by Glamour. You can opt to use the same blush to give your eyelids just a little bit of color. You may also apply setting powder at this point to mattify the look and make it look realistic.
Finally, it's time for the lips. Continuing with the matte feel, choose a fall-vibe matte lipstick that makes your lips pop without overshadowing your blushed cheeks. Here are some options: Uoma Beauty Badass Icon Matte Lipstick, Sunnies Face Fluffmatte, and Maybelline New York Color Sensational Ultimatte Slim Lipstick, all recommended by Allure.