This Is How Long Reed Diffusers Really Last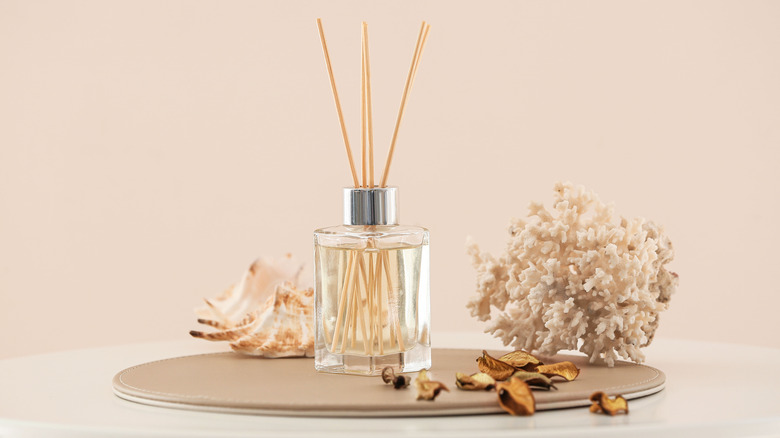 Pixel-Shot/Shutterstock
There's nothing better than relaxing at home with a good book or a warm cup of tea and breathing in deeply, inhaling your favorite scent. While many use candles to make their home smell pleasant, reed diffusers are an alternative that provides a consistent aroma without flames and smoke. Many reed diffusers are also made with essential oils, which don't have a lot of the harmful ingredients that can be found in some fragrances and air fresheners.
According to Whole Home Scenting, simple reed diffusers are composed of three different things: a glass jar or bottle, wooden sticks or reeds, and essential oils or a liquid fragrance blend. The porous reeds are placed into the fragrance and the oil travels up the stick. By placing the reeds to face various angles, the scent is allowed to spread in different directions in the room.
But while the idea of having a nice smell constantly wafting through your home is nice, how long can you actually count on the fragrance lasting?
How long do reed diffusers last?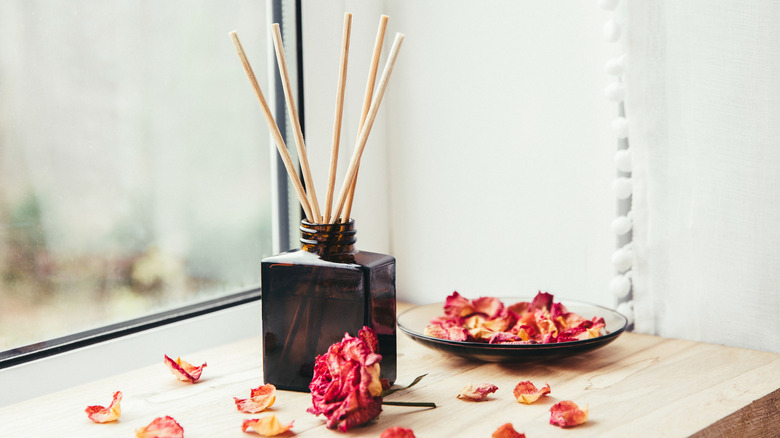 FotoHelin/Shutterstock
The short answer is that they can last anywhere from one to six months, according to Harlem Candle Company. All of this boils down to certain factors such as the quality of your diffuser, the number of reeds you've placed in the jar, and how you take care of it.
To increase the lifespan of your reed diffuser, The Olfactiv recommends not placing your diffuser next to heaters or radiators. Heat distributes scent more quickly than cold does, so the fragrance in your diffuser will be used up at a faster rate. You can also flip the reeds less and decrease the number of reeds you use in your diffuser, per Homesick. While flipping the reeds helps to ensure that your diffuser is always emitting a strong enough scent, if you prefer longevity over strength, you can move them less. Using fewer reeds makes sure that there are fewer channels through which the oil is traveling.
According to Feather & Black, to get the most out of the scent being wafted around, place the diffuser in a high-traffic area where the constant motion will help the scent travel.
What are the longest-lasting reed diffusers?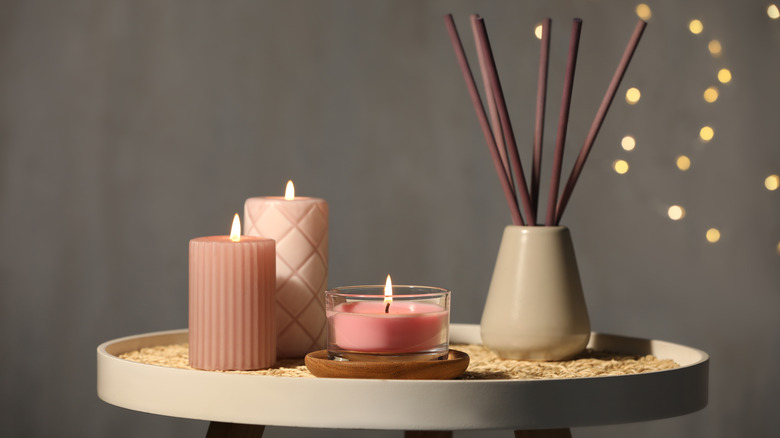 New Africa/Shutterstock
While following the tips above will help your diffuser last longer, the quality of the diffuser itself factors into its staying power. Brooklyn Candle Studio Room Perfume Reed Diffusers are 4.4 ounces and come with eight reed sticks. Their fragrance lasts for four to five months and comes in various scent profiles such as gourmand-spice and fruit-earthy.
Voluspa Home Ambience Diffusers double as a fragrance and as a home decor piece. The hand-poured diffusers come in textured glass jars with a floral design. They last for four to six months and come with strong, yet lightweight, rattan reeds. These are the most popular option for reed diffusers, according to Reed Diffuser Shop. Their best-selling diffuser, Baltic Amber, has notes of amber resin, sandalwood, cedar, and vanilla orchid.
Known for its perfumes and candles, NEST New York is now dominating the world of reed diffusers. Available in over 20 scents, NEST diffusers last up to four months. The bottles, which are etched with frosted stripes, are 5.9 fl. oz. and come with eight reeds.