The Soap Opera That A Cozy Christmas Inn Star David O'Donnell Was In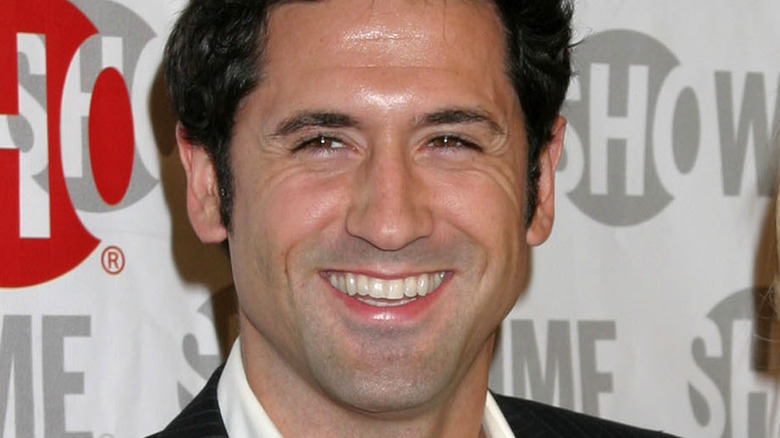 carrie-nelson/Shutterstock
Hallmark's festive lineup of 2022 holiday films features many familiar faces. Take, for example, "A Cozy Christmas," starring veteran actors Jodie Sweetin and David O'Donnell. 
Like "Full House" star Sweetin, O'Donnell was also a '90s TV mainstay, appearing on shows such as "NYPD Blue," "7th Heaven," and "Sabrina the Teenage Witch." Over the years, he's worked in various genres including action, disaster movies, science fiction, crime dramas, and, of course, holiday movies. O'Donnell has been in some of the best Hallmark Christmas movies, including "Christmas Under Wraps," in which he starred opposite another "Full House" star, Candace Cameron Bure. 
Joining O'Donnell in his festive foray into holiday films is his wife, Jennifer Aspen. O'Donnell married Aspen in 2006. Together, the couple co-produced the 2019 Hallmark film "A Christmas Love Story," which stars Kristin Chenoweth and Scott Wolf with Aspen in a smaller role. 
O'Donnell has dabbled in many genres and is clearly multi-talented, but it is not widely known that he's also had a brief dalliance with soap operas.
David O'Donnell had a brief role on a beloved soap
David O'Donnell starred in one of his first Christmas movies, "A Christmas Proposal," in 2008. While the film aired on Lifetime, not Hallmark, it helped establish him as a holiday star. He also briefly appeared in a soap opera that year; according to IMDb, he played a character named Mark on "Days of Our Lives" in two episodes, one that aired in 2008 and one that aired in 2009. Per Soap Central, the character of Mark was a therapist to whom Lexie Carver (Renee Jones) took her son Theo Carver (Terrell Ransom, Jr.). 
O'Donnell was also in a 1998 episode of the primetime soap "Melrose Place," in which he played the despicable Kent Damarr in the episode "When Cheerleaders Attack." Kent attacked Amanda Woodward (Heather Locklear) in a high school football stadium and her friend Eve Cleary (Rena Sofer) rushed to Amanda's aid, knocking Kent off the bleachers to his death (via Episode Guides). 
As Soaps She Knows reports, many soap stars have joined the Hallmark holiday film family. While O'Donnell's time in soaps was brief, he can still count himself as part of that number. O'Donnell is happy to be involved both in front of and behind the camera, revealing on the Hallmark Channel's show "Home & Family" that he enjoys producing and acting equally. In "A Cozy Christmas Inn," he gets to do both (via IMDb).
A Cozy Christmas Inn is a treat for all
In the new Hallmark Channel film "A Cozy Christmas Inn," David O'Donnell is not only a co-executive producer but also reprises his "Christmas Under Wraps" character, Andy Holliday. According to CheatSheet, "A Cozy Christmas Inn" is a sequel to "Christmas Under Wraps." In the first film, Andy moves to Garland, Alaska, where his father, Frank Holliday (Brian Doyle-Murray), lives. He falls in love with a doctor named Lauren Brunell (Candace Cameron Bure) who has been waiting for a big-city fellowship, doesn't get it, and falls in love with Andy and the town of Garland.
In the sequel, Lauren has left Garland and Andy has refurbished a hotel called The Garland Inn. Jodie Sweetin plays Erika McNicoll, a real estate agent sent by her boss to acquire the inn. Erika has no idea that her college boyfriend Andy owns the inn. Erika must decide whether coercing Andy to sell the inn that he put his heart and soul into is worth the job promotion she's been promised.
"A Cozy Christmas Inn" has a great secret, and will warm the hearts of audiences everywhere.