Celebrities You Didn't Know Used A Surrogate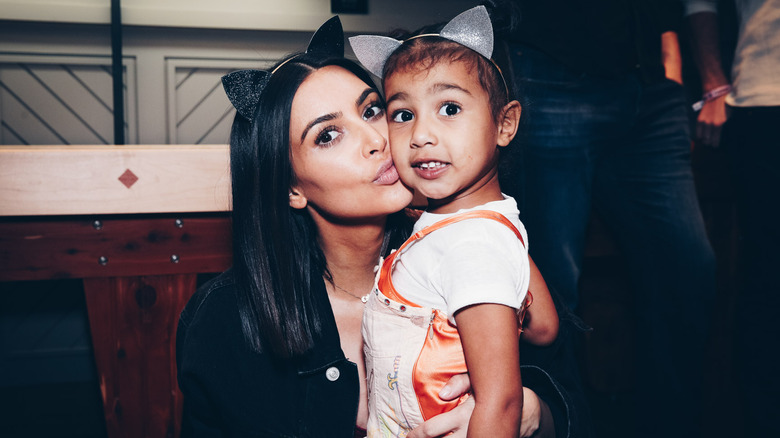 Getty Images
According to Time, surrogacy first got its start when, due to multiple sclerosis, a woman by the name of Elizabeth Stern was unable to carry a pregnancy to term. Stern, a pediatrician, along with her biochemist husband, paid a woman $10,000 to bear them a child via artificial insemination.
When surrogacy first began, artificial insemination was the preferred method, Time explained. This meant the surrogate's own egg was used and, therefore, was genetically linked to the fetus. However, technology has advanced and in vitro fertilization (IVF) was successfully introduced leading to "gestational surrogacy." This eliminated the genetic link because the surrogate carries a fetus implanted with an embryo made from both donor sperm and egg. This type of surrogacy is highly recommended by experts and the method chosen by — you guessed it — Kim Kardashian West. She may have propelled surrogacy into the mainstream, but Kardashian West was certainly not the first, nor will she be the last, to pursue this method. 
Here are some other celebrities who have chosen gestational surrogacy for their own children.
One of America's top models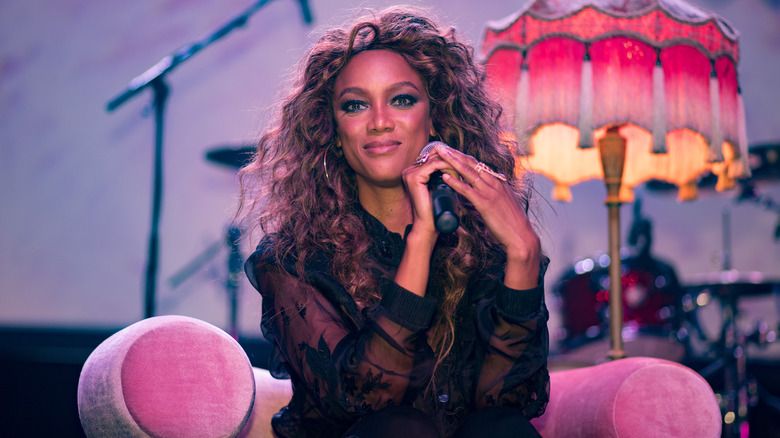 Getty Images
Tyra Banks' professional achievements are astounding — former supermodel, the first woman of color to grace the cover of Sports Illustrated, phenomenal host of America's Next Top Model — the list goes on an on. Nevertheless, Banks struggled for many years in her personal life. The woman who taught the world to "smize" teared up when telling People about her struggle with infertility. 
"When I turned 40, the one thing I was not happy about is that I did not have kids," she explained. "Since I was 24, I used to say every year, 'I will have kids in three years.' I kept saying it over and over again ... I kept trying to find that time for that to happen." Banks eventually did try for a baby, but unfortunately it was unsuccessful. Banks later pursued IVF but deemed the experience "very traumatic" and decided to end treatment. She added, "It's difficult as you get older. It's not something that can just happen."
Fortunately, Banks was able to have a baby by way of a gestational surrogate. In January 2016, Banks announced on Instagram, "The best present we worked and prayed so hard for is finally here. He's got my fingers and big eyes and his daddy Erik's mouth and chin. As we thank the angel of a woman that carried our miracle baby boy for us, we pray for everyone who struggles to reach this joyous milestone. York Banks Asla, welcome to the world."
Another famous Mrs. Banks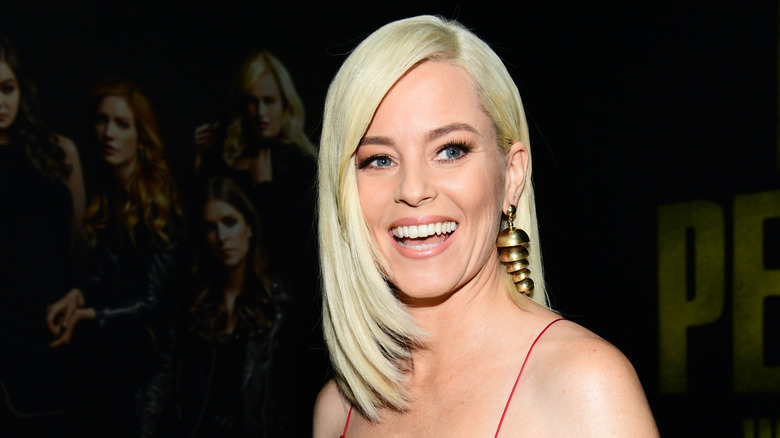 Getty Images
Funny woman Elizabeth Banks, perhaps best known for her roles in Pitch Perfect and Hunger Games, had two children via gestational surrogacy. According to People, Banks shared on her now inactive blog, "As 2012 winds down and Thanksgiving approaches, I have much for which to be thankful ... However, nothing can match the joy and excitement my husband and I felt when we recently welcomed our second baby boy." Banks continued, "Like [older brother] Felix, Magnus was born via gestational surrogate. This experience has exceeded all expectations, taught us a great deal about generosity and gratitude, and established a relationship that will last a lifetime."
Why did Banks decide to pursue surrogacy? On account of a "broken belly," Banks explained in another blog post, calling it "the one true hurdle [she's] faced in life." She continued, "After years of trying to get pregnant, exploring the range of fertility treatments, all unsuccessful, our journey led us to gestational surrogacy." Being the hilarious woman she is, she explained the process of surrogacy with a sense of humor, "[W]e make a 'baby cake' and bake it in another woman's 'oven'."
Congratulations on your two "baby cakes," Banks!
It takes two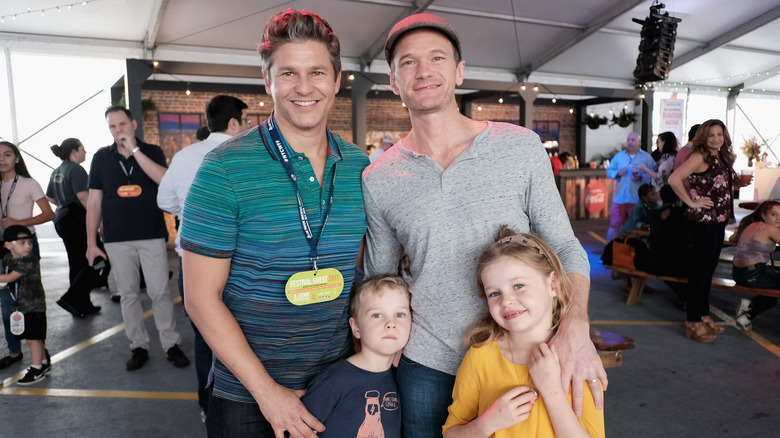 Getty Images
After being together for nearly ten years, actors Neil Patrick Harris and David Burtka tied the knot in September of 2014. Just shy of four years earlier, Harris and Burtka welcomed two children, twins Gideon and Harper, into their home. One child has Burtka's DNA and the other, Harris'. Burtka explained the process to Wendy Williams when interviewed on her show, "We decided to have kids and it's a lot harder for gay guys, although we tried." Burtka smiled and continued, "There was two different women involved. There was an egg donor, a really wonderful woman who was anonymous, and we took two of our best guys and implanted them into her egg — two different eggs — and then implanted them into another woman, so a surrogate who just carried the baby."
Although Harris and Burtka decided not to find out who shared DNA with whom, they have a hunch. "The girl is, I think, mine. And the boy is his. He's [Gideon] a little more heady and a little more intellectual, sort of needs to read people, where she's [Harper] just like, 'Hey everybody! I'm here!'"
Burtka also shared some photographs of the amazing playroom he and Harris added to the basement of their New York City abode. It's not just any run of the mill playroom, of course. Instead, it features swings, trapeze, a puppet-theatre, and even a rock-climbing wall. House goals, much?
Surrogacy and the City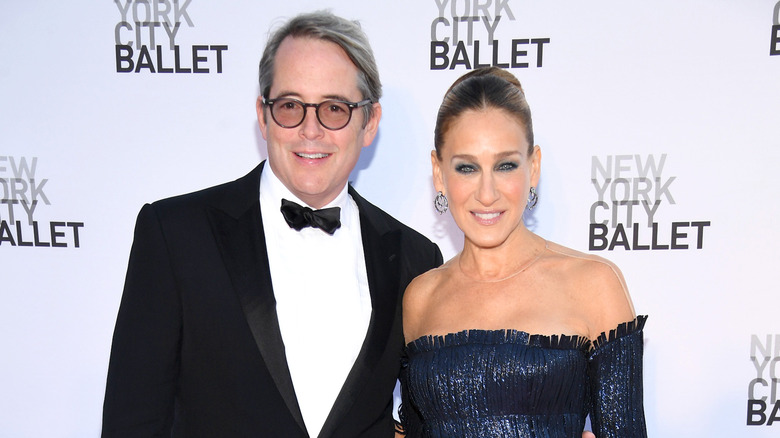 Getty Images
Sarah Jessica Parker is quite different from her Sex and the City character Carrie Bradshaw — especially regarding her stance on children. The topic of children, and even surrogacy, actually comes up in Sex and the City 2. At a wedding, a couple tells Carrie and John "Mr. Big" Preston that they're expecting a baby via surrogate, adding, "If you need the name of a surrogate service, ours is flawless." Carrie replies, "Oh, no thanks. It's not a surrogate situation, we're just not having children." Later, Carrie adds, "We love them, it's just not for us."
While Carrie may, in fact, be childfree, Parker is not. In an interview with Access Hollywood, she explained, "[W]e've been trying to expand our family for a number of years and we actually have explored a variety of ways of doing so. [Surrogacy] was one of the things we discussed with seriousness that had real possibilities for us." 
When asked if she was disappointed about her fertility struggles, Parker responded, "Yeah, I mean, I couldn't pretend otherwise ... It would be odd to have made this choice if I was able to, you know, have successful pregnancies since my son's birth." Parker's first child with Matthew Broderick was excited to become a big brother all the same. In 2009, despite the turmoil that ensued when the surrogate's identity was outed, Parker and Broderick welcomed home two healthy baby girls, Marion Loretta Elwell Broderick and Tabitha Hodge Broderick.
It was all about having Faith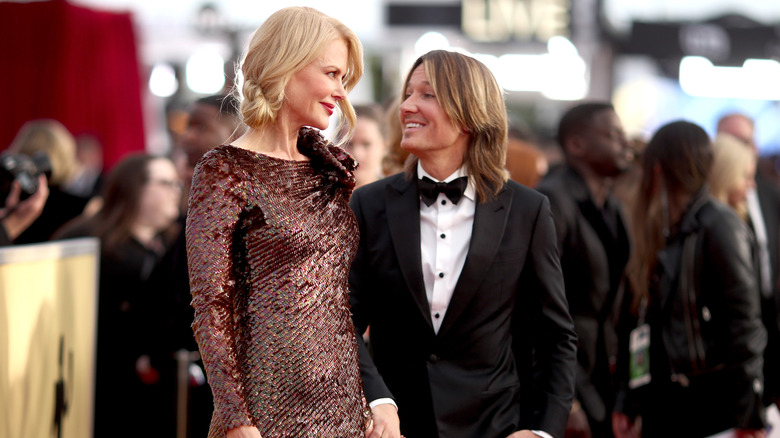 Getty Images
According to People, nearly two years after marrying Keith Urban, Nicole Kidman gave birth for the first time to a baby girl, Sunday Rose, at 41 years of age. Kidman also has two adopted children with ex-husband Tom Cruise. In 2010, two years after Sunday was born, Kidman and Urban also welcomed home another baby girl, Faith Margaret. While Faith is the biological daughter of both Kidman and Urban, she was born by way of a surrogate.
Kidman sat down with 60 Minutes Australia and shared why she decided on surrogacy, "We were in a place of desperately wanting another child and this opportunity arose for us, and I couldn't get pregnant, and we wanted another baby." Kidman teared up when talking about the woman who carried baby Faith. 
In a statement provided to People, the couple wrote, "Our family is truly blessed, and just so thankful, to have been given the gift of baby Faith Margaret. No words can adequately convey the incredible gratitude that we feel for everyone who was so supportive throughout this process, in particular our gestational carrier."
Turning "negatives into positives"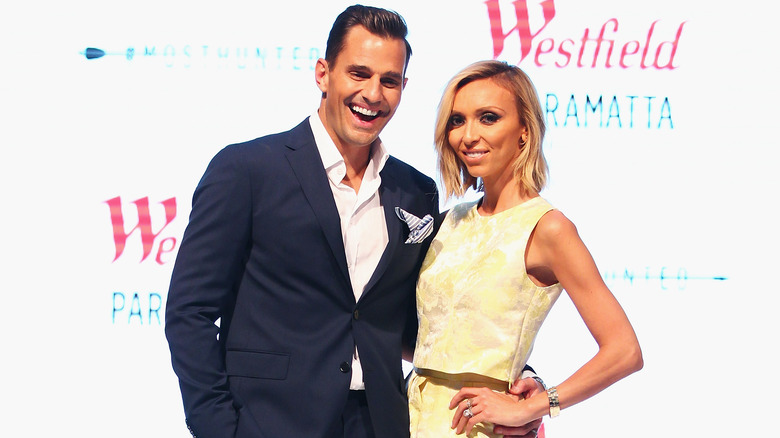 Getty Images
E! News anchor and former reality star Giuliana Rancic is often all smiles, but she has experienced some difficult times in her personal life. Today recapped her attempts to conceive with her husband, and fellow former reality star, Bill in a 2012 interview. While dealing with infertility, Rancic was also diagnosed with breast cancer. She underwent a double mastectomy but continued to hold out hope for a baby. In time, her dream came true. 
Rancic was able to announce on Today, "We are finally having a baby! Finally! After years of trying." Bill explained, "It's our embryo and we're using a gestational carrier to help bring it to term." Rancic beamed when sharing what it was like to find out their surrogate was pregnant. "It was pretty much one of the best moments of my life, if not the best moment of my life," she said. Later, Bill added, "Whether it's with the infertility issues, whether it's with the breast cancer, we said we're gonna turn these negatives into positives. And if we can help others by sharing our story, then it's worth it."
Just a few months after their interview, Bill tweeted the birth announcement, "The 'Duke' has landed! Edward Duke Rancic was welcomed into the world last night at 7lbs 4oz. G & I feel blessed beyond words...We did it!"
The funny man of Late Night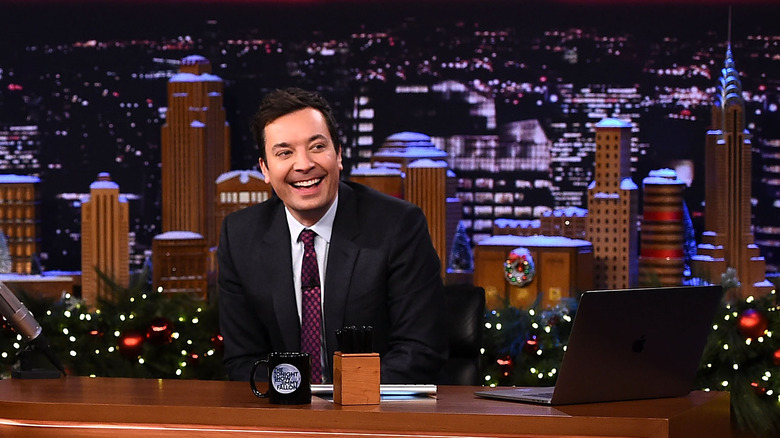 Getty Images
Unlike many of the celebrities who chose to announce that they were expecting via surrogate, Jimmy Fallon kept mum. It wasn't until the baby, Winnie Rose, was born that Fallon announced he and his wife were to be parents. 
He explained to Today, "We said, 'We're not going to tell anybody.' It'd be just more fun if it's just private between me and my wife. And then we get to introduce her to everybody." How's that for a surprise? Fallon also said in the interview, "My wife and I had been trying a while to have a baby. We tried a bunch of things — so we had a surrogate."
The following year, Us Weekly reported that the hilarious former host of Late Night and his wife Nancy welcomed another baby girl, Frances Cole, via surrogate. With Fallon's gig as host of The Tonight Show and as the father of two little girls just a year and a half apart, he must have his hands full. Though, if they're anything like their father, they probably already have his killer sense of humor and can use it to get out of all sorts of trouble.
How wonderful his life is now that they're in the world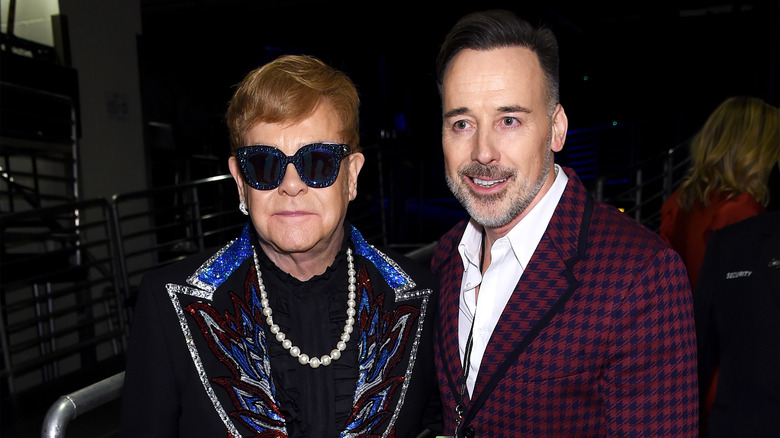 Getty Images
For years, Sir Elton John protested against having children. He explained to The New York Times that he and his husband David had discussed the topic in the past, but with his career he didn't think it could work. That all changed, however, when he and David went to an orphanage in Ukraine. 
He explained, "[T]his little boy followed me around. I picked him up and he was so beautiful and so, so touching. He just clung to me." John, along with his spouse, attempted to adopt the child, but as he explained, "the laws in the Ukraine are so draconian. It's an ex-communist country." He added, "I was a gay man, David was gay. So that meant we couldn't adopt him."
Still, the couple persisted for over a year. Ultimately, they were unable to adopt the boy but made sure he, along with his half-brother, got out of the orphanage and into a home with their grandmother. John called the experience "kismet" as it led them to have children, albeit another way. "We decided to go the surrogacy route and have children of our own. The dominoes fell very quickly. We had Zachary 6 years ago in December and then Elijah 4 years ago in January. It was only through fate, really. This little boy, if we hadn't have met him, we'd never have had children."
Hope they don't mind when he serenades them with "Your Song."
A baby after seven years of failed fertility treatments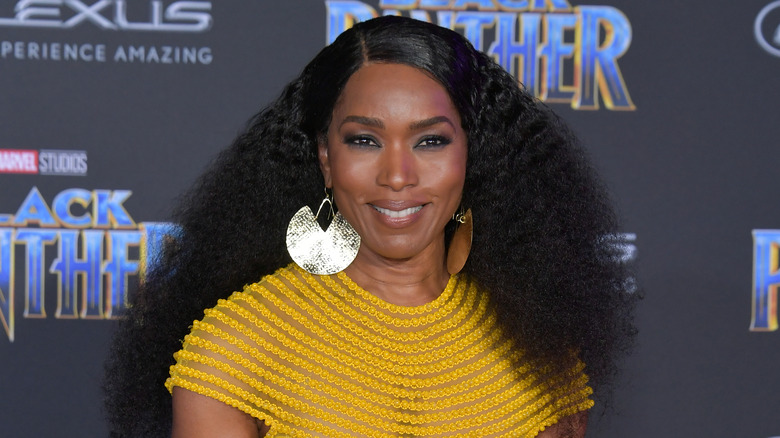 Getty Images
While many may have been fearing the new millennium, Angela Bassett's husband, Courtney B. Vance, was dreaming of having kids, specifically twins. He explained on Oprah, "I didn't know how it was going to happen." Yet, he claims he always knew it would, one day, come true. At that point in time, however, it seemed unlikely. 
By the age of 41, Bassett had attempted to get pregnant, first by artificial insemination, and then IVF — a total of seven rounds — without success. Sadly, she even endured several miscarriages. "It was difficult, it was challenging. It was not happening, you know?" Bassett told Oprah. After seven long years of trying, the couple decided to use a surrogate. Sure enough, Vance was right in his prediction. In 2006, the couple's surrogate gave birth to twins, Bronwyn and Slater.
Bassett is surely an amazing role model to her children. In Black Panther, Bassett's character is Wakandan royalty. She told Entertainment Weekly, "I never thought I was going to see that in my day, to get to portray a queen." She added, "When I was growing up, I had Superfly, I had Shaft, those were the guys who were taking down the bad guys. Stan Lee did his thing and [Jack] Kirby did his thing with this character and finally he's [Black Panter] alive on screen." How happy she must be that her children get to grow up watching superheroes of color. 
Meredith Grey's big secret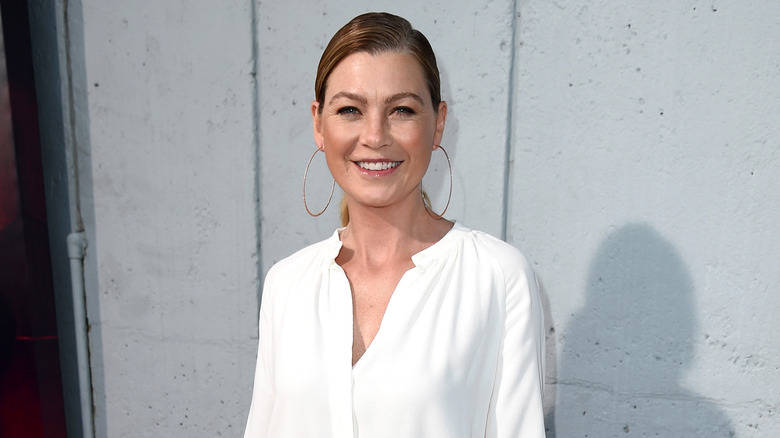 Getty Images
Ellen Pompeo has starred as Doctor Meredith Grey in over 300 episodes of Grey's Anatomy, an incredible feat, to be sure. The Hollywood Reporter even dubbed Pompeo "TV's $20 Million Woman" because that's how much she earns for her portrayal of Meredith — per year. She explained, "I'm 48 now, so I've finally gotten to the place where I'm OK asking for what I deserve, which is something that comes only with age." 
She added, "[T]he truth is, anybody can be good on a show season one and two. Can you be good 14 years later? Now, that's a f*****' skill." This momma doesn't mess around. Pompeo continued, "I make 24 episodes of TV a year, and as part of this deal, I cannot appear anywhere else. And directing is cool but, to be honest, it just takes me away from my kids." She clarified, "So, it's got to be a ton of money." A ton of money, it is. 
According to E! News, Pompeo gave birth to her first child, Stella, in 2009. Then, in 2014, Pompeo announced the birth of another girl, Sienna. She was able to keep the child's birth under wraps for two months. She explained to Jimmy Kimmel, "This baby was born via surrogate so I felt an obligation to keep the surrogate's privacy." In 2016, Pompeo announced the birth of her third child, Eli, with husband Chris Ivery. However, Pompeo has not confirmed if he was born via surrogate as of this writing.
One of Charlie's Angels has an angel of her own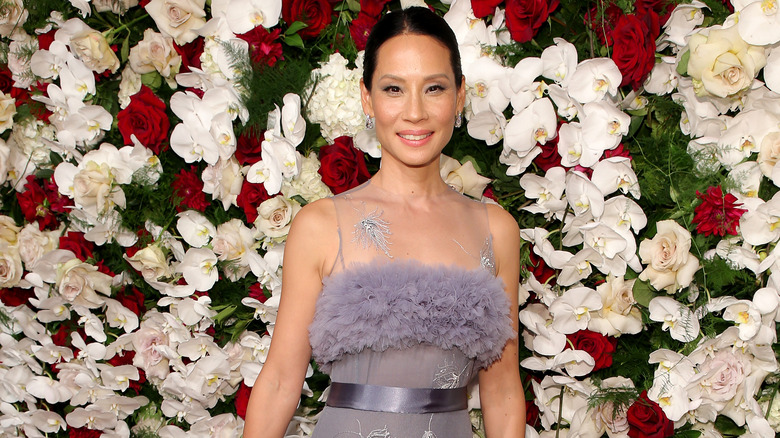 Getty Images
In 2015, Lucy Liu became a mom at the age of 46. "I can confirm that Lucy Liu is the proud mother of Rockwell Lloyd Liu, brought into the world via gestational carrier. Mom and baby are healthy and happy," Liu's rep confirmed to Us Weekly. Liu then shared a picture of her newborn son on Instagram with the caption, "Introducing the new little man in my life, my son Rockwell Lloyd Liu."
Although Liu was ecstatic, others were critical of her decision to become a single mother. Liu explained to CBS News, "I didn't really think about it at all. I just went ahead and did it ... I didn't realize there was criticism until after I sent out the information that I had my baby through a gestational carrier and my friends said, 'Don't listen to what some people are saying.' I didn't realize people were saying anything negative!" 
She may be a single mom but she's certainly not alone. She told the outlet, "I don't really raise [Rockwell] by myself. I have a lot of friends and a group of people who help me. It's important to ask for help ... people shouldn't feel that they have to be alone while doing it." It takes an army after all, right? "It doesn't matter the machinations of how things occur. How you love and parent a child is most important," Liu added. Sage advice.