How To Recreate Katherine's Timeless Looks From Hallmark's Ghosts Of A Christmas Always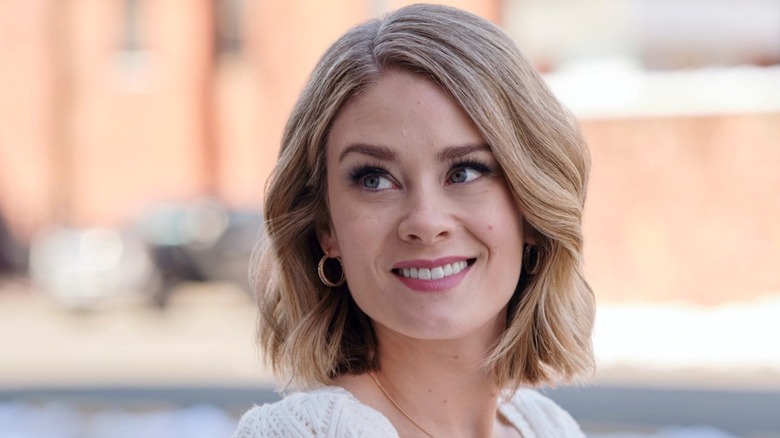 David Scott Holloway/Hallmark Media
We may receive a commission on purchases made from links.
Since it's never too early to get into the holiday spirit, Ian Harding and Kim Matula starred in Hallmark's new Christmas movie "Ghosts of Christmas Always," which premiered over Halloween weekend. The movie is loosely based on Charles Dickens' 1843 novel, "A Christmas Carol," which is arguably the well-known non-religious tale associated with the December 25 holiday.
Though it's unclear when Matula's character, Katherine, died and became the ghost of Christmas present, her look is at least 20th century dreamy, clueing the viewer into a rough timeline for her sadly short life. However, when she is visiting the actual present — aka 2022 — her colleague, the ghost of Christmas future, decides that her look needs an update. Using magic, he transforms Katherine into a 21st century babe, while a flustered Ian Harding calls her look "very festive."
After their modern update, Katherine's looks still feature clean lines and in-season color palettes perfect for our own winter outfit plans. And luckily, it isn't too hard to recreate her looks from the Hallmark holiday movie, so we can pretend we're here to teach everyone a lesson — on fashion or life — just in time for the Christmas season.
Katherine's look echoes 20th century America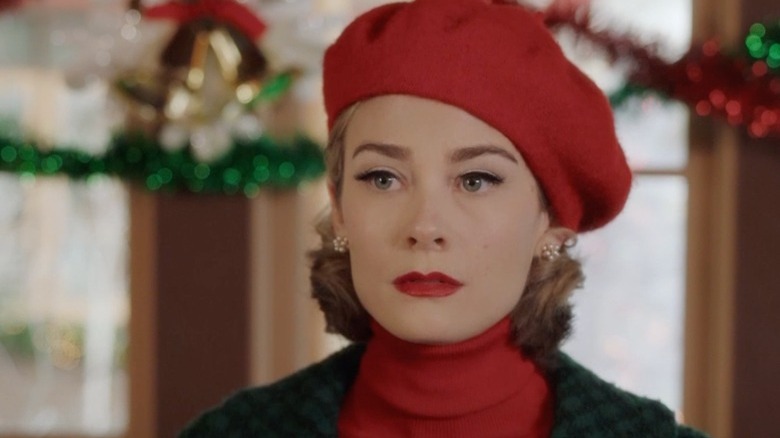 Hallmark
Starting from the top down, Katherine's first look of the movie consists of a stylish red beret, a red turtleneck, and a green plaid coat. You can grab a classic beret from Nordstrom Rack, or go for a more updated look with this improved fit beret from ASOS. For the turtleneck, there are a few routes you can take: going for a ribbed look might feel more stylish than a straight up turtleneck, and there are also more modern silhouettes available on Amazon. 
A mockneck is also a strong option if you want to maintain the line of your neck without losing the turtle look altogether. The green plaid overcoat could be a Poshmark win, or you can snag the lambswool polo coat from L.L. Bean. Though we aren't sure exactly when Katherine lived on Earth, her classic black cat eye feels like a nod to Audrey Hepburn and other classic beauties of the 1950s and 1960s. These beaded earrings from Vintage Renude could help you emulate Katherine's clustered pearl earrings, and the listing even nods to the 1950s influence. The online marketplace also has plenty of options to match her vintage style, which could easily draw from the classy yet bold looks of the 1920s and '30s. 
Her modern look reminds us of this seasonal queen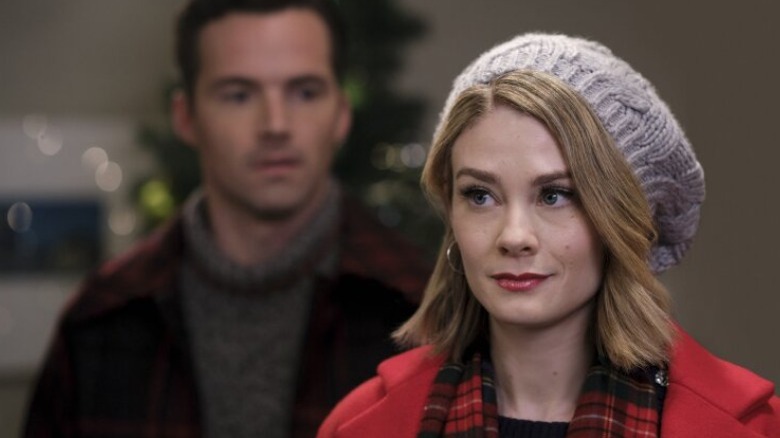 Hallmark
As for borrowing from Katherine's modern-day look — a red overcoat, plaid red scarf, and knit grey hat — there are plenty of chic options to explore. Marcella New York's red overcoat is a sweet gift to put on your wish list since it matches Katherine's vibe to a T. Then, grab your favorite black crew neck sweater and a pair of gold hoop earrings (or pretty much anything dainty from Mejuri). 
Wolf & Badger has an iconic oversized, lambswool tartan scarf, but you could also go full Taylor Swift and rock her signature red scarf (but be careful where you leave it, as we learned from the "All Too Well" short film). Katherine's slouchy knit hat can be substituted with a loose Cashmere beret, though her original beanie is definitely also in sync with Swift's fall-to-winter vibes. Add a hairpin to keep the beanie in place and you're good to go. 
Katherine's next modern look keeps the gold hoops while adding a white turtleneck, dark green plaid overcoat, and stylish red leather gloves. The textured white turtleneck from Nordstrom is a piece you can repurpose all season long. Cashmere lined red leather gloves from Lands' End will also get you through the winter, keeping you warm and feeling chic.
Your go-to coat should make you feel like the main character this holiday season; this classic fit duffle coat from Original Montgomery is a pricier piece, while Walmart's playful take on Katherine's plaid wool jacket features thicker stripes and more variation in color.