New Book Details King Charles' Two Celebrity Crushes
John Phillips/Getty Images
We may receive a commission on purchases made from links.
King Charles III has been the British monarch for less than two months, and already there's a biography of the newly crowned sovereign's life set to be published on November 8 (via Vanity Fair). Written by American journalist Christopher Andersen, "The King: Life of Charles III" promises to examine "the private life of this historically important and controversial figure," according to the book's synopsis, in addition to providing "a balanced but fully honest look into the life of the new monarch."
There have been many books about Charles over the years. But Andersen's take will reportedly tell you "what the King — a man who has remained somewhat of an enigma ... is really like." Aside from taking readers on a journey into the inner workings of royal family life, the book also offers a glimpse into Charles' likes and dislikes — including his celebrity crushes. We all have that a celeb or two we'd dream of dating, and so does Charles. He's been quite open and honest about them (via Page Six), and you'll be surprised to learn who they are.
King Charles III had crushes on these Dynasty and Funny Girl stars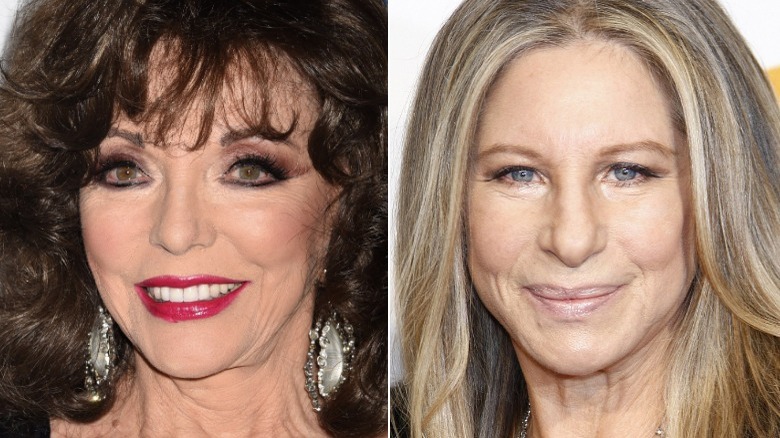 Joe Seer & Ga Fullner/Shutterstock
Two stars held a special place in King Charles III's heart, according to author Christopher Andersen: "Dynasty" star Joan Collins and singing legend Barbra Streisand. Luckily for Charles, he had the opportunity to meet both his crushes thanks to his royal position. He first met Collins in 1985 during a royal tour of the United States (via the Chicago Tribune). In Andersen's book, "The King: Life of Charles III," the author alleged that Charles once wrote a letter admiring her humor and "unbelievable cleavage" (via Page Six). The two would meet again in 2015 when the former Prince of Wales presented Collins with a Damehood (via Digital Spy).
But it was Streisand that had a particular hold on Charles' heart. According to Andersen, the young prince first fell for the "Funny Girl" star while studying at Cambridge University in the late sixties. The author writes that having seen "Funny Girl" three times, Charles had a "framed photograph of Streisand hung in his rooms at Cambridge" in addition to "the wall of his bedroom at Buckingham Palace after graduation."
When Charles learned that Streisand was filming "Funny Lady," the sequel to "Funny Girl," in 1975, he requested to meet. Speaking on a radio special for Hospital Radio (via The Times), Charles said he would "never forget her dazzling, effervescent talent and the unique vitality and attraction of her voice and her acting ability." In addition, Andersen said the prince was reportedly impressed by her "sex appeal."
Barbra Streisand often joked that Charles could have made her the first Jewish princess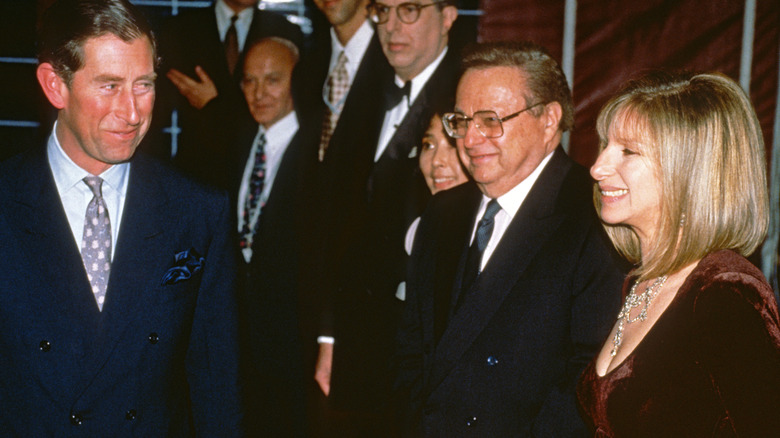 Anwar Hussein/Getty Images
King Charles III and Barbra Streisand met once more in 1994 (via Page Six) when the singer performed "Someday My Prince Will Come" during a gala performance for the then Prince of Wales at Wembley Arena in London. They crossed paths again later that year at a banquet for the Foundation of Architecture charity at Highgrove House, Charles's family residence. Christopher Andersen writes in his book "The King: Life of Charles III" that a staff member at Highgrove noted how the pair were "very affectionate toward each other" and that "when the staffer came upon the couple in the Prince's study, 'They were quite flustered.'"
During an appearance on the British daytime talk show "Lorraine" in 2021, Streisand revealed that when they met for the first time in 1974, Charles left her a bouquet of flowers that her assistant mistook for just a fan. "That was before he met Diana," she said. "I had a very funny line on stage when he came to see the show. I said, 'You know, if I played my cards right, I could have wound up being the first Jewish princess!"