Yoga Blocks That You'll Want If You Practice At Home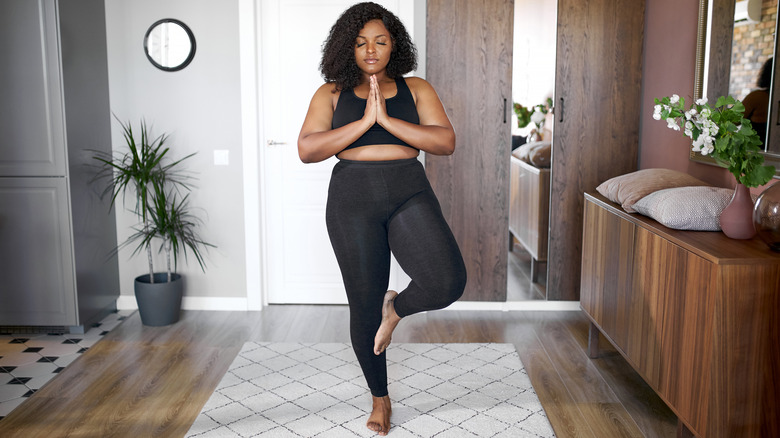 Roman Chazov/Shutterstock
We may receive a commission on purchases made from links.
Even though it can be tough to get the hang of, yoga is a worthwhile exercise to get into. The ancient Indian practice not only helps you to destress and relieve tension, but it tones the body and strengthens muscles.
Thanks to its popularity, you can probably find a yoga class wherever you live. Despite the accessibility of these classes, some people decide to practice at home for various reasons, such as time or financial constraints. The internet has created a space for at home yoga practitioners, with multiple teachers creating their classes for differing needs (via Very Well Fit). With the amount of yoga content online, practicing without the physical guidance of a teacher is a lot easier to do.
Of course, for beginners, achieving the exact same poses as the instructor is a tough feat. While they bend and stretch with ease, you may be left struggling to imitate what they've done. In come yoga blocks. Yoga blocks help beginners and experts alike perfect their poses, providing comfort or challenge, depending on how you use them.
Here are some yoga blocks that are perfect for practicing at home.
The best yoga blocks on the market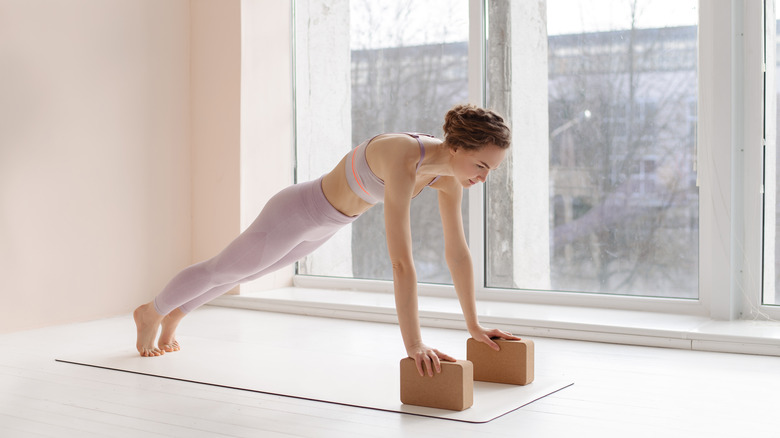 Marharyta Manukha/Shutterstock
For beginners, the BalanceFrom's GoYoga Blocks will help ease you into more difficult yoga poses. These high-density yoga blocks come in a pack of two, which is great for yogis as some yoga experts recommend using two blocks (per Yoga Rove.) The BalanceFrom blocks are slip-resistant and have rounded edges, keeping you in place as you practice your poses.
The Manduka Yoga Block is suitable for all yoga practitioners. Made of lightweight foam, this block is easy to carry around and even travel with. It's formulated with recyclable materials and has non-slip, contoured edges. The foam is durable and firm, which will prevent you from sinking to the floor and out of form.
For yoga practitioners that prefer a wedge block, the StrongTek Yoga Foam Wedge Blocks provide support for all your poses that require you to slant your body. Designed for wrist, knee, and heel support, these blocks are soft and cushioned, so they won't strain your joints. They come in a pack of two and are lightweight, so they are easy to travel with.
How to use a yoga block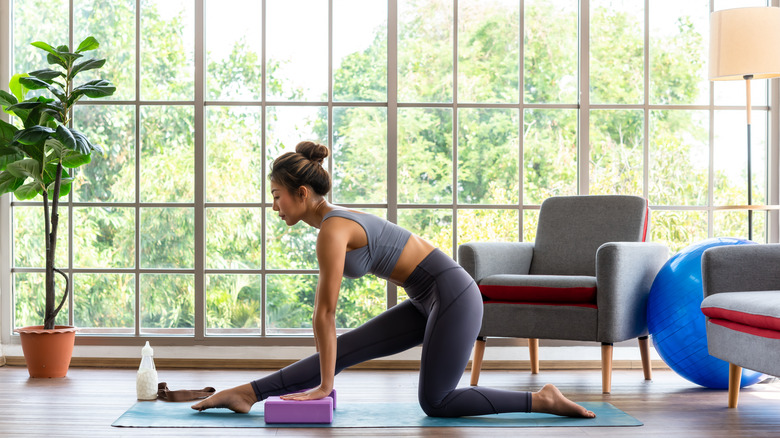 Vasin Lee/Shutterstock
How you use your yoga block is fully dependent on what you want to get out of the poses that you're doing. They can be used for both simplifying poses or providing extra support for people who may have a certain injury. Yoga blocks can also be used to create more of a challenge with a specific pose by making you adjust the amount of force you typically use when doing a pose.
If you're doing a pose that requires you to reach toward the ground, such as downward dog, One Flow Yoga suggests placing the block upwards, elevating the floor, which helps you to reach down with ease. Blocks can be placed under any joint or body part that has trouble reaching the ground or is affected by pain.
If you want to get more out of yoga, use the blocks to deepen poses. For poses such as bridge pose or supine twist, You Aligned recommends placing the blocks between your legs. This strengthens the legs by engaging them more, as you must put more focus on your thighs staying close together and tense in order to keep the block in place.