Kylie Cosmetics' Newest Collection Is Inspired By A Timeless Piece Of Pop Culture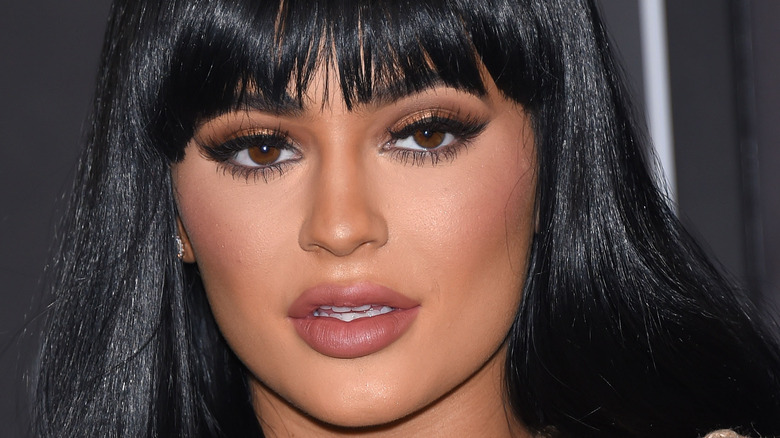 DFree/Shutterstock
An unexpected collaboration is dropping this month, just in time for the holidays. In a video shared across her brand's social media channels, Kylie Jenner revealed that Kylie Cosmetics has collaborated with Warner Bros. Discovery Global Consumer Products to create a "The Wizard of Oz" inspired collection (via Brands Untapped.) In the video, a witch holding a makeup brush waves her green hand over a crystal ball, revealing Jenner dressed up as Dorothy from the movie.
According to PopSugar, the collection is set to be released on November 10 and is a limited edition collaboration. This comes less than a month after Jenner released a Kylie Cosmetics and Batman collection. This new collaboration with "The Wizard of Oz" features five makeup products, all inspired by themes and images from the classic film. The collection will be available on the Kylie Cosmetics website as well as in-store at certain Ulta and Nordstrom stores.
What products come in the collection?
Is a Kylie Cosmetics collection complete without a lip product? Rather than sticking to one new lip product, Jenner has released three different products for any holiday lip look. Coming in a set of three, the collection features a red, pink, and nude option matte lip paint set.
Click your heels together three times and imagine possessing the most stunning ruby red lipstick to ever exist. Or you can gather $19 to get the Kylie Cosmetics metallic, deep red lipstick, accompanied by Dorothy's ruby red lipstick in ornament form. If you still want a bit of magic, pick up the collection's Transformative Lip Tint, a sparkly emerald green gloss that transforms to your skin tone's perfect shade of pink.
For $45, you can get the Kylie Cosmetics x "The Wizard of Oz" Eye & Face Pressed Powder Palette. Complete with 12 eyeshadows, a rosy pink blush, and a gleaming gold highlighter, this palette can be worn for the holidays and beyond. Apply the colors with the collection's brush set that comes with five green brushes and a bag that can be thrown in the purse for touch-ups when on the go.