Here's How To Start A Career As A Flight Attendant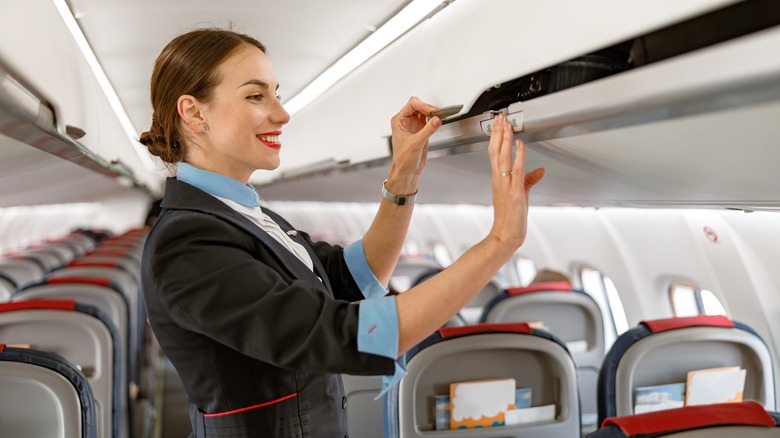 Kostiantyn Voitenko/Shutterstock
The duties of a flight attendant go beyond greeting and serving people food during a flight. Their job extensively goes deeper into the customers' experiences by providing service in safety procedures as mandated by federal law. They are the primary point of contact for communication with the pilot for any questions, comments, or concerns that guests on the flight may have.
Their duties entail helping passengers board and load their baggage. They help assist passengers with special health needs or with children. Before the flight takes off, flight attendants also secure the cabin as well as for landing. During the flight, they use their hospitality skills to serve the guests food and drinks, as well as help them with anything they may need during the flight. Most importantly, they are the main source for educating the passengers on all safety procedures such as how and when to put on the seatbelt, what to do during an emergency, and how to use emergency equipment (via Indeed).
Being a flight attendant can be a demanding job that requires you to use a lot of your people skills and determination. Because of this, the journey of becoming one also requires some effort on your end through extensive training and learning.
Relevant experience and education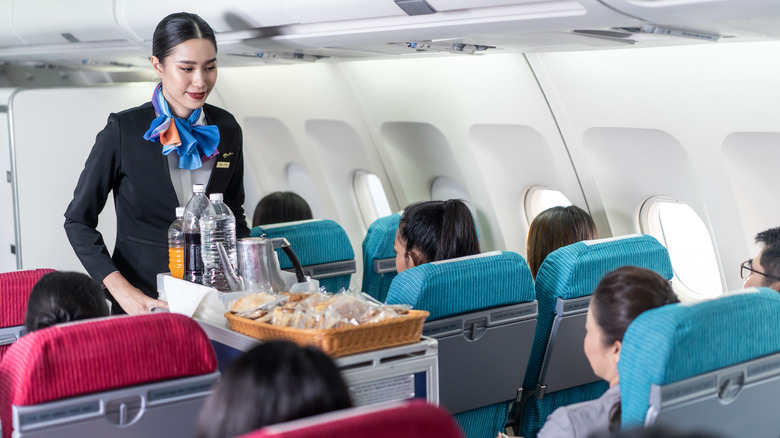 Hananeko_Studio/Shutterstock
If your career goals are definite in becoming a flight attendant, consider making your candidacy stand out even stronger. Build on your resume and your skills by pursuing experience with jobs in hospitality and customer service. Those two elements are at the core of being a flight attendant. According to Indeed, airlines require at least one to two years of experience in the service industry. They are looking for candidates who have problem-solving skills and customer service experience, who can work overtime and spend long hours on their feet.
According to The Travel Academy, there are several other requirements to consider. Depending on the airline, they may have specific height requirements. You may be required to have good overall health as well as your five senses, or vision that can be corrected by glasses or contacts. Appearance requirements may also apply, so keep in mind piercings, tattoos, and age restrictions that could come up. You will be expected to maintain a well-groomed and professional appearance on the job.
Additionally, you must be 18 years old and have completed a high school diploma or a G.E.D. to be considered for the job. While there is no college degree requirement, completing an associate's or bachelor's degree, especially in hospitality, tourism, communication, or marketing, can increase your chances of landing the position, on top of your experience in the service industry. There are also flight attendant training academies that you can pay for yourself to complete before applying for the job. However, if an airline hires you, they usually provide the necessary training (via Travel + Leisure).
Training for the job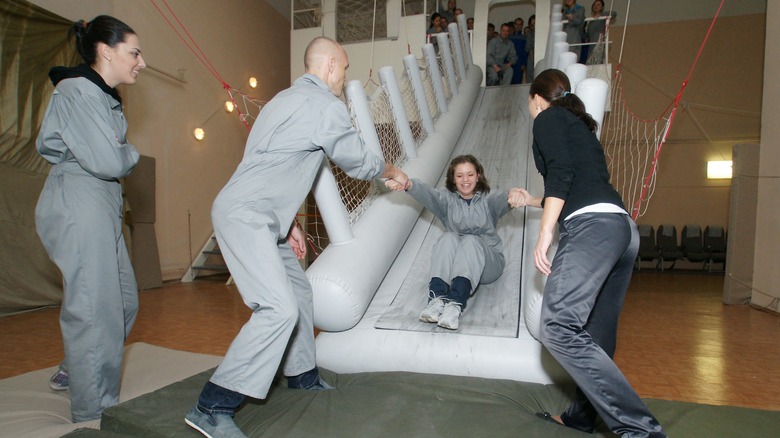 Alexey Smyshlyaev/Shutterstock
Becoming a flight attendant will require you to have a Certificate of Demonstrated Proficiency and it must be issued by the Federal Aviation Administration, or the F.A.A. for short. To receive this certification, you will need to successfully complete the airline's training program and pass the exam at the end of training. There are several certifications specific to different types of aircrafts, so new training will be required every time a flight attendant works on new aircrafts. In addition, you will be required to do recurrent training every year to maintain your certification (via U.S. Bureau of Labor Statistics).
Depending on the airline you work for, the training may be paid or unpaid at their training center, which can take anywhere from several weeks to a few months to complete. This is where all flight attendants learn all about safety and emergency procedures, various job duties, specific company operations, and general flight regulations. At the end of the training, you will put your skills to the test with practice flights before proceeding to complete your certification (via LiveAbout).