Why Lowlights May Be The Perfect Way To Transition To Gray Hair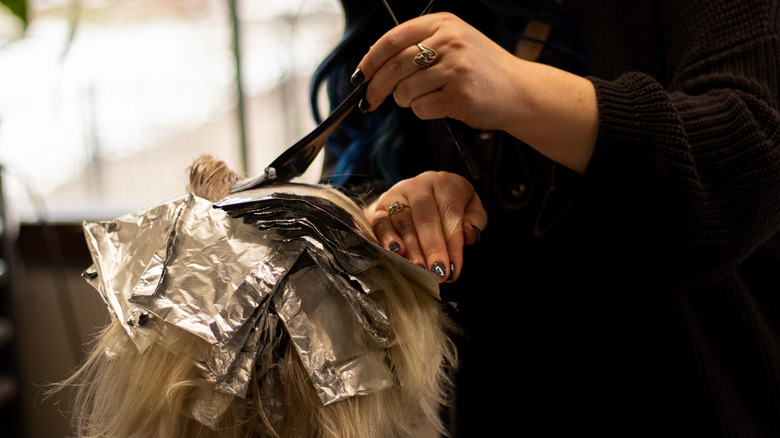 brlockwood/Shutterstock
Finding your first gray hair in the mirror can be a startling if not slightly emotional event. It marks the end of an era in which you never had to process the fleeting passage of time in a way that's so visibly marked. Maybe you greet your graying hair in celebration. Growing old is, as they say, a privilege not granted to everyone.
Still, it seems the majority of people typically aren't ready to embrace their silvers and whites right away, per The Guardian. After finding your first grays, you'll be met with your options: Let it grow naturally or maintain your previous color and dye your hair. The latter can prove to be a pricey route. While you previously may have only needed to visit the salon every three to six months for a color appointment, you'll now notice outgrowth much quicker, about four to six weeks after coloring (via Redbook). Here's why lowlights may be the perfect low-maintenance transition to gray hair you've been looking for.
Lowlights disguise grays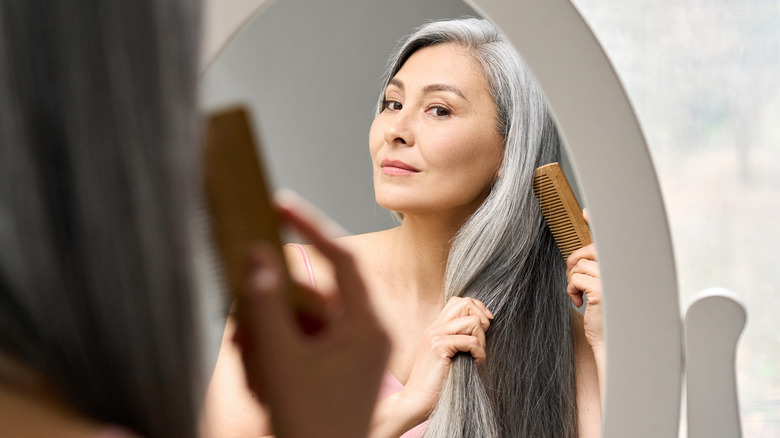 Ground Picture/Shutterstock
Lowlights either match your natural hair color or are a shade or two darker, blending the contrasting tones in the most seamless way (via Oprah Daily). For instance, if your base color is a chestnut brown, chocolate brown lowlights will camouflage emerging gray hairs, creating beautiful dimension to your locks. Even if your goal is to eventually don a full head of silver hair, arriving at that point takes time. Lowlights can ease the changeover. Maybe you'll end up loving them and opt to keep up with the added depth of the lowlights versus going fully natural.
When choosing the shade of your lowlights, your stylist will and should consider your overall coloring — in particular, your skin tone and eye color. This will have an impact on the shade of your lowlights. As with any hair appointment, lifestyle should also be taken into account. How often can you visit the salon for maintenance? Do you heat-style your hair everyday or air-dry and embrace what emerges? All are important points to consider when going gray, per Byrdie.
Easing the transition to gray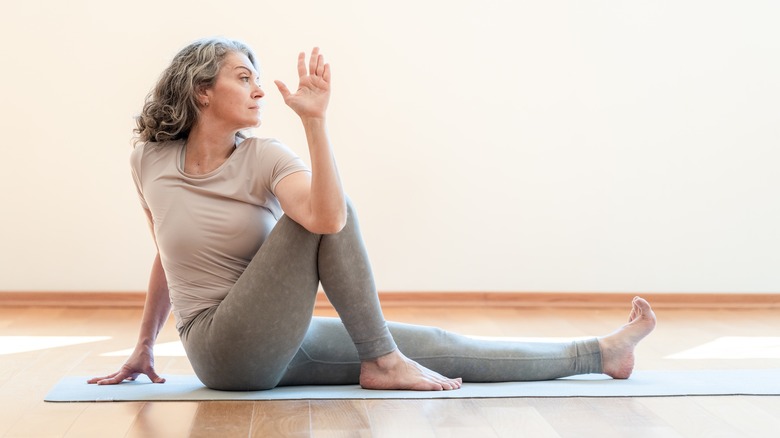 A.Azarnikova/Shutterstock
Some are more apt to embrace their emerging grays than others, and if you fall into the latter category, lifestyle changes may be able to delay going gray, even if it doesn't curb it completely. While it seems to be widely understood that stress contributes to premature graying, studies have shown that smoking and poor diet are the real culprits (via Healthline). So, embracing a healthier lifestyle could keep the grays at bay. 
In addition to perfectly transitioning to gray hair with lowlights, hairstyles like curls and braids can also disguise silver hair. Color-toning shampoos to prevent brassiness and caring for your scalp with nourishing oils may also up your overall feelings of wellness around your locks, meaning the impending grays might not seem so scary after all. And many women seem to have hopped on board the trend of going fully gray, per The Zoe Report. This is in part due to the pandemic when salon appointments weren't an option and many were able to discover, possibly for the first time, what an all-gray head of hair looked like in the mirror. And hey, the results were pretty beautiful.