The Nail Polish Colors Men Are Most Attracted To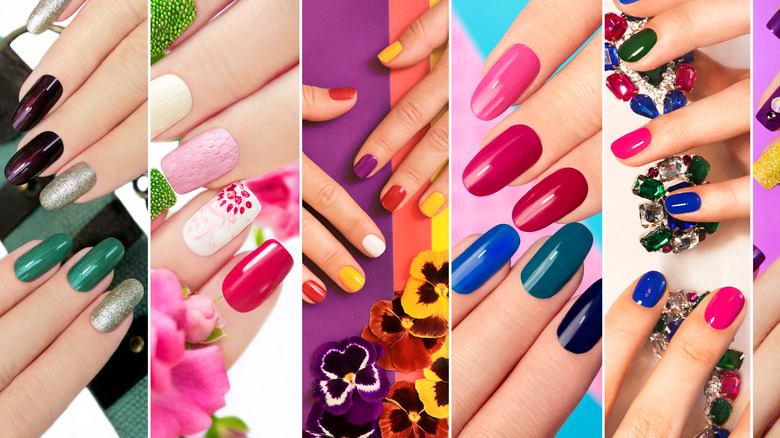 marigo20/Shutterstock
We may receive a commission on purchases made from links.
When Meghan Markle married Prince Harry, we couldn't wait to see her wedding gown and which tiara she would wear. While Markle looked beautiful in her flawless makeup, the world was taken by her manicure. Of course, with the ring on her finger — her nails had to be impeccable.
It was exclusively revealed to Vogue UK that Markle got her wedding manicure done at DryBar London and wore CND Shellac with a layer of the shade Unmasked and two top coats of the shade Negligee. The two colors were custom-mixed to create a unique and one-of-a-kind shade of "milky, pinky nude." The world also knows the late Queen Elizabeth was a fan of Essie's Ballet Slippers, a pale pink nail polish — which is one of their bestsellers and one of the highest-selling nail polishes in the world (per Who What Wear).
Hailey Bieber's glazed donut nails, on the other hand, went viral after she wore them to the Met Gala 2022. Bieber's manicurist Zola Ganzorigtn used a sheer beige gel lacquer and topped them with chrome powder for a multi-dimensional metallic effect, per Byrdie
Nail and nail polish trends change with the season, where most people go bright in the summer, darker in the colder months, and bring on all the glitter and sequins during the holidays. Not that there are any set rules on what color you should wear. However, it's a whole new ballgame regarding what nail color men like the most on women.
Guys love this nail polish color on women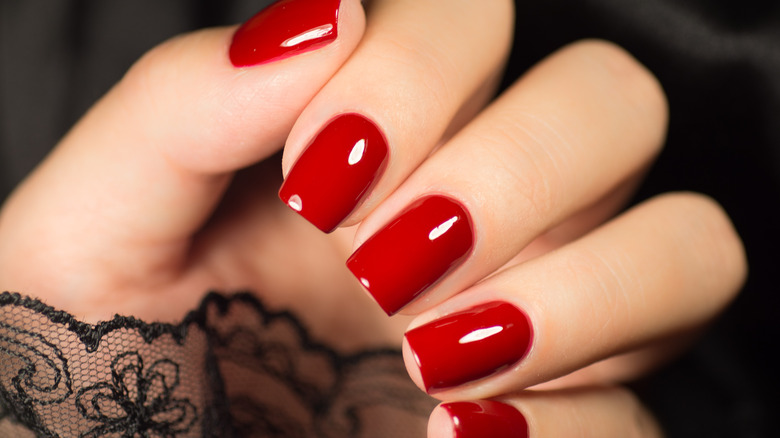 Minszka/Shutterstock
When it comes to nail polish colors, the sky is the limit. Different nail polish colors can reveal things about you and even Marilyn Monroe had a go-to nail polish color, but when you ask men what nail polish attracts them the most — it's the color red.
In a poll done at Cosmopolitan, 40% of men said they loved the "classic cherry red" on women's nails the most, followed by sheer pink and clear polish. Regarding the shape of the nails, biological anthropologist Helen Fisher said, "Soft curves look most natural...and men find that sexy." They also seem to prefer nails slightly longer than the fingertips and not Kylie Jenner-length nails.
Red is a bold color and that's why men are attracted to this powerful shade, per Orly Beauty. Some guys even love to wear red because it's eye-catching. Maine News Online shared that men are drawn to ruby red nail polish on women because it's an "attractive" shade in itself.
In a 2021 study, "The Effect of Red on Attractiveness for Highly Attractive Women," it showed that the color red makes a woman wearing red seem more attractive because they appear more feminine and it creates a contrast against the background. This goes beyond just nails, as men also find red lipstick the most attractive color on women. In a 2012 study published in the International Journal of Psychological Studies, guys approached women wearing red lipstick the most compared to when they were wearing other colors like pink and brown or no lipstick at all.
Best red nail polish
One of the bestselling red nail polishes of all time is Àuda. B Vegan Nail Polish in The First Lady, per Who What Wear. This high shine, deep red nail polish shade was actually "inspired by Àuda. B's founder Samara Walker's grandmother" and the former First Lady Michelle Obama. It has 5 out of 5 stars on the brand's website, with one reviewer saying, "I absolutely LOVE the first lady nail polish! The color really pops on my skin and enhances my confidence knowing that I am wearing a unique nail polish brand, and it reminds me of my forever first lady, Michelle Obama!"
Celebrity nail artist Elle loves Emilie Heathe Longwear Nail Artist Polish in Perfect Red. She told Byrdie, "It's great for any skin tone and any season." This high shine nail polish is a perfect blend of both cool and warm undertones. A similar Crème Red shade scores 4.1 out of 5 stars on Amazon, with one reviewer saying, "The color is a very classic nail polish shade."
April Long, Executive Beauty & Fitness Editor, is a fan of Sally Hansen Miracle Gel in Red Eye. She told Elle, "Not only is it a classic, skin-tone-flattering crimson, I can actually make it through a full week without looking like I've dug myself out of a grave, thanks to its no-light-needed gel formula." She added that it lasted a whole month on her toes. This polish has over 19K reviews on Amazon.