Joanna Gaines' Latest Picture With Son Crew Has Everyone Saying The Same Thing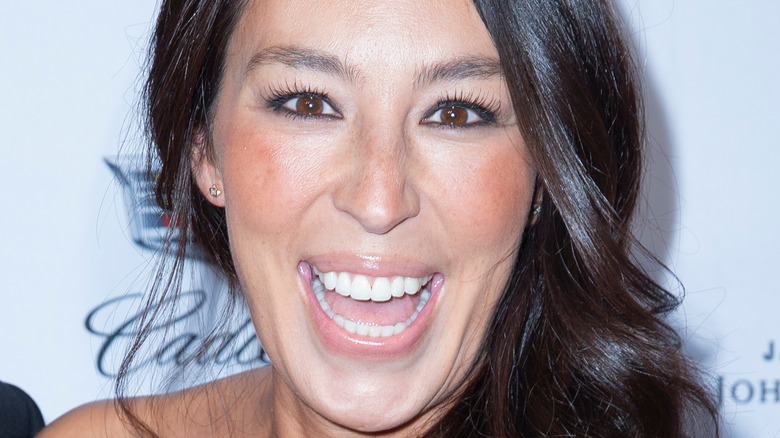 lev radin/Shutterstock
While many people boast busy schedules, Joanna Gaines's daily routine just about takes the cake. According to Cheat Sheet, the Kansas native and her husband, Chip Gaines, own a restaurant, construction and design business, children's furniture and accessories line, a discount outlet, and a television network, among many other projects. Unsurprisingly, Chip and Joanna Gaines have an astonishing net worth.
As one can imagine, tackling all these ventures day in and day out has taken a toll on the 44-year-old, and Gaines must find ways to take care of herself and prevent burnout. The mother-of-five opened up about her current mental state in a recent interview with People. "The last 10 years, a lot of it felt like a blur," Gaines shared. "It was fast, it was exciting, and there was so much to be grateful for, but there was something in me that just felt so tired. I wanted to go back and regain moments that I had missed along the way."
Gaines has taken time for self-reflection and healing through the process of writing her new memoir, "The Stories We Tell," which will be available on November 8, 2022. And while parenting her five children can be exhausting, Gaines believes every sleepless night is worth it. The "Fixer Upper" star recently shared a wholesome moment that she had with her son Crew, on social media.
Joanna Gaines's followers think that Crew looks like the perfect combination of his mom and dad
Anyone familiar with the "Fixer Upper" stars knows that the beloved couple has a big family under their roof. Chip and Joanna Gaines have five children, Drake, Ella Rose, Duke, Emmie Kay, and Crew. With the Gaines' kiddos making cameos every so often on "Fixer Upper," some of them have even begun to develop their own loyal followers (via Parade).
In an adorable Instagram post, Joanna captured a sweet moment she shared with her youngest, Crew, cuddling in bed. "Didn't get a ton of rest last night, but I'll take snuggles over sleep with this little one," she captioned the photo. Gaines's fans took to the comments section to gush over the heartwarming post, many of them drawing the same conclusion. One user wrote, "He's such a perfect mix of Chip and you," while another commented, "He's his Daddy with his Mama's eyes."
In many of Joanna and Chip's photos with their youngest child, fans have gone back and forth between which parent Crew looks like the most. In a photo of the trio at a sports game, Crew's light red hair at the time led Chip's followers to call him "a mini Chip Gaines." "He's got daddy's hair," another user wrote. Meanwhile, followers took the opposite stance on another picture, with one stating, "He looks just like his beautiful mother!" 
Only time will tell which parent Crew is truly a mini-me of!