Massachusetts' New Governor Just Shattered The Glass Ceiling In More Ways Than One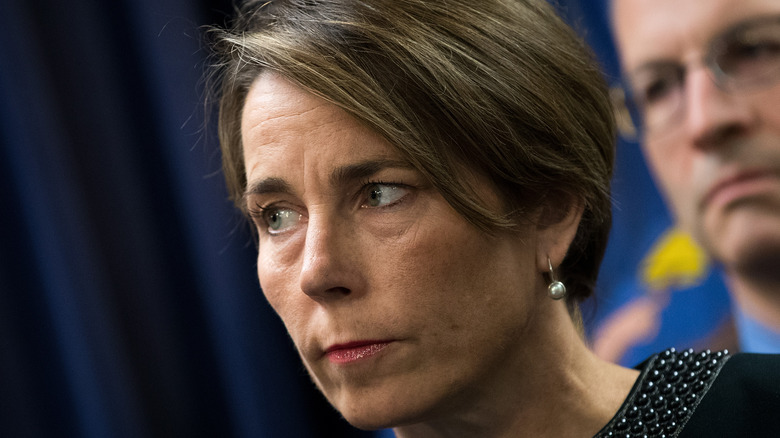 Drew Angerer/Getty Images
With some of yesterday's midterm election races still too close to call, Massachusetts has announced that there is a clear winner in its race for Governor (via The Guardian). Democrat Maura Healey has won the seat, defeating Republican Geoff Diehl, who had been endorsed by former President Donald Trump. The win makes the governorship blue again after eight years under republican leadership in the form of the very-popular Charlie Baker who chose not to run again this term. 
By winning the governorship, Healey, who had previously been the Massachusetts Attorney General, has made history in more than one significant way. Not only is she now the very first woman to ever serve as Governor of the Commonwealth of Massachusetts, she is also the first openly homosexual person to win the role. She also now holds the title as the first gay woman to ever win a governorship in any state in the union.
The platform she ran on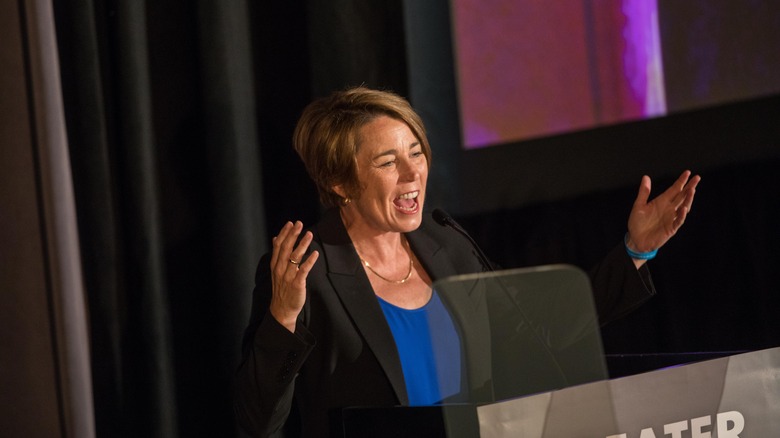 Scott Eisen/Getty Images
Healey won her seat as Governor of Massachusetts by running on a platform that promised to improve affordability of child care and prioritize public schools, expand job training programs, and protect reliable, safe access to abortion (via The Guardian). In the wake of the overturning of Roe V. Wade, Healey promised to help ensure the citizens of her state would continue to have unfettered "access to safe and legal abortion in Massachusetts." 
During her campaign, Healey also touted some of her most-praised accomplishments as State Attorney General, including taking on Purdue Pharma, the maker of OxyContin, regarding allegations that they intentionally deceived both doctors and patients about the dangers of opioid drugs, helping to lead to the current opioid crisis. She also worked to protect people from predatory lending practices that target students and homeowners, and sued oil conglomerate ExxonMobil for misleading investors about fossil fuels' role in climate change. 
Healey's message to LGBTQ+ youth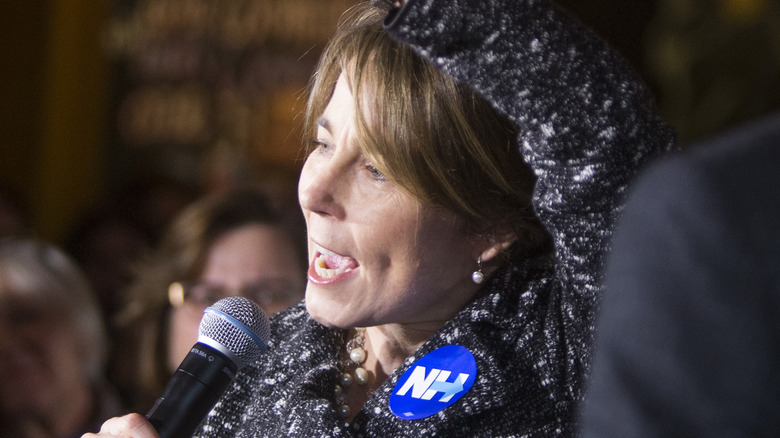 Scott Eisen/Getty Images
In her first speech after being announced the winner, Maura Healey addressed all the people of Massachusetts, whether they voted for or against her, saying, "To those who voted me for and to those who didn't, I want you to know I'll be a governor for everyone, and I'll work with anyone who's up for making a difference in this state" (via MassLive).
Healey then went on to speak directly to girls and to young people in the LGBTQ+ community, in hopes they can now not only feel represented by their government, but also see that they themselves can strive to seek public office one day or hold any job they wish in order to make a positive difference in the world. To these people, Healey said, "Tonight, I want to say something to every little girl and every young LGBTQ person out there: I hope tonight shows you that you can be whatever, whoever you want to be."