The Best Celebrity Post-Baby Makeovers Ever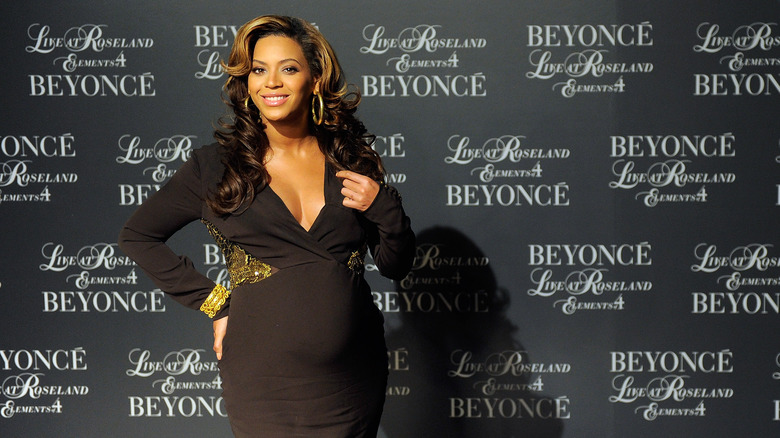 Getty Images
They say babies change everything, and it's true — even in the superficial sense. Celebrities seem to possess supernatural abilities to drop pregnancy weight more quickly than us mere minions can say, "Oh, baby" (or maybe they just have access to really great trainers and nutritionists). But over the years, we've seen unbelievable bounce-backs in every way. From new 'dos to revamped images and yes, some rock-hard abs in between, these celebrity post-baby makeovers had fans going ga-ga.
Beyoncé chopped her locks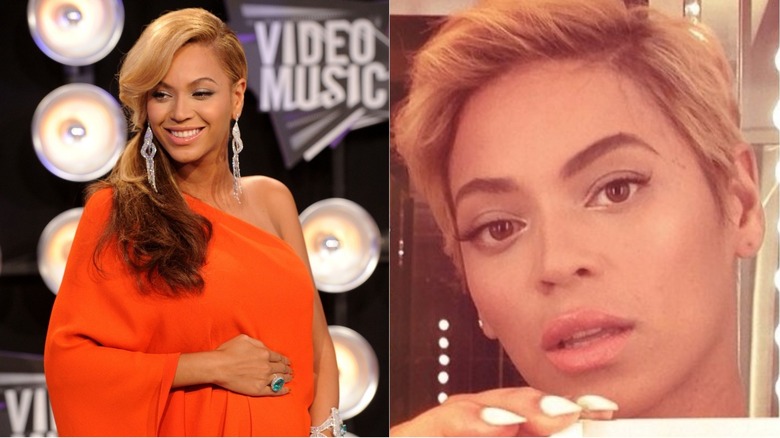 Getty Images/Instagram
Beyoncé often seems larger-than-life, but post-baby, she showed us that sometimes less is more. Not long after daughter Blue Ivy reached toddler status in August 2013, Bey Instagrammed a pixie cut so fierce, even Sasha would be proud. She didn't write a caption, so there's no way of knowing whether the change had anything to do with Blue being a typical toddler and pulling her voluptuous locks (you know, the ones that seem to be blowing perfectly in the wind, even on days when there isn't a breeze).
Even Queen Bey's colorist Rita Hazan was floored. "I was shocked. I think she was just feeling empowered, like a strong woman, and she said she's been feeling it for a long time," Hazan told Us Weekly. "She didn't want to hide behind her hair in real life." Color Hazan impressed. "I'm so happy because the extensions give women the wrong expectation of what their hair should look like — it's great for onstage, but everyday women shouldn't have or want to have five pounds of hair on their head," she continued. "This hair is more natural, more realistic."
In other words, she totally woke up like this, and you can too.  
Heidi Klum got runway ready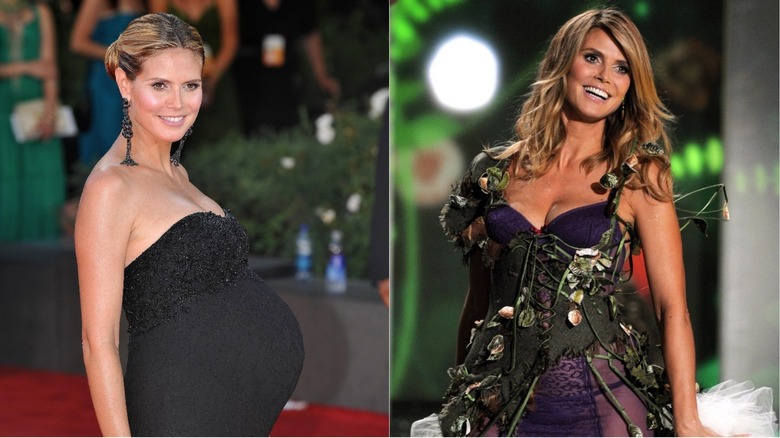 Getty Images
Five weeks after giving birth to her fourth child, a daughter named Lou, Heidi Klum said Auf Wiedersehen to 25 pounds of baby weight and rocked the runway at the 2009 Victoria's Secret Fashion Show. Klum, who served as the acting host of the show, strutted out to a huge round of applause in a purple corset-half gown hybrid (with tons of tulle, of course).
Project Runway season four winner Christian Siriano thought she looked "fierce," gushing to Us Weekly, "You're going to die. She looks — oh my god! — she looks so good!"
Klum was a bit more subdued regarding her transformation. "Every time it's the same. You know, if you kind of gain 45 pounds, then it takes time to kind of go down again," she explained to Us, adding she hoped to lose 20 more pounds.
Kim Kardashian West went honey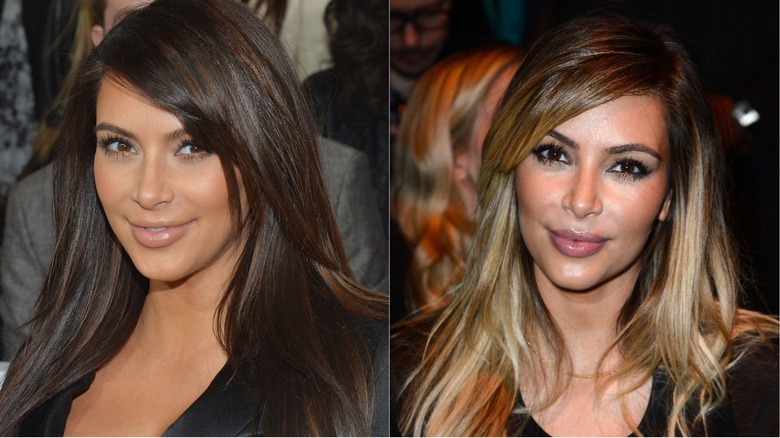 Getty Images
After giving birth to North West, Kim Kardashian took her hair in a new direction, ditching her dark locks for blonde. Her colorist, George Papanikolas, told People the inspiration for the new look came straight from the pages of a magazine. "She wanted to make a drastic change and was inspired by the Balmain Spanish Vogue models. She had wanted to go blonde for quite some time, so this was perfect," Papanikolas dished. "We did very heavy ombré and very heavy highlights."
It may have been a complete 180 from her dark strands, but it wasn't the first time Kardashian had gone blonde. She had wavy, blonde hair less than a year before. But Papanikolas insisted this look was actually totally different, telling Us Weekly that Kardashian's 2012 hair was more of a caramel blonde. "This time it's more of a honey blonde."
Turns out, husband Kanye West prefers blondes, something Kardashian revealed while answering fan questions on Twitter in January 2018.
Jennifer Hudson tuned up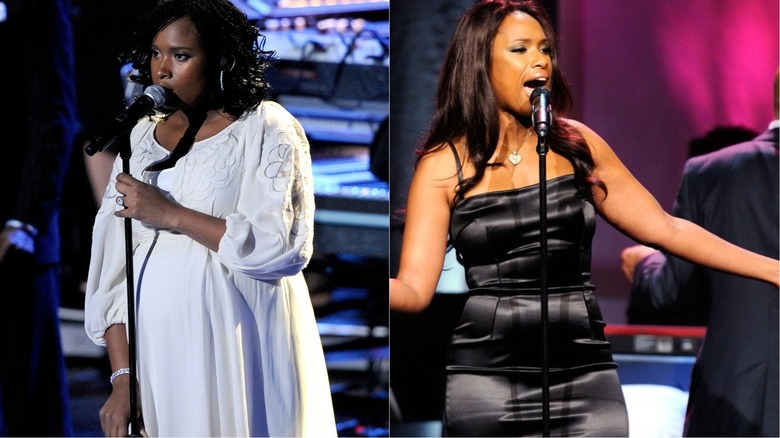 Getty Images
Jennifer Hudson has long struggled with her weight, but after giving birth to her first son David Jr., she got herself into chart-topping shape. Seven months after his debut, a glowing, slimmed-down Hudson appeared on Good Morning America with Robin Roberts to talk about the transformation. 
"After the baby, I wanted to go in a different direction and find a different lifestyle," she said. Hudson joined Weight Watchers, a decision she credited for helping her become the smallest she's ever been. As for the number, Hudson wasn't singing. "It was just about being comfortable," she said. "Although I was very comfortable with myself before it was just, 'OK, I have a child now and I want to set a great example for him.'"
Hudson did offer a glimpse into how Weight Watchers helped her hit her milestone. She was able to make more informed decisions about healthy foods, a plus because she knew her son was watching. As for finding time to exercise while being a mom as well as an Oscar-and-Grammy-winning superstar: "It is about balance and finding what works for you," she said. "I put in my routine, 'Let's get up and walk.' Something is better than nothing."
Angelina Jolie rocked the red carpet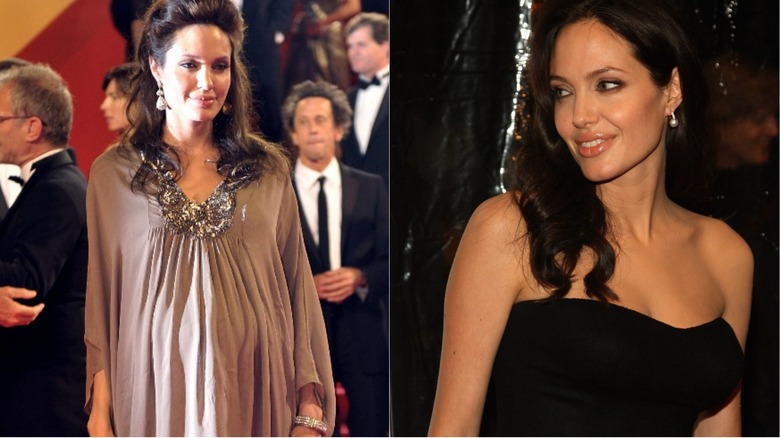 Getty Images
Angelina Jolie has a long history of head-turning off-screen moments. She kissed her brother at the Oscars, and she and husband Billy Bob Thornton famously wore vials of blood each other's blood around their necks. Though, perhaps not as shocking, her body bounce-back after giving birth to twins was pretty impressive. Three months post-partum, Jolie stunned in a body-con Atelier Versace dress while promoting new flick Changeling. She credited running around with kids and breastfeeding for the quick weight loss when speaking to People.
But come on, it's totally because she's immortal.
Jennifer Lopez said, tri not?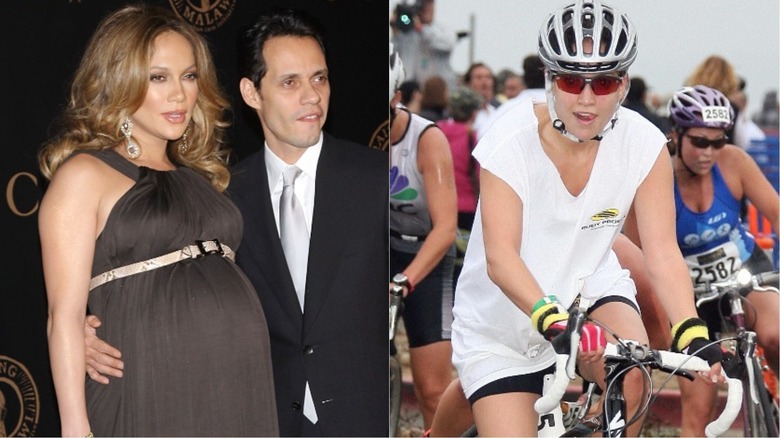 Getty Images
Jennifer Lopez competed in her first triathlon about seven months after giving birth to twins Emme and Max in 2008. The then-39-year-old teamed up with Self magazine editor-in-chief Lucy Danziger and trainer Gunnar Peterson to gear up for the Nautica Malibu Triathlon, half mile swim, 18-mile bike-ride and 4-mile run. It sounds daunting — wasn't giving birth to twins enough? — but Lopez was upbeat when she spoke with Good Morning America that August. "I feel great," Lopez said. "I have more energy — [and] I'm proud of myself."
Lopez had other reasons to feel good — not only did she look fit as ever, she ran the triathlon to raise money for the Los Angeles Children's Hospital. On race day, the singer/actress/supermom completed the feat in 2 hours, 23 minutes and 28 seconds, according to People.
Gwen Stefani looked hella good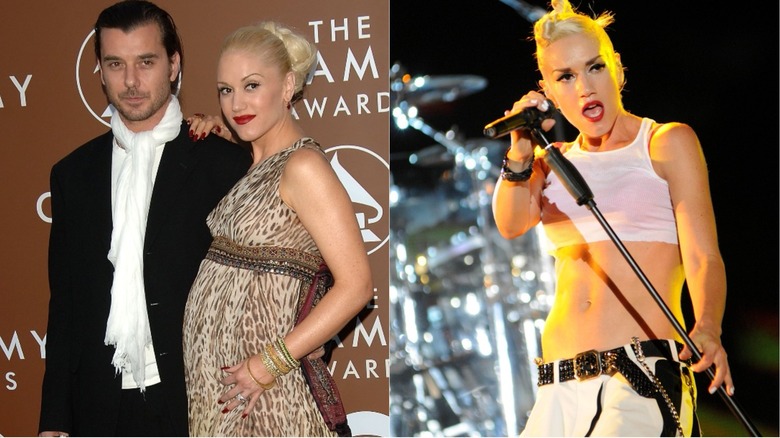 Getty Images
Gwen Stefani didn't sugarcoat anything following the birth of her first child, Kingston, in 2006. "It's so much work afterward to get the weight off," she told Harper's Bazaar in 2007. But, she added, "If you just do it, it comes off. And when you're nursing, like I am, your metabolism is like, whooosh!"
Whooosh is a pretty apt way to describe how quickly she shed the pounds the second time around. Ten months after welcoming her second child, Zuma, while performing at a concert in Canada, Gwen Stefani showed off abs us regular people work for years to attain. And by that, we mean she had a freaking six pack just months after giving birth (to her second child in a little over two years, no less). The No Doubt frontwoman and "Hollaback Girl" singer told InStyle she committed to working out four days a week with trainer Mike Heatlie. "I've tried yoga and Pilates before, but I just prefer old-school fitness workouts," she said.
Want your abs to be just as rock steady? Heatlie suggested that women, whether pregnant or not, do more lightweight resistance training with limited rest periods between sets, and do less cardio. But just working out won't cut it. "Diet plays a big big role in losing weight, period," Heatlie advised in the same InStyle article.
Nicole Richie settled down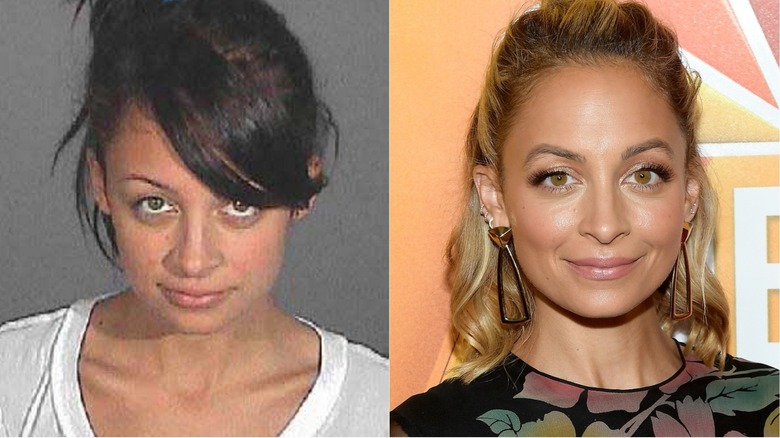 Getty Images
Nicole Richie's transformation was more internal than external. As a teenager and 20-something, Richie burst onto the scene as a witty wild child. She was comic relief on the Simple Life with then-bestie Paris Hilton. The show followed the pair of socialites as they tried to take on "normal" jobs like working at fast food restaurants and farming. 
But at times, Richie's life was anything but funny. In 2003, she went to rehab after being arrested for possession of heroin. In 2006, the starlet was arrested again, this time for DUI. She wound up serving 82 minutes of her four-day sentence.
Before she surrendered herself, Richie revealed she was pregnant with her first child with boyfriend Joel Madden. Since Harlow has been born, Richie has clearly settled for the simple (or at least healthier) life. She launched clothing and accessories brand House of Harlow 1960, married Madden in 2010, gave birth to a son and starred in a short-lived comedy Great News with Tina Fey (regardless of how long it lasted, it was Tina Fey!).
But looking back, Richie has no regrets. In a piece for Lenny Letter penned shortly after her 35th birthday, Richie wrote, "It's no secret that I have, at times, taken advantage of my time on this planet. And as much as I have to look at those moments and learn from them, it's important for me to have gratitude for that time, too."
Kelly Rowland swore by SoulCycle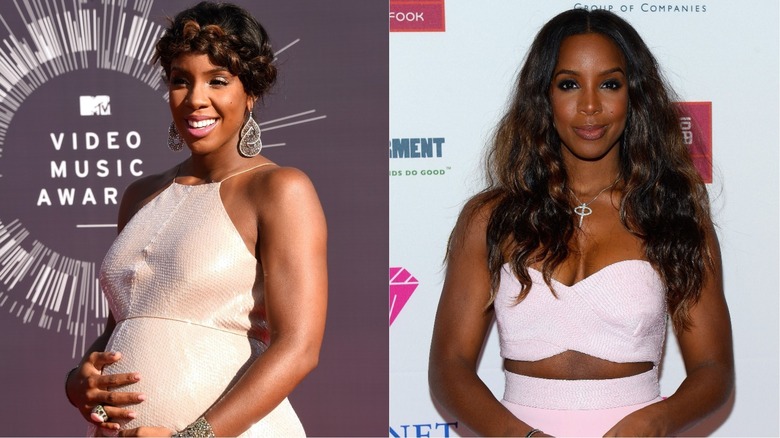 Getty Images
Forget jumpin' jumpin'. Following the birth of her son Titan in November 2014, Kelly Rowland got spinning, spinning. The Destiny's Child alum praised SoulCycle for helping her drop 70 pounds in four months. Rowland gushed to Extra: "[When] I go in there and it's the wee hours of the morning ... Jeanette comes in with so much energy and this huge smile on her face and you can't help but to get excited about working out."
Along with her morning sweat sessions, Rowland said she adhered to the good old 80/20 rule when it came to food. "Eighty percent of the time you eat those foods giving you nourishment, you're eating clean, and twenty percent of the time, have guacamole, a ton of it like I do, and a margarita and maybe queso too!" Rowland said.
Cheers to that.
Blac Chyna aims for dream 'bod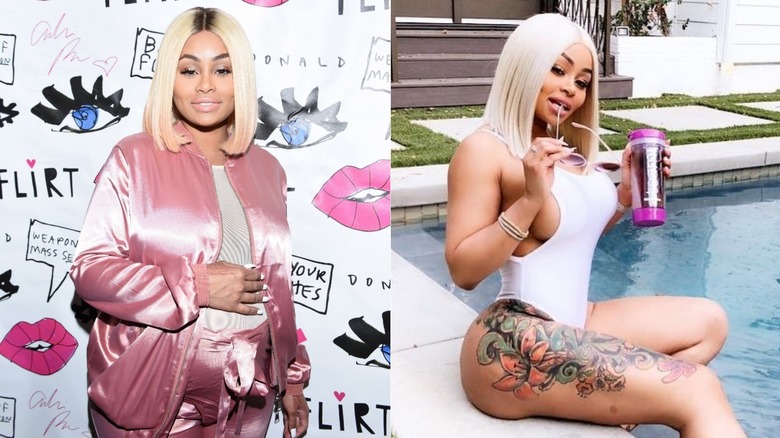 Getty Images/Instagram
Blac Chyna was on a mission to gain 100 pounds during her pregnancy, and since giving birth, she has been striving to get back to 130 pounds — her weight prior to announcing she and Rob Kardashian were expecting. The model welcomed daughter Dream in November 2016. By late January 2018, she revealed an Instagram video of herself weighing in at 158.2 lbs — so close to her goal!  
She looked damn good in another Instagram snap of herself sipping tea poolside in LA in October 2017, less than 12 months post-baby.