How To Get Meghan Markle's Flawless Beauty Look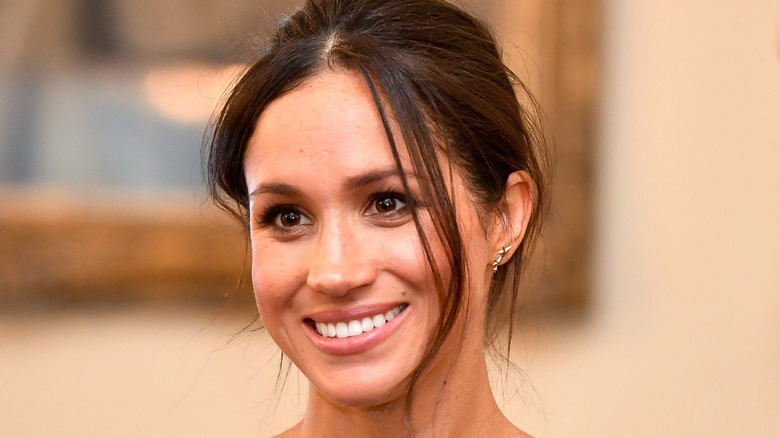 Getty Images
Long before Meghan Markle was revealed to be Prince Harry's girlfriend (and became the most-Googled actress of 2016!), people have been wondering what the actress, humanitarian, and now soon-to-be royal does to look as gorgeous as she does. Luckily she's open to speaking with the press about her beauty routine, so we did some digging to see what helps her stay gorgeous, youthful, and polished. We were happy to learn that many elements of her beauty routine are both relatable and within reach!
Follow her number-one rule of thumb with makeup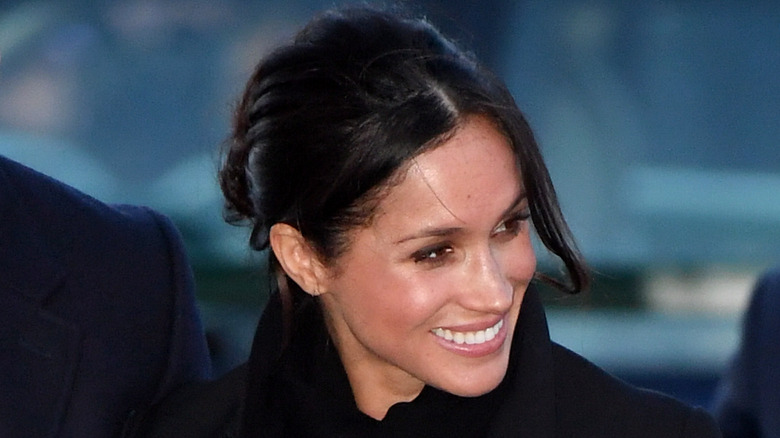 Getty Images
One of Markle's key tactics is to ensure her makeup routine isn't too fussy or time-consuming. In a 2014 interview with Allure, Markle explained that she prefers to keep things uncomplicated when it comes to her makeup. "My routine is very simple," she said. "I call it the five-minute face. It's just Touche Éclat [concealer], curled lashes, mascara, Chap Stick, and a little bit of blush. That's my favorite kind of look." As for her blush, she relies on Nars Orgasm both on camera and in real life since "it gives you a nice glow from within."
Min Min Ma, celebrity makeup artist who did Markle's makeup for her July 2016 appearance on The Today Show, followed the same rule of thumb. As Ma explained to E! News, she decided to keep the makeup light in addition to just a touch of concealer under her eyes. She also noted that she minimized her use of powder to help ensure that Markle's skin looked fresh and glowy. 
Markle's former hair and makeup stylist, Lydia Sellers, echoed those sentiments when speaking with Refinery29, saying, "It was more about the amount of product that went on her skin and keeping it really fresh and dewy, rather than caking it on."
When it comes to her cosmetics regimen, less really is more!
Hydrate and use a dab of shimmer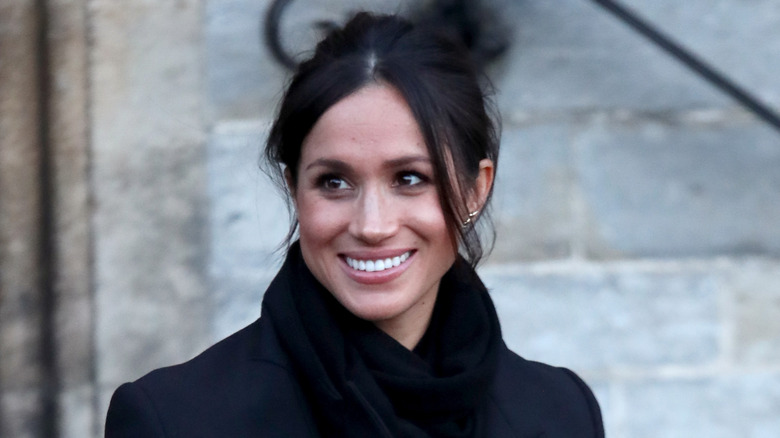 Getty Images
Another crucial part of Markle's beauty routine is to load up on liquids. "Drink lots of water, as we all know," she told Beauty Banter in November 2017. However, she noted that in addition to the more obvious beauty factors like hydration, she "also learned to add the smallest touch of shimmer to the inner corner of the eye after they're lined." 
This trick, which is part of a broader trend known as strobing, brightens up the eye and helps to balance out any dark eyeliner, eyeshadow, or lashes sporting a heavy layer of mascara, according to Glamour. 
Speaking to Refinery29, makeup artist Elisa Flowers explained, "Adding a shimmery highlight to the inner corners of your eyes creates a bright, open, and youthful appearance," and that this trick both reflects light and can help you look less fatigued.
Markle told Beauty Banter that her go-to product for some eye shimmer is Chanel's Cassis Eyeliner, and added, "Even if I have no makeup on, I am likely to apply concealer and a bit of shimmer to the corners of my eye." YouTube strobing tutorials, we're coming for you.
Use this Sephora product as a secret weapon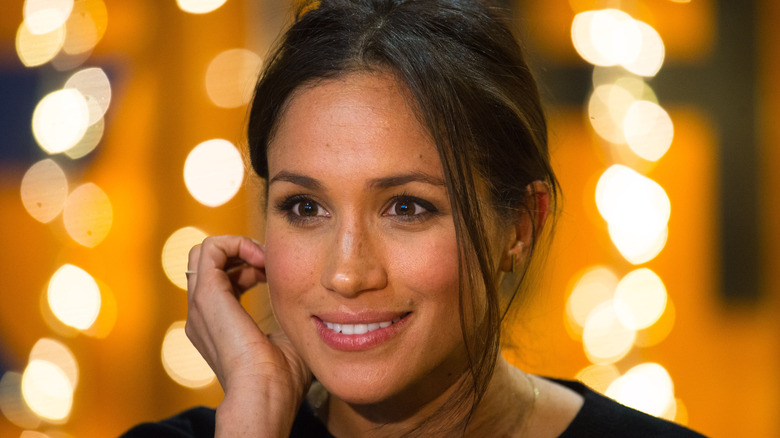 Getty Images
On the topic of fatigue-fighting makeup techniques, when Markle spoke with the good folks at Birchbox in 2014, she revealed her go-to secret weapon for looking like she got a ton of rest the night before: Yves St. Laurent's Touche Eclat highlighter. 
"To open up your eyes, apply a highlighter like Touche Éclat to the inner corner — this trick is especially good for when we're filming at 3 a.m. and I need to look bright eyed and bushy tailed," she said. And, adding to its appeal, Yves St. Laurent's Touche Éclat is available at Sephora, Nordstrom, and other places where non-royals shop. Hip hip, hooray!
An unconventional trick for a sculpted look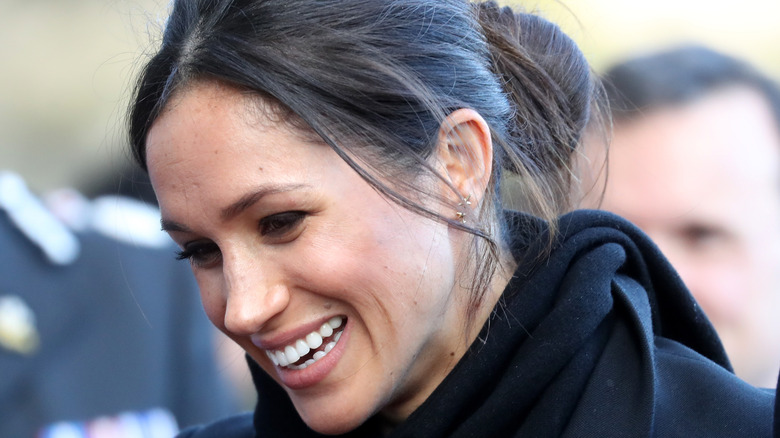 Getty Images
In the same Birchbox interview, Markle noted that she relies on facial exercises and massages to maintain her sculpted visage. The facial exercises, which come recommended by London-based esthetician and facialist Nichola Joss, basically "sculpt your face from the inside out," Markle explained. "I swear it works, as silly as you may feel. On the days I do it, my cheekbones and jawline are waaaay more sculpted."
The exercises are part of a facial treatment that Joss offers at her popup shops in London and New York, and they involve deep lymphatic massage from inside the mouth. According to the website, this massage is designed to improve the firmness and tone of the facial muscles by de-stressing the tissue, reportedly adding both youth and vitality to the skin.
As Joss explained to People, the massages not only make the skin more youthful, but also healthier. "It makes it softer but stronger, and obviously working from the inside of the mouth really addresses the core element of the muscle," she explained. 
The treatment is $350 per session, as People notes, but Markle and other fresh-faced celebs like Jennifer Lopez, Kate Moss, and Gwyneth Paltrow are huge fans. It may be unconventional, but it clearly works! 
Pick up three of her must-have products at the drugstore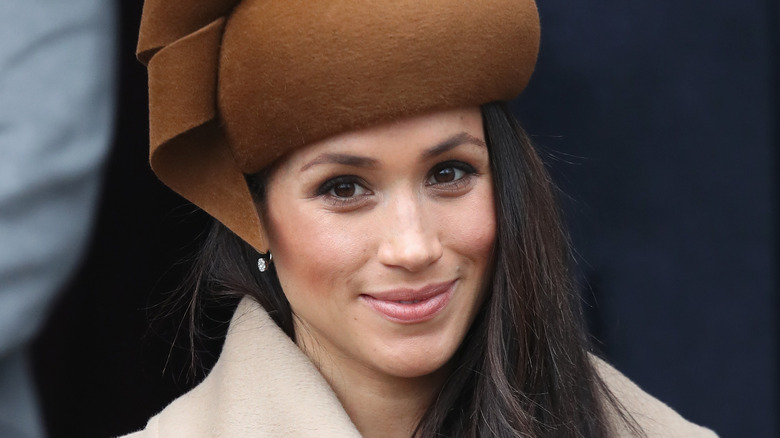 Getty Images
Happily, despite being a global celebrity and a soon-to-be duchess, some of Markle's favorite products can be found in your neighborhood CVS. As she told Beauty Banter, her must-have beauty products include things like Bioré Cleansing Cloths, Nivea Skin Firming Hydration Body Lotion, and Dr. Bronner's Body Wash.
The Bioré cleansing cloths, she explained, are "great to keep in the car and on your nightstand" — the perfect remedy for when the idea of washing your face is just too much. (Celebrities: they're just like us!) 
Meanwhile, Markle uses her Nivea body lotion "religiously," noting that it's her all-time favorite body lotion due to its reasonable price point and incredible results. "I would buy a case of this at a time if I could find it," she said.
As for Dr. Bronner's body wash, Markle joins the millions of people who are opting for natural skincare. She told Beauty Banter that she buys the lavender and almond scents, and she tends to alternate between the two.
Emulate this beauty icon with your brows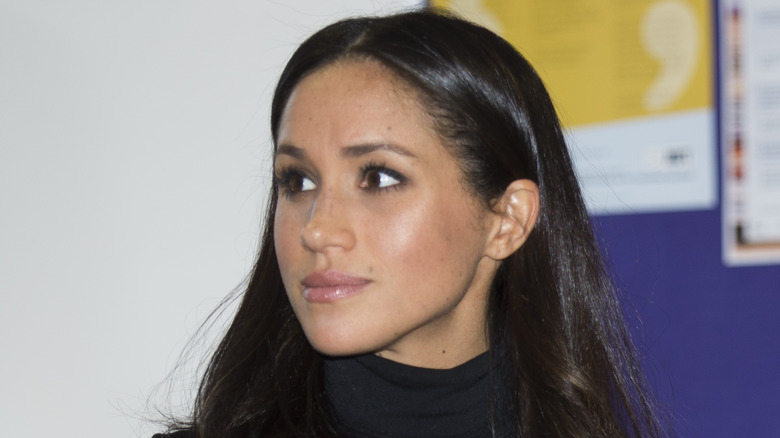 Getty Images
Ever wonder how Markle keeps her brows looking so impeccable? Enter her brow stylist, Sherrille Riley of the London-based Nails and Brows salon. According to People, Riley has been the go-to gal for Markle's brows since the summer of 2016, when another member of the royal family recommended the salon.
In January, Riley told People that Markle gets The Audrey Brow treatment, which models her brows after classic style icon Audrey Hepburn. Described by the salon as "suitable for women of all ages and face shapes," The Audrey involves shaping the brow into a straight look without a pronounced arch, and which tapers out as it approaches the temple. According to the salon, the process lifts the face and leads to an appearance that is youthful and fresh.
Riley told People that the treatment entails shaping and tinting, and that she uses a tint that mixes "brown with a hint of black, which gives a really soft neutral look." It isn't meant to dramatically change appearance, instead Riley explained, "It's just about accentuating her features in the most natural way." So, Audrey Hepburn aficionados: the era of the Audrey brow has arrived.
Love the skin you're in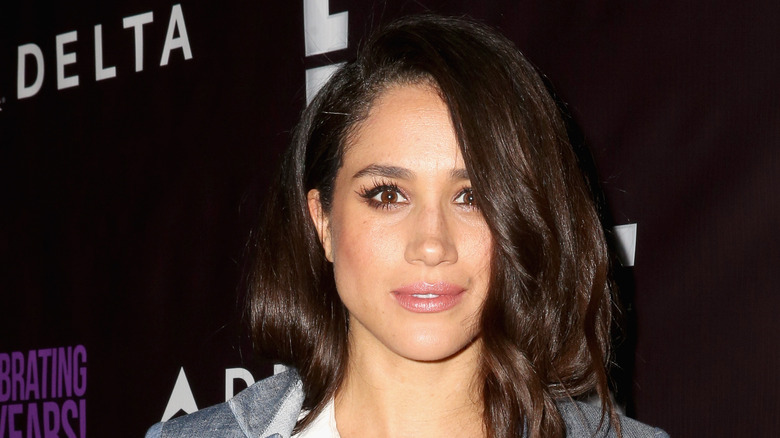 Getty Images
Both as a mixed-race woman and as someone with freckles, Markle has encountered significant pressure to change her appearance. In a 2017 interview with Allure, she explained that although her family always ensured that she felt confident about her looks, "It was only outside the comforts of home that the world began to challenge those ideals." 
After taking an African-American studies class during college, she learned that colorism was why she felt "too light in the black community, too mixed in the white community." Her freckles made the matter even harder to navigate, and they, too, have been subject to much discussion. 
As she explained to Allure, "To this day, my pet peeve is when my skin tone is changed and my freckles are airbrushed out of a photo shoot." She embraces her freckles and encourages others to as well. "For all my freckle-faced friends out there," she said, "I will share with you something my dad told me when I was younger: 'A face without freckles is a night without stars.'"
In order to let her natural beauty — including her freckles — shine, she told Birchbox that she only uses foundation in the spots where she really needs it. "I never want to cover my freckles, so we just do a 'wash' of foundation in certain sections instead of over the entire face," she explained. 
Do this for soft, touchable hair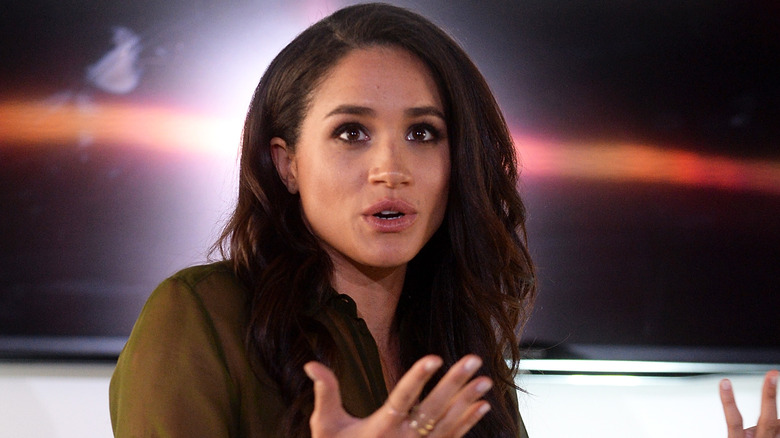 Getty Images
Markle's amazing complexion and facial structure are enviable enough on their own — and, as it turns out, so is her hair. In every picture, her hair looks amazing: healthy, shiny, and soft. "I put deep conditioner in my hair more than you could imagine," she told Gritty Pretty in 2015 (the interview has since been removed from the website). "I never let hairdressers tease it for volume — it's not good for it," she added.
You may be wondering what makes deep conditioners different from their regular counterparts. James Corbett, celebrity hairstylist of James Corbett Studio in New York City and color director for Clairol, spoke to The Today Show and explained that because deep conditioning hair masks have more lipids and fatty acids in them, they actually help protect hair by returning lost moisture.
Corbett noted, "When the hair is healthy, the cuticle stays closed, which means less frizz and your color looks better because light reflects off your hair. Masks can help repair what styling and the environment takes out."
So, if deep conditioning masks are Markle's go-to hair product, what kinds does she use? "There are two lines I use religiously," she told Beauty Banter . "Kerastase (masquintense and the oleo relax line) and Wella, which has a hair oil I'm obsessed with. It smells like vacation and makes your hair slippery and touchable." Now that's an endorsement!
Choose these colors for your next mani/pedi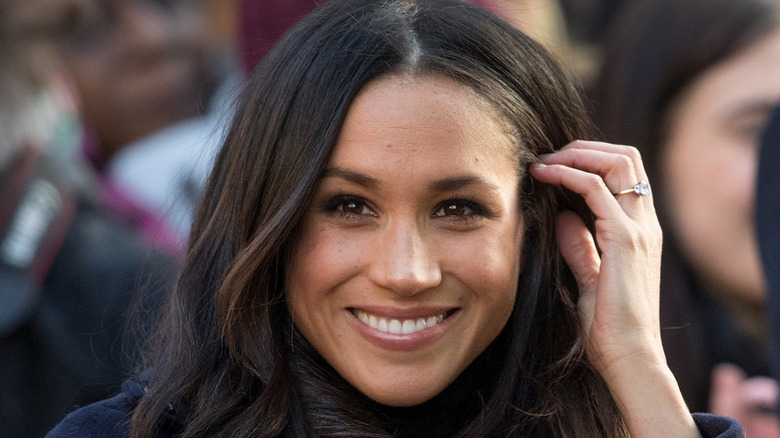 Getty Images
In addition to getting her Audrey brows, Nails and Brows salon owner Sherrille Riley told People that the royal bride-to-be also regularly gets her nails done there. She prefers the natural nail treatment over gel or shellack manicures, and often picks neutral colors for her polish. "She tends to go for quite natural colors as she's quite a natural, understated person," Riley said.
Additionally, Riley noted that Markel typically matches her manicure to her pedicure and chooses "lots of creams and very pale pinks." In one recent visit, Markle chose a pale pink nail polish by Kure Bazaar — a brand known for being free of toxins — in a color called Rose Milk. 
So, if you want your look to follow Markle's playbook, stick with neutral, natural shades and stay away from bright, bold manicures.