General Hospital Famous Feuds: Michael And Sonny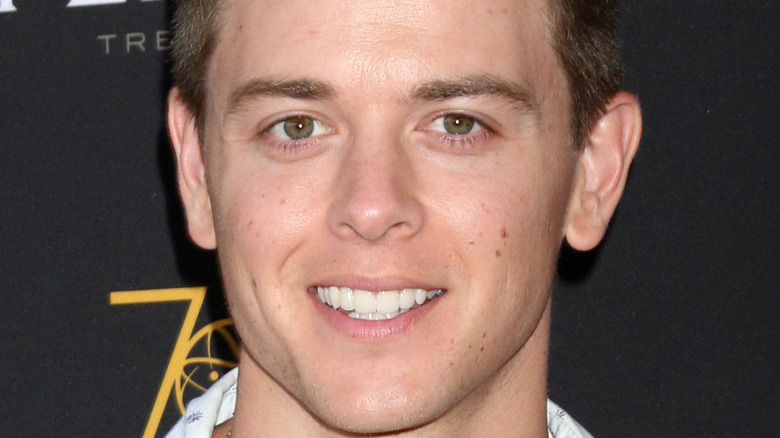 Kathy Hutchins/Shutterstock
Michael Corinthos (Chad Duell) and his father, mafia don Sonny Corinthos (Maurice Benard) have been at odds off and on for years. Michael's biological father was A.J. Quartermaine (then Billy Warlock), but his mother Carly Corinthos (Laura Wright) kept Michael's paternity obscured for some time because A.J. was an alcoholic and she thought he was a bad role model (via Soaps in Depth). The truth of Michael's paternity eventually came to light. A.J. was a troubled soul who wanted to do right by his son by marrying Carly, but when she ended up pregnant with Sonny's baby, a feud between A.J. and Sonny erupted that would eventually be A.J.'s downfall — and the root of some of Michael's issues.
When Sonny and Carly got married later, Sonny adopted Michael and helped raise the boy through most of his life. However, as Soap Central reported, A.J. continued to be a thorn in Sonny's side. When Connie Falconeri (Kelly Sullivan) was murdered, she was able to scrawl the letters 'A.J.' with her blood. Everyone in town assumed it was A.J. Quartermaine (now Sean Kanan) who killed her, but A.J. figured out Ava Jerome (Maura West) was the perpetrator. As he attacked Ava with sheer anger, Sonny intervened and shot A.J., who ultimately died as a result.
Michael couldn't forgive Sonny's actions and set down a path of revenge that would repeat itself over the years.
Michael punishes Sonny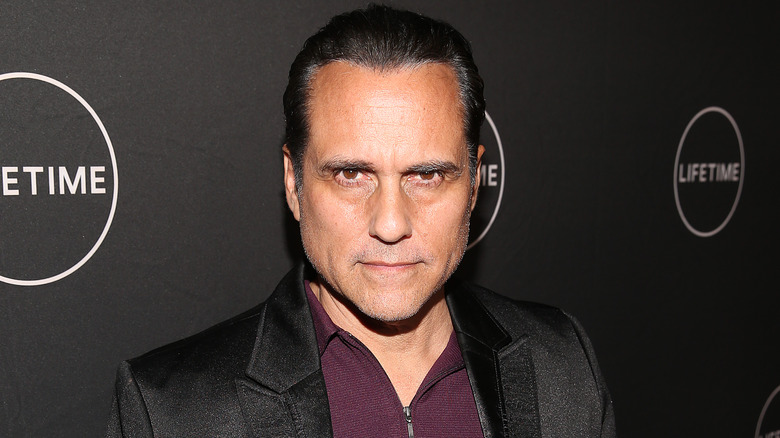 Jesse Grant/Getty Images
Being a mob boss has caused Sonny Corinthos (Maurice Benard) to gather a hefty rogue's gallery of enemies on "General Hospital." Former mobster Ava Jerome (Maura West) was one of them, but per Michael Fairman TV, the two managed to briefly call a truce in order to commiserate about the terrible deeds they've done over the years, including Sonny's murder of A.J. Quartermaine (Sean Kanan). The two ended up having hate sex in the Quartermaine crypt – aka the strange and twisted story behind Avery Corinthos' birth.
Michael Corinthos' fury at learning that Sonny was the one who killed his biological father, A.J., increased and he decided to punish Sonny by suing for custody of Avery (via Soaps in Depth). Michael argued that Sonny was unfit as a parent because of the dangerous lifestyle he led. According to Soaps in Depth, Michael's brother, Morgan Corinthos (Bryan Craig) and Kiki Jerome (Hayley Erin) realized the error of Michael's ways and attempted to make him appear to be unfit by secretly drugging him. Avery ended up being kidnapped by the unhinged Silas Clay (Michael Easton) who wanted the girl's bone marrow in order to save Ava's life. After Avery was rescued, Michael realized that taking her from Sonny was not a good thing and he relinquished custody back to his father (via Celebrating the Soaps).
Father and son made up, but it would only be a matter of time before that would change yet again.
The peace between father and son would not last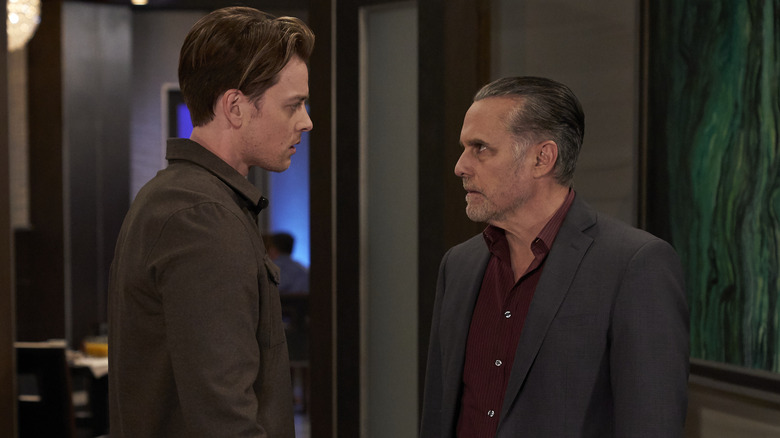 Craig Sjodin/ABC
It was quite the surprise to the citizens of Port Charles when Sonny Corinthos (Maurice Benard) — who'd been presumed dead when a footbridge collapsed — turned up alive. He had been living with amnesia in the town of Nixon Falls for several months where he ended up falling in love with Nina Reeves (Cynthia Watros), who kept Sonny's existence a secret, per Soaps. Eventually, Sonny regained his memories, along with the memories of being in love with Nina, and when Carly caught Sonny and Nina in bed together, it was truly over. Sonny moved on with Nina after their divorce. 
Michael felt Sonny, who prided himself on being a family man, had betrayed the family by leaving Carly and siding with Nina. Michael sought revenge and swore he'd take Sonny down. Per Celebrating the Soaps, he hired mercenary Dex Heller (Evan Hofer) to infiltrate Sonny's organization and destroy it from within. Unaware of this, Sonny had deemed Dex loyal, and although he tortured the poor fellow — thinking he was a serial killer called "The Hook" — Dex was later exonerated, and Sonny apologized for his horrible actions. As of this writing, Dex continues to work for Sonny while simultaneously furthering Michael's agenda.
It's only a matter of time before the truth comes out, and when that happens, father and son may never be able to repair their relationship.