The One Question We Have After Watching A New Orleans Noel: Why Is Everyone In TV Movies An Architect?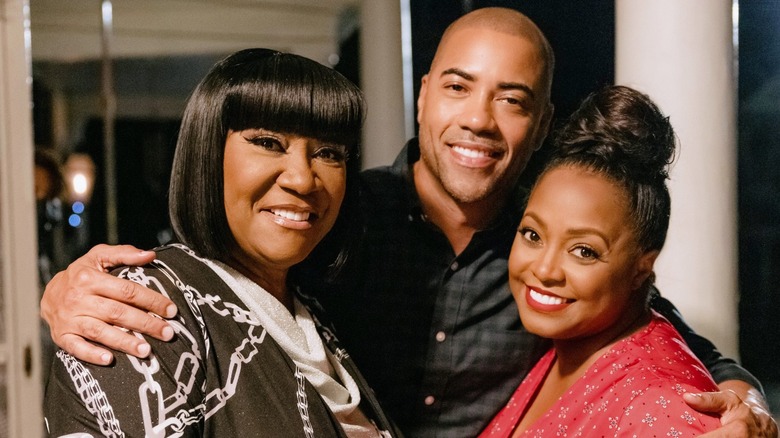 Lifetime
In Lifetime's new movie "A New Orleans Noel," Grace and Anthony, played by real-life couple Keshia Knight Pulliam and Brad James (via People), are both architects competing for full control over their newest job — restoring Anthony's historic family home in New Orleans. His grandmother hires both architects, competitive former classmates, in spite of their opposing styles and opinions about what constitutes a good renovation. 
While Grace tries to preserve the house's old school New Orleans charm, Anthony insists that it needs modern updates to make sense for the future. The pair butt heads, but with their chemistry and playful banter, they just might find some common ground between them.
This is far from the first Lifetime movie to use architects as a plot device; but what is the pull toward this profession we see across the TV movie universe? By analyzing the architects in five TV movies, we'll be one step closer to cracking the code.
The architect needs to open up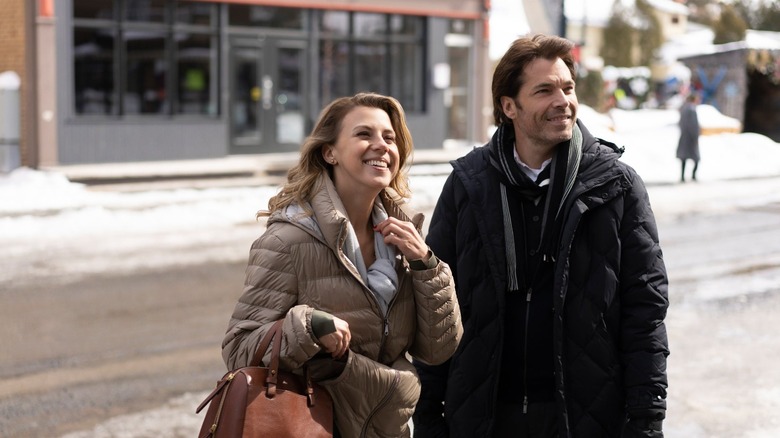 Lifetime
Hallmark's 2020 movie "A Gingerbread Romance" is the plot that most closely mirrors the sweet architecture-based love story of "A New Orleans Noel." Tia Mowry plays Taylor, an architect up for a big promotion in another city. The only thing standing in her way is a life-size gingerbread house building contest. With the help of a local hunky baker, Taylor begins to see the value of family and finding a place to call home. Like Grace, she's moved around a lot for her projects, and while her ambitions have been rewarded with success, she's finally finding where she belongs just in time for Christmas.
Lifetime's next architect-Christmas crossover is 2022's "Merry Swissmas," starring Jodie Sweetin. Her character Alex nails the busy architect trope — she's someone who doesn't have time for Christmas or family, and has focused primarily on her career for the past several years. However, when Alex goes to visit her mother in Switzerland to help her open an inn, she meets a handsome groundskeeper amidst the Swiss Christmas magic who helps her take life a bit les seriously.
Perhaps the experienced groundskeeper, who tends to take history's side, is the more rugged version of the buttoned-up architect, who hopes to usher in a new era. However, it's common for both archetypes to have Scrooge-like tendencies.
The architect can be the story's hero or its villain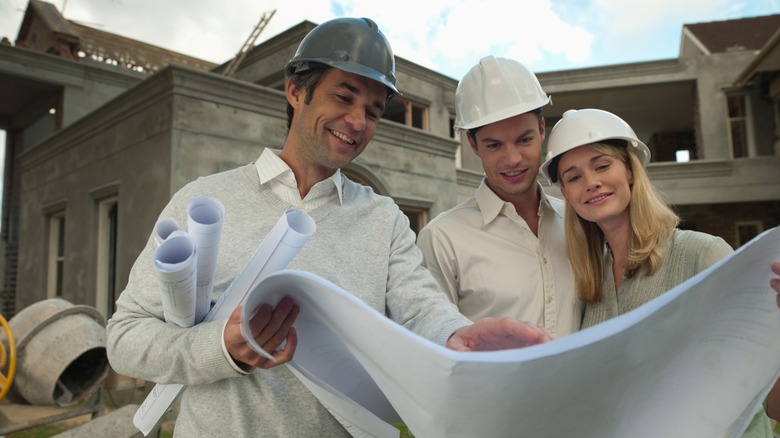 Chris Ryan/Getty
The TV movie architect comes in the form of the movie's token hunk in "Never Kiss a Man in a Christmas Sweater," Hallmark's 2020 film about a woman who accidentally runs a man down in New York City. Per Decider, said architect, Lucas, is rather Grinchy at the onset of the film, so Maggie and her family are tasked with opening his heart to the magic of Christmas.
In "The Story of Us" from Hallmark, Jamie's old flame Sawyer is designing a development that will knock out Jamie's bookstore, a la "You've Got Mail." Though, of course, she tries to find a soft spot in the stoney architect. But what happens when the architect stays rigid in their ways, and no one is able to break through their carefully constructed exterior? In this case, the perfectionistic streak that make for a good architect can manifest in frightening ways. In Hallmark's 2002 movie "The House Next Door," Kim is an intense and mysterious architect who a couple suspects of cursing the homes he builds.
Lifetime's 2013 movie "Deadly Revenge" also combines danger with architectural ambitions. Both Cate and Harrison are architects, which one might assume puts them on equal footing, as was the case with "A New Orleans Noel." However, Cate suspects that Harrison is holding onto a dark secret that may threaten her life like his girlfriend before her.
So, when an architect shows up in a TV movie, it's safe to assume they have inner work to do, or the consequences could be dire.