Why Alexandria Ocasio-Cortez Didn't Think She'd Live Past 2019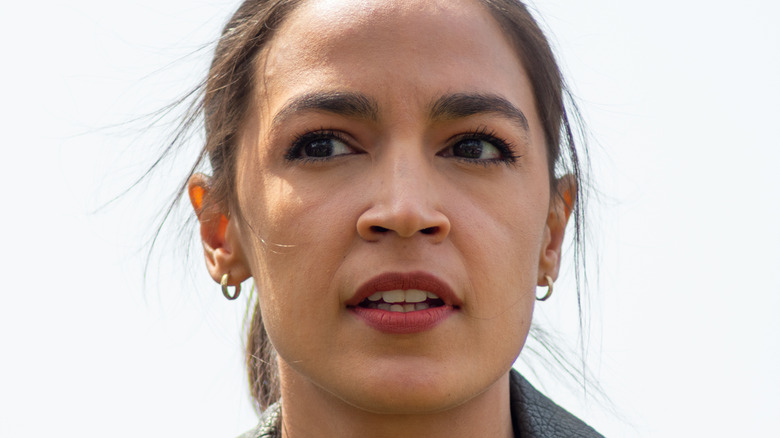 James Andrews1/Shutterstock
There aren't many stand-out figures in the Democratic Party, but there are certainly those who have become the subject of hate and death threats. One of them is congresswoman Alexandria Ocasio-Cortez, who in 2018 became the youngest woman to join Congress at 29 (via CNBC). Since then, she's become somewhat of a political celebrity due to her presence on social media, in addition to her appearances at events like the 2021 Met Gala, where she wore a white dress emblazoned with the words "Tax The Rich" in red (via Vogue).
"The medium is the message," the congresswoman wrote on Instagram following her appearance. "NYC elected officials are regularly invited to and attend the Met due to our responsibilities in overseeing our city's cultural institutions that serve the public ... The time is now for childcare, healthcare and climate action for all. Tax the rich."
Needless to say, not everyone agrees with her message and many people actively lash out at Ocasio-Cortez as a result of her political leanings. Despite her confidence in sharing her democratic socialist views, per Business Insider, the hate she receives from critics led her to believe at one point that she wouldn't live past 2019.
Alexandria Ocasio-Cortez was scared to walk her dog because of death threats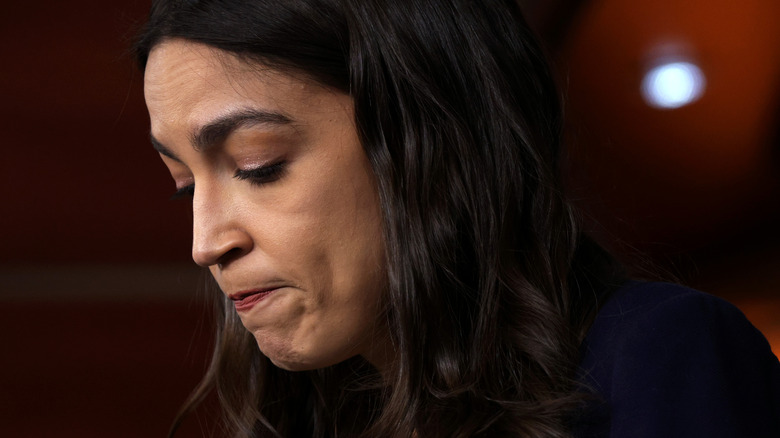 Alex Wong/Getty Images
Speaking on CNN's "Who's Talking To Chris Wallace" on Nov. 11, Alexandria Ocasio-Cortez revealed that she has feared for her life since winning her place in Congress in 2018. Ocasio-Cortez quickly became a notable figure due to her confidence in highlighting important and controversial policies and issues and being accessible on social media (via Axios). 
However, her heightened visibility, especially online, has resulted in Ocasio-Cortez dealing with endless hate and death threats that led her to believe she wouldn't live past 2019. As a result, the now 33-year-old politician still finds herself "looking over [her] shoulder while walking down the street" and struggling to complete day-to-day tasks like walking her dog. 
She even has to ask her fiancé, Riley Roberts, to meet her at her car when she gets home so he can walk her to her front door. "It means that there's just ... a general disposition where you kind of feel like there's almost a static electricity around you," Ocasio-Cortez explained. "And you're just always ... looking around, and your head is on a swivel, going to a restaurant, walking down the street."
Ocasio-Cortez's staff had to be specially trained to handle the number of threats she received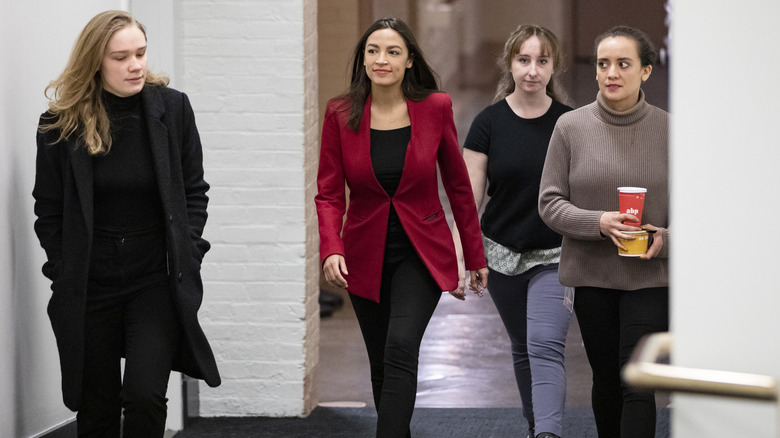 Samuel Corum/Getty Images
In a 2019 cover story for TIME magazine, it was revealed that in the first three months of working in Congress, Alexandria Ocasio-Cortez was threatened so heavily that Capitol Police had to be specially trained in order to recognize any potential risks or red flags in the visitors she received. 
While it's hard to understand why anyone would want to wish harm upon another person, Ocasio-Cortez believed it was down to a generational difference between American voters. They dislike her "because the America we grew up in is nothing like the America our parents or our grandparents grew up in," she explained. Ocasio-Cortex represents a different group of more liberal and progressive Americans, and those with opposing views aren't shy about making their voices and opinions abundantly clear. Some disagree so heavily with many of her ideals that they feel the need to threaten her safety.
And while some may see Ocasio-Cortez's stance on certain issues as somewhat "extreme," she doesn't see it that way. "As someone who is often, I think, characterized as extreme, I of course would object to that," she said on CNN's "Who's Talking To Chris Wallace," per The New York Post. "I do not believe that I am as extreme in the way that Marjorie Taylor Greene on the Republican side is extreme."