The Best Way To Measure Your Bra Size At Home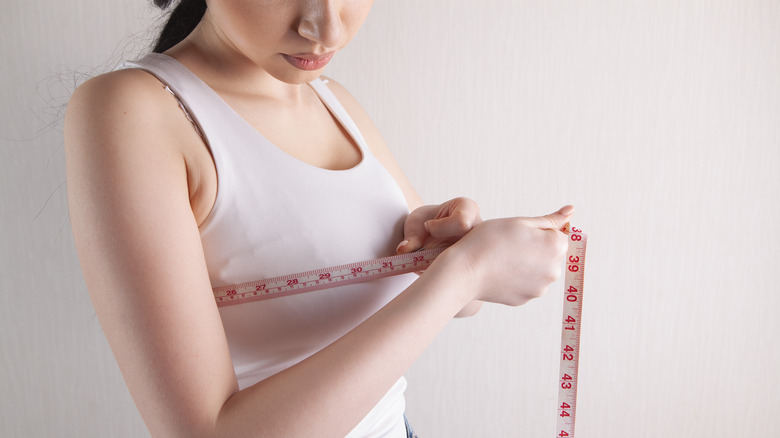 Sasun Bughdaryan/Shutterstock
For many girls entering the pathway to womanhood, going to a shop to get a bra size measurement was probably a puberty rite of passage. Once you hit that transition between childhood and adulthood, you may have been dragged along to Victoria's Secret by a female figure in your life to see what size of bra to wear.
For many women, that was also probably the last time they ever got their bra size measured. Since then, shopping at lingerie shops and in the bra aisle of department stores may have become a guessing game of awkwardly holding a bra up to your chest and thinking, "That looks good enough." According to a study published in the National Library of Medicine, about 80% of women are not wearing the correct bra size. If the straps are too loose or too tight, your boobs are spilling out of the cups, or the wires dig into your skin, chances are that your bra is the wrong size.
Wearing the wrong bra size can result in back and shoulder problems, breast and nipple pain, and even headaches (via WebMD). If you shudder at thought of a store specialist feeling you up like a TSA agent so you can see what cup size you are, fear not. There are ways for you to measure your bra size in the comfort of your own home. All you need is a standard measuring tape.
How to measure your bra size at home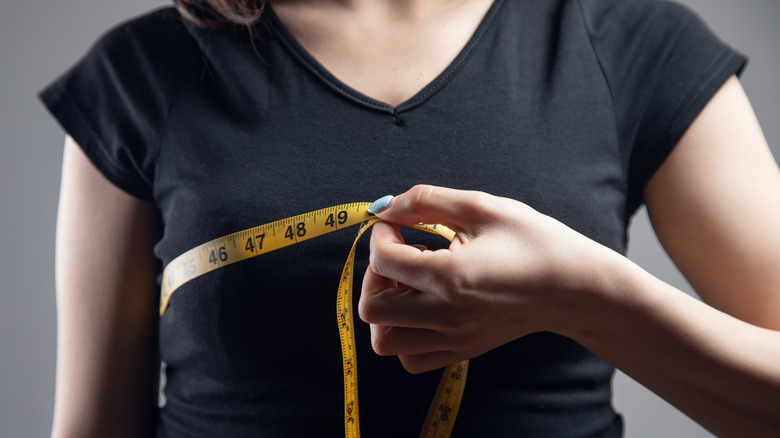 Fantastic Studio/Shutterstock
When measuring, you can wear a non-padded bra or go braless for the most accurate measure.Take your measuring tape and wrap it around your ribcage, right under where your bra band would go (via Real Sample). While you want it to fit well, don't make it too tight, or else it could cause potential discomfort. When it feels right, round up on the tape measure to the next whole number. If you get an odd number, add five to get your band size. For even numbers, add four.
Now it's time to measure the cup size. Put the measuring tape under your shoulder blades and bring it around to the fullest part of your chest. This will most likely be at the nipples (via Cosmopolitan). The tape does not need to be as snug as it was when measuring the band size — just make sure that it lays flat against your nipples. Round up the size and subtract the band size from it. If you got one inch, that's an A cup. Two inches is a B cup, three inches is a C cup, and so on.
The best lingerie brands to buy bras from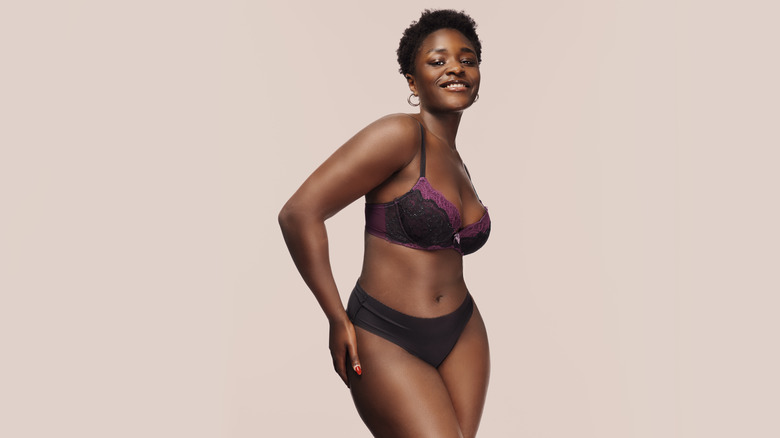 Fotografielink/Getty Images
Good quality lingerie is something that should be accessible to all. Yandy is one of the best lingerie brands for plus-sized people. The brand has sizes up to 5X and carries bras and panties, chemises and rompers, and even costumes for roleplay.
For an everyday bra, Lively offers comfortable bras that fit well and offer plenty of support despite having no wire. The brand is carried at Target, Nordstrom, and Amazon. Its customers love the Spacer Bra, a lightweight, wireless bra that's a cross between a bra and bralette.
If you've never been able to find your cup size in stores, try shopping at Bare Necessities. The website carries dozens of bra brands with sizes ranging from A to I for cup size and 30 to 42 for band size.
For people who don't quite fit into a whole cup size, ThirdLove offers half cup sizes so you don't have to round up when measuring your bra size. ThirdLove carries cup sizes up to an H, and its 24/7 Classic T-Shirt Bra is known for its comfortable fit and the support it gives.