Sex Expert Dispels The No. 1 Myth About Women And Porn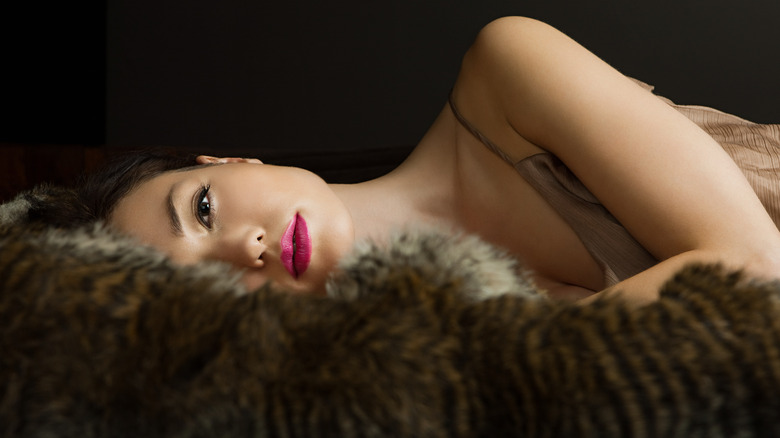 Image Source/Getty Images
"The internet is for porn," declared Trekkie Monster in the 2004 Tony award-winning musical "Avenue Q." Nearly 20 years later, Trekkie's words still hold up. The Guardian reported in 2018 that a conservative estimate of the online American porn industry is around $15 billion — bigger than the revenue generated by Hollywood itself.
But women as consumers of the ubiquitous goods often get left out of the conversation. Award-winning director of feminist and ethical pornography Angie Rowntree said in an exclusive interview with The List that she launched Sssh.com in 1999 to address this lacking. The membership website remains a premiere destination for sex-positive, female-centered pornography. "We would obviously not still be going strong if there wasn't demand for erotic content from a woman's perspective," she explained. With over 20 years of experience as a pornographer and curator of erotica, Rowntree is a verified expert in what women want. And it's not what you'd expect.
Women want and enjoy visual porn as much as men do
The content that Angie Rowntree creates on Sssh.com shatters the old idea that pornography — and sex in general — is the exclusive domain and purview of men. "It is sexist, dated, and patently false to claim that women are not just as visual as men and are also not just as interested in visual forms of porn," she explained to The List. The website has closely tracked data on desire using responses from members' open surveys, and Rowntree felt "confident in saying that it's impossible to lump female desire into any singular 'box' or genre."
That's why Sssh.com offers not just traditional pornographic videos but instructional articles, images, podcasts, and erotic stories to satisfy a number of sexual wants and interests. The site also includes content designed for couples and queer-identifying women. "In other words," she continued, "women are just as complicated and multi-faceted as men when it comes to sex."
There's more than one way to experience porn
In 2022, Sssh.com introduced another form of pleasure for its members: an audio collection of guided self pleasure sessions. "The fun thing about listening to guided masturbation and other erotic audio content is that your own imagination gets to play porn director," Angie Rowntree told The List. "What or who you ultimately picture and run with is up to you." Member favorites include sessions exploring mutual masturbation, exhibitionism, focus on single body parts, and orgasms — all delivered from a gentle male voice with a seductive British accent. The ASMR quality alone sets Sssh.com's guided masturbation sessions apart from the monolith of the porn industry.
Rowntree also emphasized the sense of self-possession that women experience when exploring their sexuality in either audio or visual form. "It's definitely empowering to take that control over your fantasy life and carve out a little escape from reality in the privacy of your own inner world," she added. Whatever speaks to you — and in the case of guided masturbation, it's literal speech — your pleasure journey is your own. "Whether you want to watch or listen to erotic content," said Rowntree, "both mediums have benefits . . . and you could say 'all roads lead to Rome' in terms of [a] 'happy ending.'"