The Untold Truth Of America's Next Top Model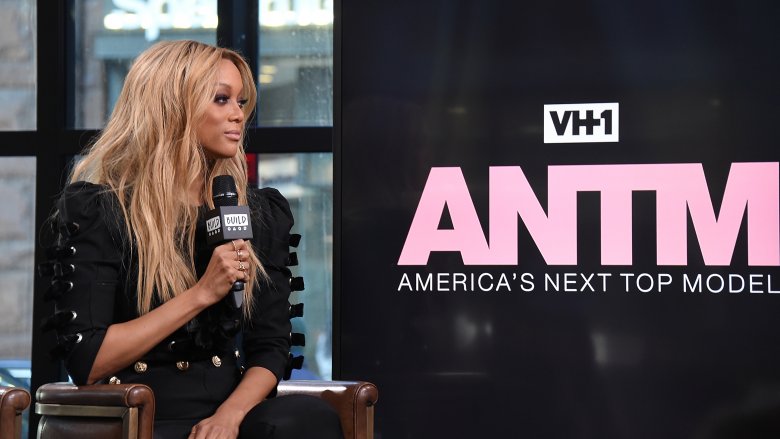 Getty Images
When a show has been on the air for more than 15 years, you know there's gotta be some juicy behind-the-scenes stories just waiting to be discovered — and when that show is a reality competition filled with young models and helmed by model mama Tyra Banks, those stories are guaranteed to be good. 
Such is the case with America's Next Top Model (ANTM), the long-running series created and produced by Banks herself. Over the course of more than 20 cycles, the show has amassed its fair share of untold truths. 
Wonder what happens to contestants after they're kicked off? Curious about what it's really like working with Tyra? Keep reading to find out a few of the little-known experiences that have shaped the show into what it is today. 
There is "such a stigma" around ANTM in Hollywood
While various contestants have enjoyed success after their time on ANTM, arguably no contestant has turned out to be a bigger success than cycle 3's Yaya DaCosta. The Brown University grad parlayed her modeling into a thriving acting career, landing roles on All My Children, Ugly Betty, and Chicago Med. She even starred as Whitney Houston in a Lifetime biopic about the iconic singer's life. Unfortunately, DaCosta says her ANTM cred didn't exactly do her any favors. 
"There was such a stigma in Hollywood, and people don't realize that," DaCosta told Complex in 2016. "The very directors and writers that were hiring me had just gotten their shows denied by a network because a new reality show was taking up that time slot, so the stigma didn't just have to do with being a model, it was reality TV in general. You didn't talk about it. It wasn't on your résumé."
DaCosta said it's such an issue that her producers from Take the Lead and Honeydripper later told her that they wouldn't even have hired her if they'd known about her ANTM past. 
Tyra really was rooting for Tiffany Richardson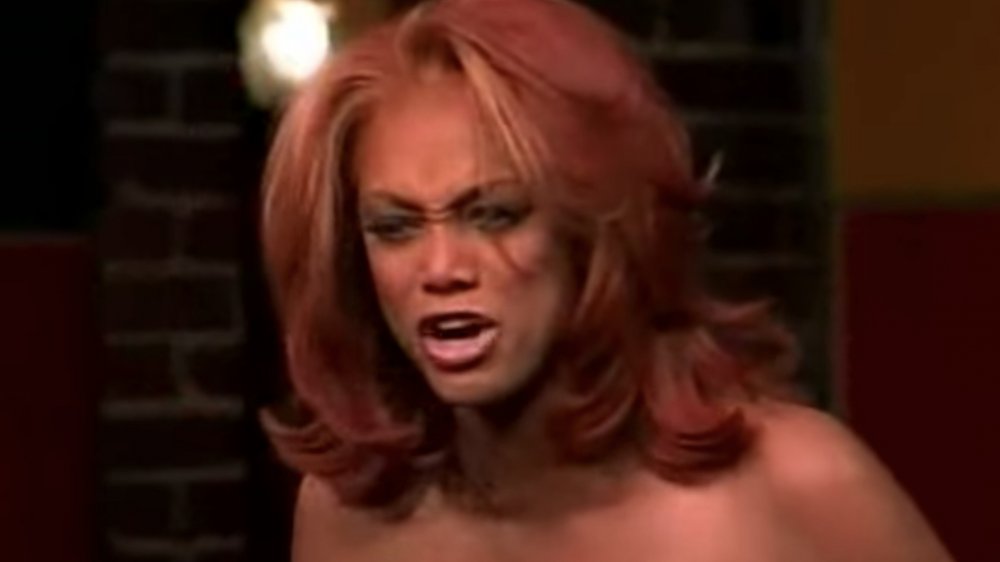 YouTube
Even fair-weather fans of ANTM are likely familiar with the most famous pop culture moment to come from the series: the "rooting for you" meme. In it, an emotional Tyra Banks yells at cycle 4's Tiffany Richardson, "I was rooting for you, we were all rooting for you!" Although it would be easy to imagine Banks and Richardson washed their hands of each other for good after the fact, the former contestant says they're actually cool. 
"It makes me feel bad watching it," Richardson told ThoughtCo. in April of 2017. "I'm like, 'I was hurting this lady bad.' Some people say she was acting. But some people say, 'Tiffany, you were being mean.' But me and Tyra know. We've talked since. Tyra yelled at me because she loved some Tiffany." 
In December of 2017, Banks essentially backed Richardson's account of events, telling BuzzFeed News, "It was such an emotional, visceral moment for me. I had so much love for this girl." 
Tyra tried to quit after cycle 8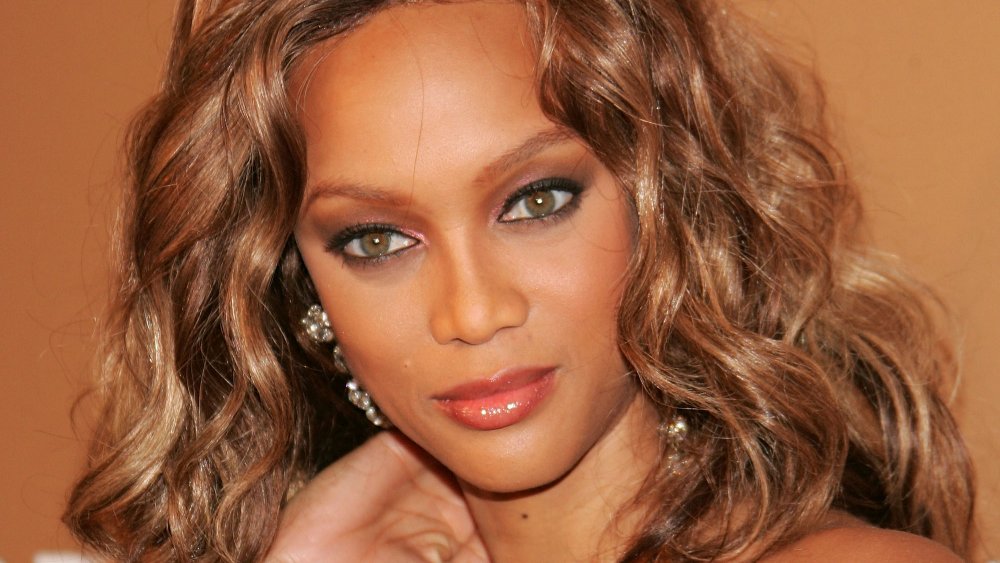 Bryan Bedder/Getty Images
In 2016, show host-slash-creator Tyra Banks shocked fans by leaving ANTM and tapping Rita Ora as her replacement. However, if Banks had her way, she would have left long before then — as in, a decade before. 
"It wasn't that hard," Banks told Entertainment Weekly of the decision to pass the torch to Ora. "Many years ago, I was stressed with starting new businesses... I went to [my lawyer] and I was like, you know what, I'm ready to bring someone else in. I won't say the name of the person, but I actually brought a different person to the network, met with them, and said, 'This is the person I want to take the reins of this show.' This was cycle 8." 
Cycle 8, y'all! That means Banks tried to quit the series for the first time in 2007. 
Not-so-"model" neighbors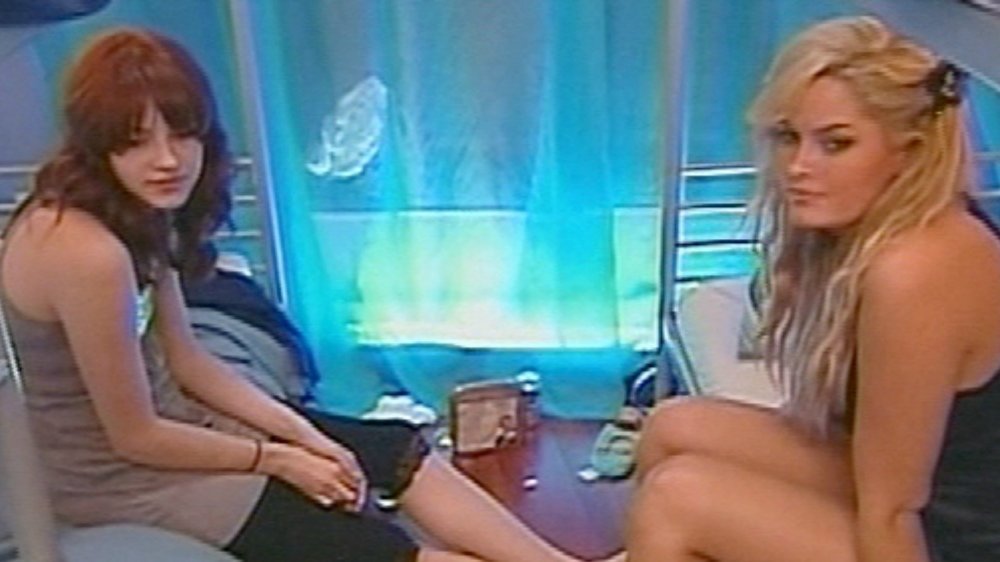 YouTube
Regardless of which contestants fans wind up pulling for each season, there is one constant that never wavers: how much house-envy ANTM causes its audience. Impeccably appointed lofts, condos, and penthouse apartments maxed out with every modern amenity? Yes, please. Unfortunately, the models haven't always treated the digs that Banks has provided with the hero worship they deserve.
In 2008, reports surfaced that the contestants from cycle 10 of ANTM had made a major mess of the upscale Manhattan loft they'd been calling home. In fact, the precise word two non-ANTM residents of 39 Lispenard Street used when describing the damage to TMZ was "trashed." The CW network (on which the show aired at the time) and Tyra Banks' rep both declined to comment when contacted by TMZ about the "serious" problems with the contestant's house guest behavior. 
The contestants don't have access to Tyra often
While Tyra Banks often refers to herself as "mama" to the models on the show, the reality is that she is a super-busy entrepreneur who doesn't have a ton of time to kick it with contestants.
In describing what it was like to work with the model magnate, cycle 9's Sarah Hartshorne explained to Bustle, "I only saw her once a week, and there were a lot of us and only one of her, but she was always very nice and insanely knowledgeable about basically everything."
Angelea Preston was admittedly jaded after winning cycle 17 of the show — only to have her title stripped away when producers found she formerly worked as an escort. However, she does corroborate Hartshorne's depiction of Banks being absent. 
"Tyra was non-existent," Preston told The Daily Mail. "The only time we saw Tyra was at panel. Tyra never came in to talk to us personally. When the cameras stopped rolling, it's like she's a stranger." Since she went on to (unsuccessfully) sue Banks for $3 million, Preston's narrative may be a bit biased, but still. 
The contestants can't leave after being kicked off
It's always so sad when a contestant gets the boot, right? And if you felt bad for them before, prepare to feel even worse. It's pity-worthy enough that the models have to leave the swanky communal pad when they get voted off — but then they can't even go home.
In a Reddit AMA session (or "Ask Me Anything"), cycle 12 contestant Allison Harvard opened up about how eliminations play out. When asked what happens after they're shown the door, Harvard confessed the contestants are sent to a hotel. 
"The stay was determined by the time of elimination," she said. "Sometimes a girl would stay there for a few weeks (if she was eliminated early on) and other times only a few days."
That electronics ban is no joke
"We had no TV, internet, or phones," cycle 13's Erin Wagner revealed during her own Reddit thread. She went on to say that the limited phone time was her "least favourite part" of filming the entire show. But that's not all. Apparently, the electronics ban could have been partially motivated by the fact that the contestants get mic'ed in the morning. (Contestants are allowed limited time in a "phone booth" — see clip.)
"The first thing we did when we woke up was get a microphone put on. Whenever we were waiting for challenges and such, we couldn't talk in the limo, and when the cameramen were on break or went home for the night, we just had to read or something silently," Wagner said. Obviously, producers didn't want to miss anything dramatic. And, if you think about it, they probably didn't want to listen to hours' worth of contestants' phone calls home. 
A warped, sorting-hat-style ceremony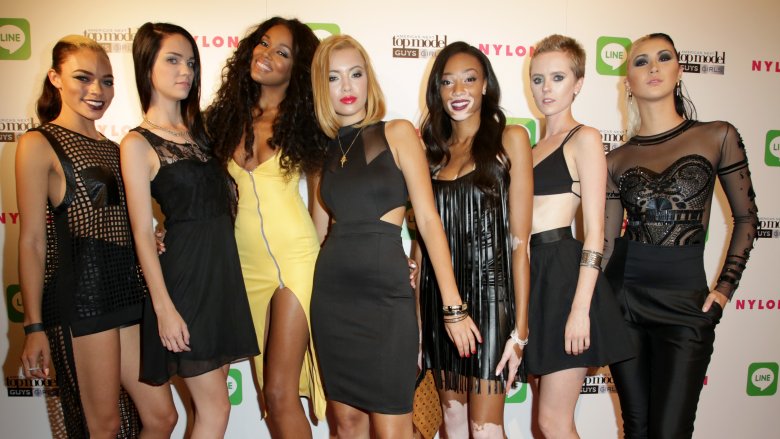 Getty Images
Sometimes, learning what goes on behind-the-scenes of your favorite shows is fun. Then there are times like this, when such a revelation makes you wish you'd never peeked behind the proverbial curtain.
During a Reddit AMA session, cycle 16 contestant Sara Longoria shed light on how the casting process unfolds, saying, "During cast week, they separate us by type: 'blonde athletic,' 'Latinas,' 'exotic and edgy,' etc. It was easy to figure it out when they stood me in a line with all the tattooed, short hair girls." Longoria also noted, "I was a naïve 18 year old and even I knew I was just a 'quirky, androgynous, token gay filler' for the cycle." Yikes. 
The show inspired Tyra to hit the books... hard
Each cycle of ANTM has a theme, and cycle 19's turned out to be the "college edition" — the 13 women competing were all students pursuing higher education. By Tyra Banks' own admission, the season and her own experience with higher education were intrinsically linked. When asked by TV Guide whether there was a tie-in between the cycle and her stint at Harvard, the boss model replied, "A hundred percent."
The fact that so many young women regret dropping out of school or not enrolling in college gave Banks the idea for ANTM's college edition. And, in the meantime, she completed the business school's Executive Education Owner/President Management Program (OPM) at Harvard. The program's director, Jacqueline Baugher, told The Harvard Crimson that it typically attracts "presidents and CEOs of companies with sales from anywhere between five million to several billion dollars."
In 2012, Banks shared a Twitter photo of herself "smiling ear2ear on the Harvard Business School campus" with her program diploma. 
The models aren't the only ones with alter-egos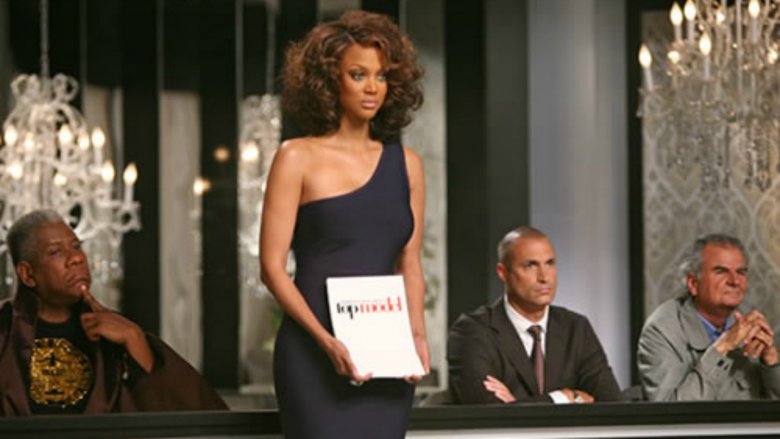 YouTube
Raise your hand if you live for the makeover day each cycle! From blonde to brunette, redheaded to silver, flowing locks to buzz-cuts, the contestants go into the day one way and come out another. It's invigorating. Well, at least for the audience. 
Some seasons, Tyra Banks even has the models come up with an alter ego to go along with their new look — a name that suits their fresh, fierce personas. What fans may not know is that Banks created an alter ego for herself when the show started. 
"On Top Model I created a character and unfortunately her name is 'Tyra'," she told TV Guide in 2011. "So people think that it's me. And it's totally not. But in Cycle 19 I'm going to return to who I am as a human being, which is more like my talk show. My talk show is just me." (The Tyra Banks Show aired from 2005 to 2010). 
Miss J was not fired, y'all — get it right
No one was ready when, heading into Season 19, three longtime members of the ANTM family were let go: photographer Nigel Barker, creative director Jay Manuel (aka Mr. Jay), and runway coach J. Alexander (aka Miss J). 
At the time, Banks tweeted out "fierce & love" to the trio, but it didn't prevent the ensuing fan backlash. Nor did it prevent nearly every outlet from reporting that all three had been fired.
However, in 2016, Miss J cleared up that misconception during an interview with Perez Hilton. "Listen, I was never fired. Get the record straight," he told Hilton, adding with a laugh, "I'm just sayin'. My contract was just not renewed."
And you thought your work day was long
Life must be pretty sweet for ANTM contestants. They get to hang out with Tyra Banks, lounge around in a super luxurious house, travel to exotic places — what could they possibly have to complain about? Only, life isn't quite as carefree as one might imagine.
During an interview with BuzzFeed News, cycle 20 contestant Don Benjamin shed light on a real day-in-the-life for the ANTM hopefuls. "Oh my God, we were there for like 13 hours at least every day," Benjamin said. "We'd get up at five in the morning, get home at midnight." 
Cycle 20's Mike Scocozza backed this assertion, stating, "They make it seem like it was so quick, but really it was just all of us hanging around all day." 
Confessionals are NOT optional
If you've ever wondered why contestants even do the confessionals — which are practically guaranteed to cause drama — the answer is easy: they don't have a choice.
"I think we did 20 or 30 minutes a night, everybody. They hardly used any of that footage," cycle 20's Don Benjamin told BuzzFeed News. "I'm sure there's some really good stuff on there."
Of course, that doesn't mean there aren't loopholes. Cycle 13's Erin Wagner found a way to rebel, telling a Reddit AMA forum, "For about a week, I refused to do my confessionals. I just sat in that little room with the camera and talked about my lunch and such, because I was bored with what was happening and I probably wanted to be difficult and not give them anything to use."
The judges aren't privy to house drama
Fashion Publicist Kelly Cutrone — who rounded out the judges' panel for four cycles, ending with the 21st — offered to let Reddit pick her brain in 2015 about the experience. In typical Cutrone fashion, she was unflinchingly honest, making her one heck of an interview subject. 
So when asked whether or not the judges have any interaction with the models off-screen, you could basically hear fans holding their breath for one particular bit of intel: whether or not the judges watch footage of the models in the house in-between judging panels.
"No, we don't," Cutrone said, elaborating, "I mean, we see them, you know, on challenges only, and we don't even really get any updates on what's happening in the house, you know. We only see them when we are doing challenges, like we see them at photoshoots, and they are actually really discouraged from trying to chat up the judges, as you can imagine."