The New Lifetime Movie You'll Relate To If You've Experienced Loss Around The Holidays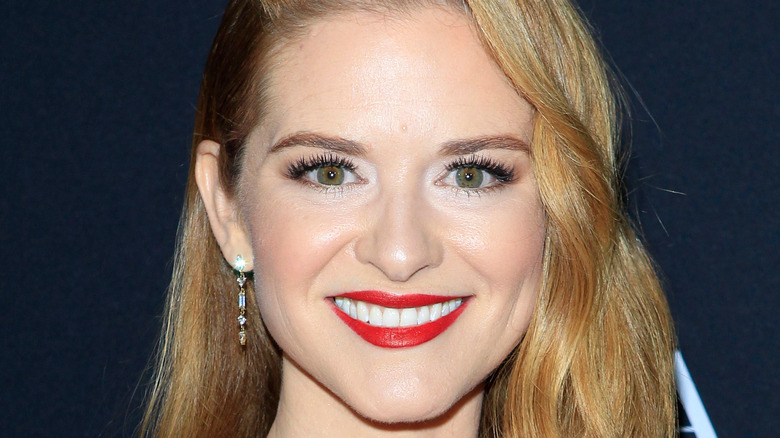 Kathy Hutchins/Shutterstock
An old high school crush. A hot kiss. Christmas carols. An ice-sculpture competition. The Lifetime movie "Reindeer Games Homecoming" has all the right ingredients for the perfect holiday movie and a little bit more. Sarah Drew not only stars in the movie as the character Mac, but she also wrote the screenplay for the movie. In an interview with Lifetime, she revealed the story, "has all the different colors of the human experience, in terms of grief and love and community."
The movie begins five years after the loss of Mac's father, Charlie. Very early on, one of the first things you learn about the character is that she's still grieving. While looking at a wall of framed photos, she wistfully whispers, "Miss you, Pop." Later, when asked how she's holding up, Mac replies, "Feels different every year, but never any lighter."
Mac isn't the only one who feels the loss of a loved one even more deeply during the holidays. "Grief can be a profound experience at any time, but for many people it is heightened during the holidays," explained grief and bereavement expert Dr. Rachel Brandoff in Parade.
Mac's grief is everyone's grief
In "Reindeer Games Homecoming," the character Mac explains what it was like upon her father's sudden death, days before Christmas. "When he died, I just fell apart. I could barely function." Putting her life on pause, she moves back home and, in honor of her father, competes in the town's annual Reindeer Games. "I do this every year, thinking that somehow if I just win the games, I'll feel closer to Pop. ... just desperately trying to keep him alive when he isn't," she says in the film.
Actress Sarah Drew, who plays Mac, shares the holidays can be hard for those who have experienced loss. She told The Nerds of Color. "Sometimes going to be with family is stressful ... sometimes it's facing the fact that you're celebrating something very big without a family member who you've lost, and that brings up a lot of grief and it cracks the heart wide open."
"It's okay to be sad, confused, upset," Dr. Rachel Brandoff told Parade. "There can be great value in allowing yourself to feel difficult feelings." She added that it's okay not to feel sad sometimes, and to put a pause on your grief. "Taking the opportunity to have a conversation about something different, to watch a television show, to laugh at a joke, or to do something that is not focused on loss does not diminish a person's grief or the experience of love that they have for someone they've lost," she said. 
Support like Mac's is essential
Throughout "Reindeer Games Homecoming," the character Mac pulls an envelope out of her pocket. In a conversation with her romantic interest, Chase, they talk about how Mac and her father exchanged letters every Christmas Eve. "He wrote this one to me a couple days before he died," Mac reveals. "I haven't read it yet." In another scene, she explains, "If I do, if I do, that's it. I'll never hear from him again. I'll have to let him go, and I don't want to let him go. I miss him so much."
With Chase's help, Mac eventually reads the letter. Sarah Drew explains to The Nerds of Color, "For me ...  the movie was always about how important it is to have people in our lives who know us, see us, and love us." The letter was a reminder to Mac that her father would always be one of those people, and Chase, by showing his support during her grief, would be another.
"It is important to seek support from friends, family, coworkers, and professionals if needed," Dr. Tali Berliner of The Psychology Group, advised. "The holidays can bring up many complicated feelings." 
Psychotherapist and grief advocate Megan Devine told Healthline, "There's so much pressure and expectation around the holiday season even without grief. When we add grief to it, we've got to talk about how to get through it, survive it, and take care of each other."