Michelle Obama Has Powerful Advice On Bridging The Political Divide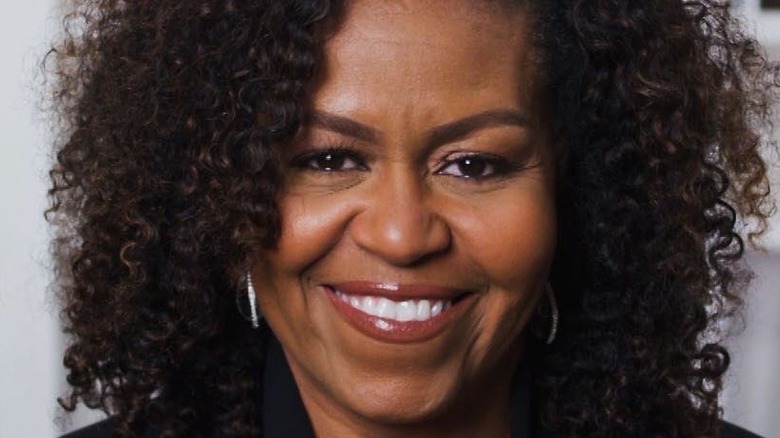 Bet Awards 2020/Getty Images
It seems like a lifetime ago since we said goodbye to former President Barack Obama and First Lady Michelle Obama when then-President Donald Trump got inaugurated into office in 2017 after winning the 2016 election. Though in recent years, it's seldom that Michelle is far from slowing down in her multitude of endeavors. After leaving the White House after her husband served for two terms, Michelle released the massive bestseller "Becoming" in 2018. By 2019, the mother of two sold over 10 million copies worldwide, according to The Washington Post. 
Since then, she's worked with Netflix to launch multiple projects, hosted her on podcast, and now, has a new book out entitled "The Light We Carry."
While promoting the new release, which focuses on a more advice-based approach to readers, Michelle stopped by "The Late Show with Stephen Colbert." In conversation with the comedic host, she spoke on everything from her personal life, including her children Malia and Sasha Obama, as well as relevant political issues like the ever-growing political divide plaguing the United States.
Michelle Obama weighs-in on midterm election results, urging those to find empathy again
Michelle Obama's book, "The Light We Carry," is coming out right in the wake of midterm election results. As reported by AP News, as of now, Democrats have gained a seat in the Senate, while Republicans have lost one. And Obama, who is keen on what goes on during multiple elections, had some thoughts to voice while appearing on "The Late Night with Stephen Colbert" about the polarizing views that Americans have been dealing with for years.
"We've been so disconnected from each other," she said. "We don't our own information about each other, we're hearing about it from the media, we're reading it on our phones. And we're not interacting with people who don't agree with us, knowing that just with the understanding that your worries come from a place too ... We have to find a way to find empathy again for each other so we're not blaming one another, we're not demonizing one another. But that starts with understanding where does that fear come from."
The former first lady went on to say that in her new book, she reflects on how she handles fear, which is one of the many topics she tackles. Let's just say it's definitely one that resonates with us all.