Meghan And Harry Outrank King Charles In A Very 21st-Century Way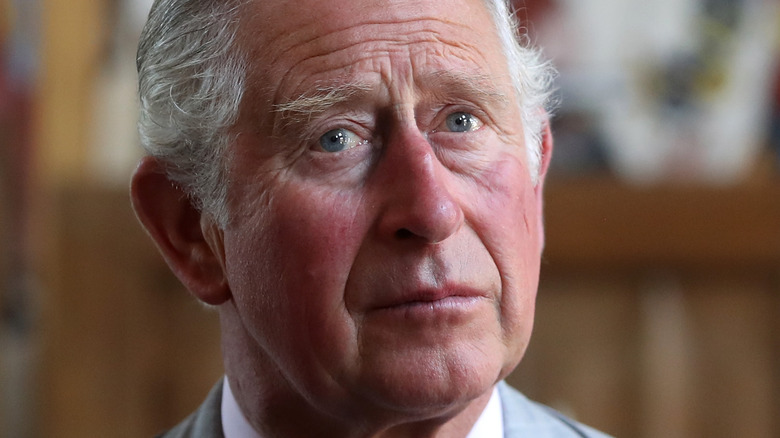 Chris Jackson/Getty Images
Although he waited his whole life to ascend the throne — longer than anybody else, in fact, according to CNBC — it's highly King Charles II expected to take over from his beloved mother with the royal family in such turmoil. The British sovereign has been estranged from his youngest son, Prince Harry, and wife Meghan Markle ever since the couple stepped down from their roles as senior working royals in early 2020. 
Moreover, as the Duke and Duchess of Sussex continue speaking out about their negative experiences with The Firm, the relationship between them grows increasingly strained. As Express reported, the king walked out in a huff when Harry refused to spill the contents of his upcoming tell-all memoir. It's widely believed he's going to take aim at his stepmother, Camilla Parker Bowles, with whom Harry has always had issues. 
Likewise, royal expert Katie Nicholl revealed that the king is holding off on giving the Sussexes' kids their royal titles until he finds out what's in the book (via Vanity Fair). It remains to be seen whether they can ever work things out, and indeed fans are split on who's really in the right, but when it comes to online popularity, there's no question about who's in the lead. 
The Duke and Duchess of Sussex remain super popular online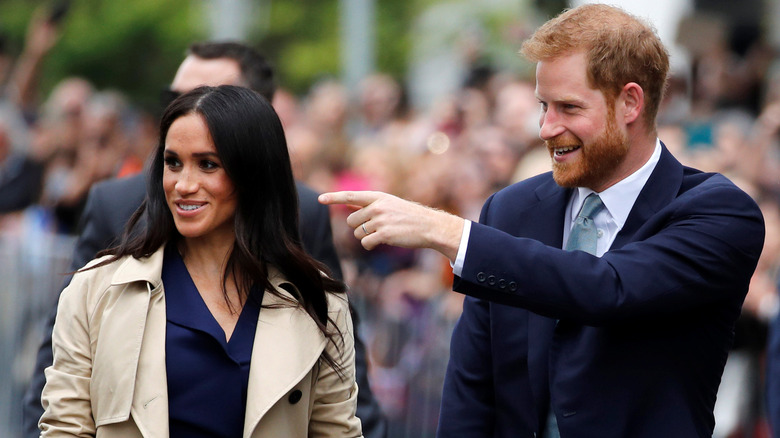 Pool/Getty Images
He might be sitting on the throne of Britain, but when it comes to online popularity, King Charles III still pales in comparison to Meghan Markle and Prince Harry, the Duke and Duchess of Sussex. According to Express, the royal defectors remain the most searched-for royals by a wide margin when taking Google, TikTok, and Instagram into account, as research conducted by Financial World confirms. They looked into the couple's ongoing popularity as Season 5 of "The Crown" dropped on Netflix.
The Duchess of Sussex alone is still searched for around 4.5 million times every month on Google, while clips relating to her have generated 5.9 billion views on TikTok, and she features in 1.2 million Instagram hashtags. Her beloved husband, meanwhile, is even more popular on TikTok with 7.3 billion views, but on Instagram Harry is slightly less so, garnering 1.1 million hashtag mentions. The Duke of Sussex is searched around 1.4 million times on Google every month, too.
In fact, out of 29 royals worldwide, Meghan and Harry ranked in third and fourth place respectively — high above senior royals including the king himself. However, the late Queen Elizabeth II remains the most influential royal overall, with Kate Middleton, Princess of Wales, coming in a close second. The news should soften the blow for Meghan and Harry, considering royal expert Katie Nicholl warned during a recent appearance on GB News that they might be stripped of their official titles before too long (per Express).
King Charles definitely won't be tuning in to The Crown Season 5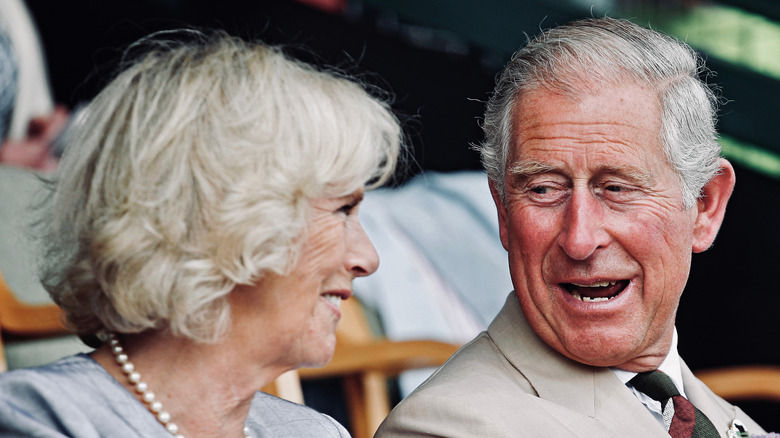 Peter Rhys Williams/Shutterstock
There are tons of things "The Crown" got wrong about King Charles and Queen Consort Camilla Parker Bowles's relationship and, understandably, the couple isn't too pleased about Season 5 of the hit show tackling one of the most tumultuous periods in their lives. The Los Angeles Times notes that royal watchers aren't impressed either, especially since the events of Season 5 only occurred in the mid to late '90s, which feels a bit too close for comfort.
"[Buckingham] Palace is clearly very sensitive about this, as Charles has only become king and is keen to build up his own distinctive image as monarch," confirmed Philip Murphy, director of history and policy at the Institute of Historical Research in London. He added, "The events of the 1990s clearly don't reflect particularly well upon him." There were also on-set reports that Princess Diana's death was being treated insensitively, per The Sun.
During an appearance on "True Royalty TV," royal author Katie Nicholl revealed that Camilla had previously tuned in to "The Crown," though it remains to be seen whether she'll check out Season 5. On the other hand, "[King] Charles watched it and stopped watching it at the last series because he felt that it got too close to the bone" (via Express). Maybe if the Google searches for his name increase, Charles will give the show another shot.