Donald Trump Is In Hot Water Over The Music Choice At His Campaign Launch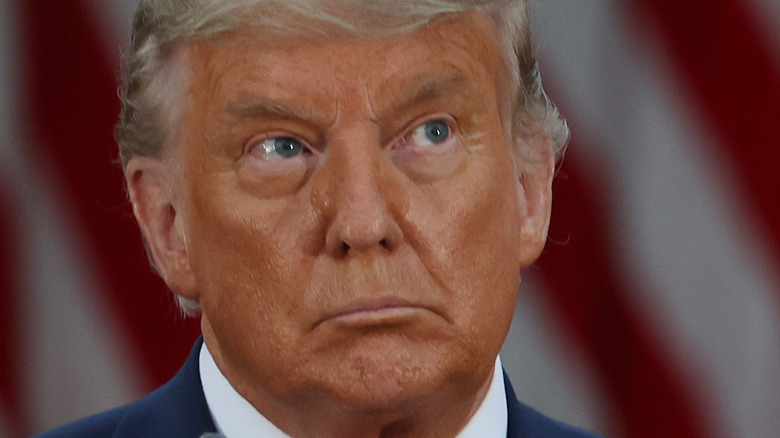 Tasos Katopodis/Getty Images
Another day, another lawsuit against Donald Trump. Billboard reported after the former president announced his third presidential run, Trump is facing legal action for music used during his launch. But this is nothing new for the 45th president. According to Billboard, many artists have "vociferously objected" to Trump using their music at his MAGA rallies over the years, including Bruce Springsteen, The Rolling Stones, Elton John, Panic! at the Disco, Rihanna, and many more. But some of the musical choices stand out. The song Trump played during his final departure had people talking. The 45th president played Frank Sinatra's "My Way" as one of his departure songs, and Sinatra's former wife, Mia Farrow, tweeted: "Frank would have loathed Donald Trump." Sinatra's daughter Nancy replied, "He actually did loathe him."
But the January 6 insurrection took artists' objections to a new level. The manager for singer Laura Branigan was livid after watching a viral video showing the Trump family dancing to "Gloria" before the January 6 insurrection at the U.S. Capitol. Kathy Golik tweeted it was "absolutely appalling" to hear Branigan's hit song played before the tragic events of January 6. Golik tweeted: It's very sad & upsetting to see Laura's beautiful memory & legacy have any association w/ Pres. Trump & such a dark day in U.S. history." After leaving office, some hoped the former president would change some of his ways. But Trump is in hot water for his music choice at his 2024 campaign launch.
Isaac Hayes' estate threatens legal actions against Donald Trump for music played at 2024 presidential launch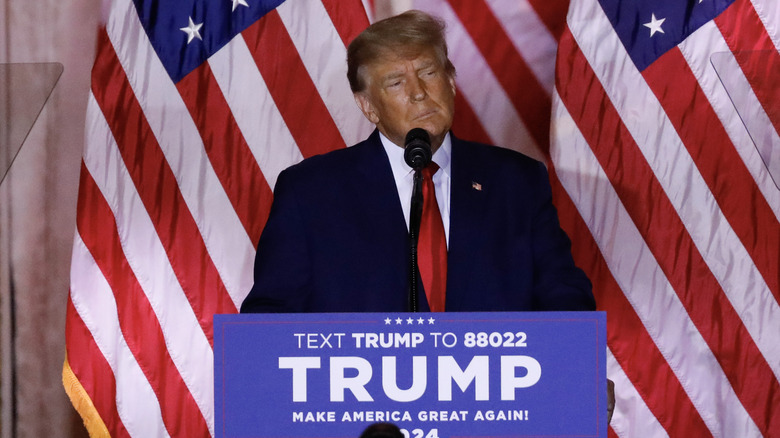 Bloomberg/Getty Images
Everything we know about a 2024 Donald Trump campaign shows that he'll probably keep breaking the rules. After Trump's presidential launch, Isaac Hayes' estate threatened legal actions for music played at his 2024 campaign announcement. On November 15, the music legend's estate tweeted: "Once again, The estate and family of Isaac Hayes DID NOT approve the use of 'Hold on I'm Coming' by Sam and Dave by Donald Trump at his 2024 Presidential announcement tonight. We are exploring multiple legal options to stop this unauthorized use." The estate of Hayes continued by tweeting: "Stopping a politician from using your music is not always an easy task, but we are dedicated to making sure that Donald Trump does not continue to use 'Hold on I'm Coming' ... written by Isaac Hayes and David Porter in further rallies and public appearances."
Fans shared their support. One fan tweeted: "Trump has been known for using music that he has not been approved to do because he just does what he wants and doesn't care. I hope you have legal avenues to put a stop to it." Another fan tweeted: "Such a fabulous song — perfect lyrics. Just not for ... him. Go get him, @isaachayes family!" The R&B music legend had many fans on Twitter, with another fan tweeting: "Go after him!!!!!! Not only is it theft, but it's a slap in the face to a great song."