Sarah Hyland And Adam Devine Talk Pitch Perfect: Bumper In Berlin - Exclusive Interview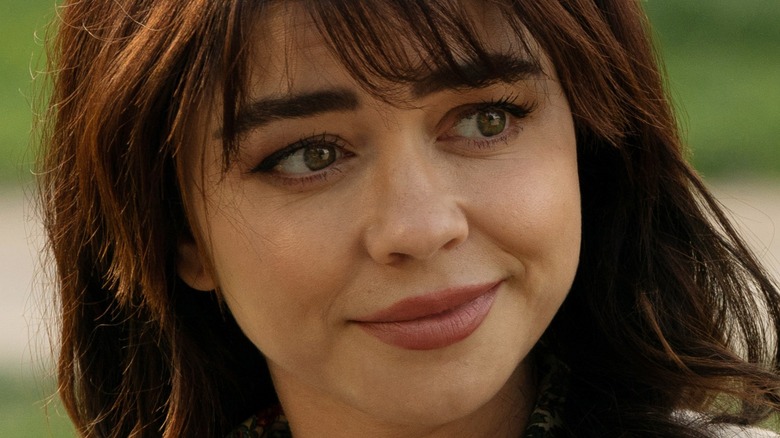 Anna Cook/NBCUniversal
"Pitch Perfect" is back! Ten years after Anna Kendrick, Rebel Wilson, Skylar Astin, and more brought a cappella music to a local movie theater near you, fans of the franchise have the opportunity to return to the world alongside one of its most vivacious characters. Of course, we're talking about Adam Devine's Bumper Allen, whom we first met when he led the all-male a cappella group the Treblemakers at Barden University. Devine's making his return in "Pitch Perfect: Bumper in Berlin" on Peacock, and he's bringing some new and familiar faces with him. 
Notably, the six-episode show finds Bumper crossing paths with Pieter Krämer (Flula Borg), who competed against the Barden Bellas as a member of Das Sound Machine in 2015's "Pitch Perfect 2." In the present, Pieter is a music manager staking his career on making Bumper famous in Berlin, Germany. His second-in-command is a new addition — Sarah Hyland. The "Modern Family" alum plays Pieter's assistant, Heidi, who has her own musical ambitions. The cast also features Jameela Jamil, fresh off her role in Disney+'s "She-Hulk: Attorney at Law."
Devine and Hyland spoke exclusively to The List about being part of the exciting new show. The former opened up about why it was so nice to return and explained that it was especially meaningful for Bumper to take center stage. Meanwhile, Hyland talked about joining the franchise for the first time — and both actors revealed which character they most closely relate to.
Adam Devine appreciated having a chance to show Bumper Allen's growth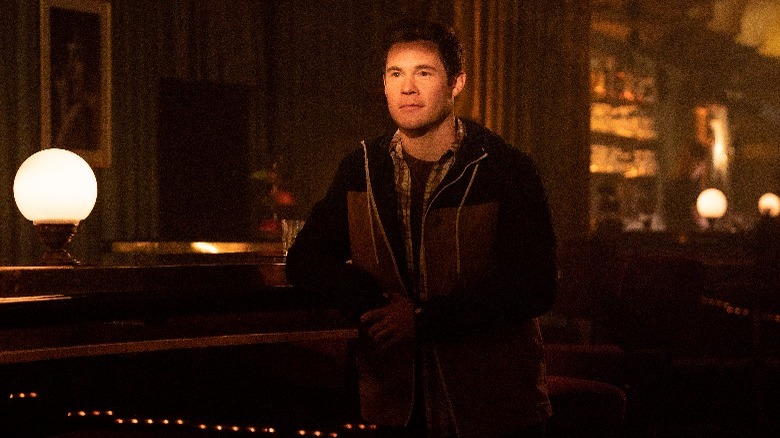 Anna Cook/NBCUniversal
Adam, I wanted to start by asking how it feels to be back for another "Pitch Perfect" project.
Adam Devine: It's great. I never would've thought in a million years that we'd be doing a spin-off show and it would be about my character, but here we are 10 years later. He's the right character to do a spin-off about, not just because I'm that person, but because you didn't tie up his character within the movies. With him being such a large part of the first and second movie, not tying him up was a little bit of a disservice. [We get] to have this series be the cherry on top and see how Bumper went from the talented psychopath that he was in the first movie to ... You see him grow as a person and still be a talented lunatic, but a little less of a psychopath.
There's a lot of growth for him.
Devine: That's right.
Sarah, what was it like for you to immerse yourself into the "Pitch Perfect" world?
Sarah Hyland: Oh my goodness, it was so much fun. I've been a fan of the "Pitch Perfect" franchise since its inception, but I've also been friends with the majority of everyone from the "Pitch Perfect" franchise, some of them even before the movie was created. I've heard the most amazing things about it, and I'm so excited to be a part of it now. It's this wackadoo, fun, crazy roller coaster of a universe, and isn't that what any great universe should be?
And there's all the fun and music on top of it, which makes it even better.
Hyland: Obviously.
Sarah Hyland related to her Pitch Perfect: Bumper in Berlin character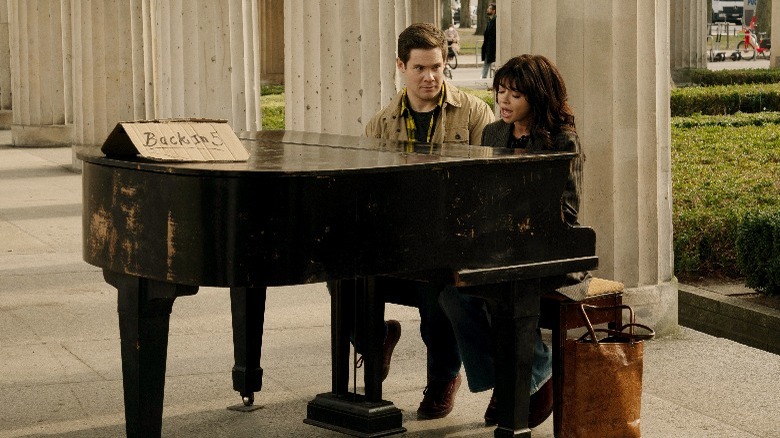 Anna Cook/NBCUniversal
Which character from the franchise would you say you relate to the most? Is it your own character, or is it someone else's?
Devine: Mine would be Becca, Anna Kendrick's character, especially in that first movie where she is like, "What world is this; what am I getting myself into?" [She's] one foot in and one foot out, then grows to truly love and appreciate it and finds some of her best friends within that world.
I feel like that was me. I almost turned down "Pitch Perfect." I didn't know. I was in the middle of doing "Workaholics," and that was my baby. The difference between "Workaholics" and a movie about a capella singing in college seemed way far away from each other. I didn't know if it was the right move, but I couldn't be happier with my decision to do that movie and where it's gotten me today, and some of the friendships and relationships that I've had from the movie.
Hyland: I actually very much relate to Heidi. I don't normally relate a lot to characters that I've played in the past, but this one hit home in a variety of ways. She's a perfectionist who puts a lot of pressure on herself and doesn't want anything to be out there unless it's perfect. Adam has seen firsthand how crazy I can get when I want something to be good. I very much relate to Heidi in that regard.
Signing onto this show was putting myself out there the way that Heidi should — maybe she does during the show, you'll have to watch — of being like, "No, I want people to know that this is a facet of my life and something that I can do and something that I'm passionate about, which is singing."
All six episodes of "Pitch Perfect: Bumper in Berlin" will premiere on Peacock on November 23, 2022.
This interview has been edited for clarity.