How To Stay Safe And Healthy In The Face Of A Possible Tridemic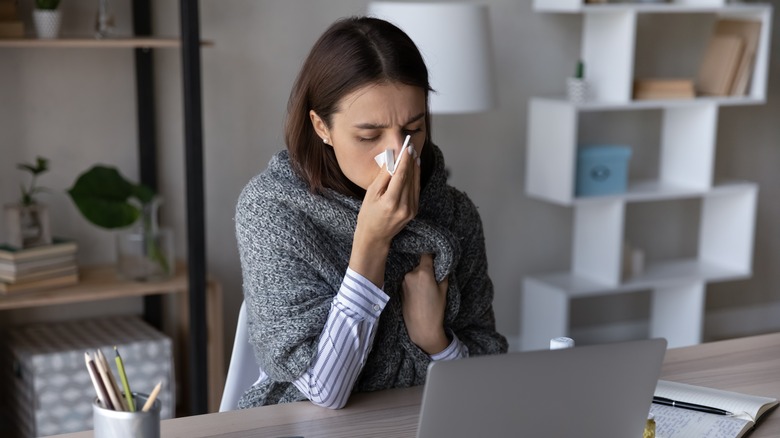 fizkes/Shutterstock
Every year, an influx of flu cases increases in America during October, signaling the beginning of flu season. Ending in February, the viral infection spreads through droplets from the nose and mouth that can affect people up to six feet away (via CDC).
Sounds familiar? COVID-19 is a virus that spreads in a similar way. While it ravaged the world in its early stages and at its peak, the virus became somewhat contained thanks to the innovation of countless scientists. According to experts, COVID-19 will never disappear completely but will eventually become a seasonal virus, just like the flu (via NBC News). Now that flu season has commenced, we risk battling both the flu and COVID-19 at the same time.
However, we're not just entering a twindemic. Experts say that we're on the precipice of a tridemic, with the numbers of the flu, COVID-19, and RSV increasing. According to the Cleveland Clinic, respiratory syncytial virus is a virus that attacks the lungs in children, mainly those under the age of two. However, it can also affect adults, particularly those who are immunocompromised. Although the symptoms are typicaly mild, somewhat similar to that of a cold, the contagious virus can be severe, causing bronchiolitis and pneumonia in children under the age of one.
How to stay safe during a tridemic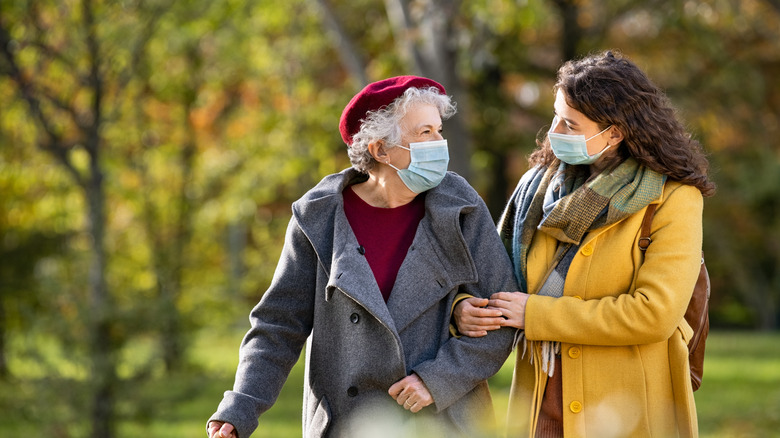 Ground Picture/Shutterstock
According to Healthline, getting your COVID-19 vaccine and booster(s) as well as an annual influenza vaccine will protect you from getting the worst of the virus' symptoms, even though it won't protect you from getting the virus completely. While there is no vaccine for RSV, the CDC states that there is medicine that comes in the form of monthly shots for premature babies and young children that have lung and heart conditions.
Keck Medicine recommends building up your immune system in order to stave off the worst of symptoms if infected. Vitamins C and D, as well as zinc, will help to fortify your immune system, allowing your body to fight off the virus more effectively. It's also recommended that you wash your hands frequently. You can also use a hand sanitizer with at least 60% alcohol content if you are not able to get to a sink.
According to Insider, flu droplets can last on clothes for up to 12 hours and on hard surfaces for three days. WebMD reports that COVID-19 can live on metal for up to nine days and on wood for four days. Wiping down counters, tables, and other surfaces with disinfectant wipes and sprays is absolutely necessary. Always remember to clean places that get touched a lot during the day, such as door knobs, fridge handles, and furniture.
Most of all, try to stay masked and distanced if you can't avoid crowded places. You can also speak to your medical professional about the preventative measures you can take during a tridemic.