Britney Spears' Hairstylist Has Some Tips For A Perfect Blowout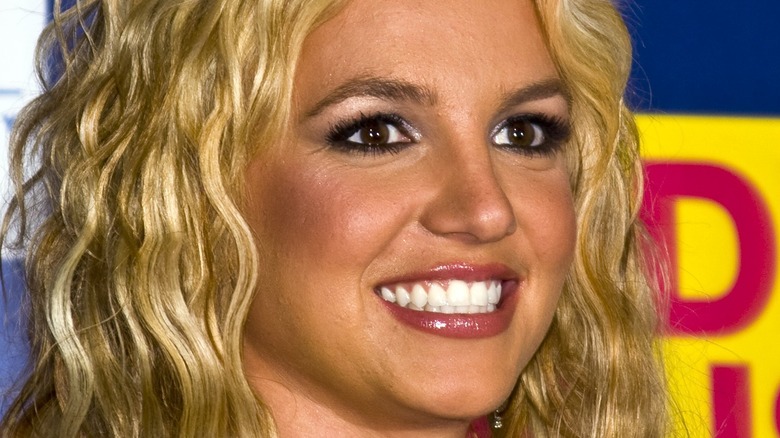 Dooley Productions/Shutterstock
Do you ever wish you had a talented celebrity hairstylist on speed dial for those days when your hair needs a little extra TLC? You aren't alone, especially when it comes to achieving soft, luscious locks. You could head to your local hairstylist once a week and shell out upwards of $250 for a bouncy Brazilian blowout or keratin treatment, per InStyle. Or you could take some tips from Britney Spears' hairstylist, Kevin Mancuso, on how to give yourself the perfect blowout at home. 
Apart from working on her gorgeous head, the New York-based celebrity hairdresser has an impressive career that stretches back over three decades, taming the manes of Salma Hayek, Kate Moss, Halle Berry, and Rachel Weisz along the way (via Stylectory). And, if that high-profile clientele list isn't impressive enough, Mancuso is also the global creative director of salon-quality haircare brand Nexxus and the author of "The Mane Thing," which provides valuable tips and tricks on all things hair. This is Mancuso's best advice for achieving a salon-quality blowout at home.
The perfect blowout starts in the shower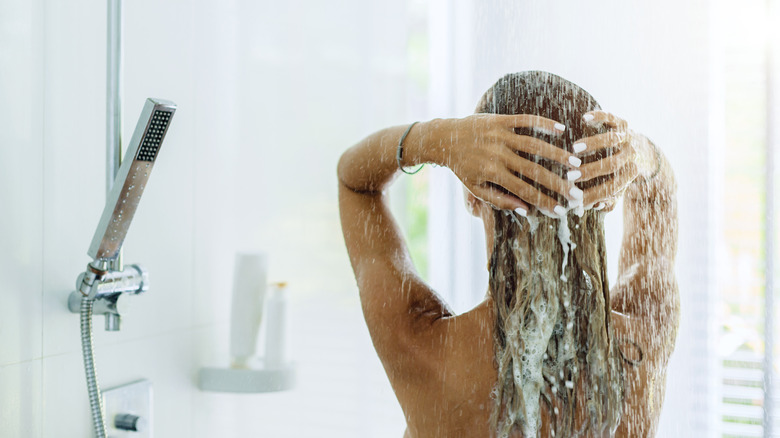 Alena Ozerova/Shutterstock
A blowout is perfect for those who want voluminous, sleek hair without using other hair tools like a straightener or curling iron. You've probably blowdried your hair numerous times, but the end result never resembles what you received in the salon. The reason could be that you assume the blowout process begins after your shower and once your hair is in a towel and ready to be blow-dried. But that's not the case! 
According to Britney Spears's go-to hairstylist, Kevin Mancuso, who spoke to the Daily Mail, the second you apply shampoo and conditioner, you determine how well your blowout turns out. He, therefore, recommends using a quality, non-damaging shampoo and conditioner to protect and replenish the hair. When searching for the best options, keep an eye out for high-quality products that are designed for blowouts. 
In particular, ensure your chosen shampoo and conditioner are free of silicones so the hair isn't weighed down with heavy ingredients (via Elle). After-shower haircare is also crucial before whipping out your blow dryer. Ring the hair out with a towel and be extra careful during the "wet stage when hair is in the most vulnerable state," as Mancuso warned. You have to be extra cautious when handling your hair straight out of the shower. Only use a comb or brush designed for wet hair, while opting for products designed to protect your hair against heat damage, reduce frizz, and give a longer-lasting blowout is also recommended.
Now for the fun part – get your blow dryer out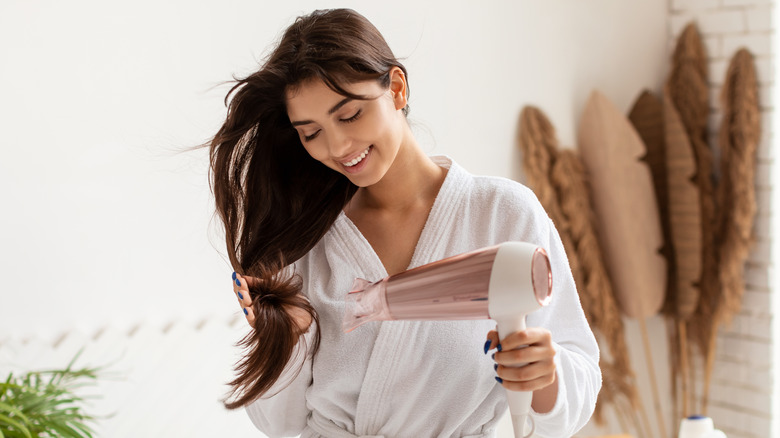 Prostock-studio/Shutterstock
Before you start attacking your hair with a blow dryer, there's a system to keep in mind. According to Kevin Mancuso, you want to make sure you section your hair out and work through each bit with a round brush (via Elle). "Move the brush very quickly, spinning it around and around underneath each section of hair, aiming the nozzle of the hair dryer directly on the hair going through the bristles until you see that the ends are holding the slightly curved shape of the brush," he advised. 
For added volume, hold the hair up and use your fingers at the root to "rough them up" a bit, as Mancuso advised the Daily Mail. Keep in mind, too, that blowdrying your hair as it lays flat on your head will make it flatter overall. For the ends, avoid pulling and smoothing too much, as that tends to decrease volume. Instead, Mancuso recommends using hair rollers, preferably made of Velcro, to trap the heat. 
This will give you longer-lasting, fluffy ends. #Velcrorollers are super trendy on TikTok, racking up 91 million views for that hashtag alone. There's a reason for its popularity — the results are gorgeous. Most importantly? Don't rush it. "A slow blow dry is the best way," Mancuso confirmed. "If you are in a rush, the best advice I can offer is to keep it simple and try to work with what your hair does naturally."