Jameela Jamil And Flula Borg Talk Working On Pitch Perfect: Bumper In Berlin - Exclusive Interview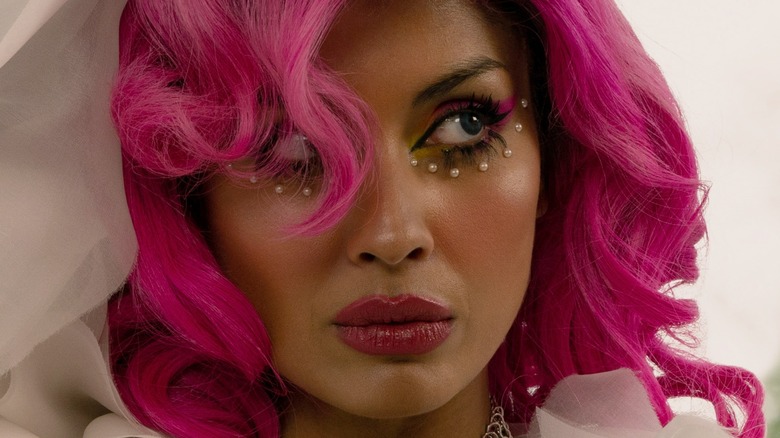 Anna Cook/NBCUniversal
The "Pitch Perfect" world is growing once again! It's been 10 years since Anna Kendrick and the Barden Bellas first made their way to the top of the college a cappella pyramid performing music made with only their mouths. The franchise expanded over the years to include three movies with a star-studded cast such as Rebel Wilson, Skylar Astin, Brittany Snow, and even Hailee Steinfeld. The world will expand once again with a new show on Peacock that is focused on one of the most memorable characters — Adam Devine's Bumper Allen.
"Pitch Perfect: Bumper in Berlin" is a six-episode series that will bring back some familiar faces. Another star who returned to the fold is Flula Borg, who reprised his role as Pieter Krämer. Pieter faced off against the Barden Bellas as a member of Das Sound Machine, a German a cappella group, at the A Cappella World Championship in 2015's "Pitch Perfect 2." The show also introduces some new faces such as Sarah Hyland and Jameela Jamil. Fresh off her role in Disney+'s "She-Hulk: Attorney at Law," Jamil is playing another larger-than-life character named Gisela — a pop star with no shortage of attitude. 
Both Jamil and Borg spoke exclusively to The List about what drew them to sign on for "Pitch Perfect: Bumper in Berlin." Jamil also opened up about how her latest role differed from her intro to the Marvel Cinematic Universe, and both stars revealed which character they most closely relate to.
Flula Borg was excited for his character to get something of a redemption arc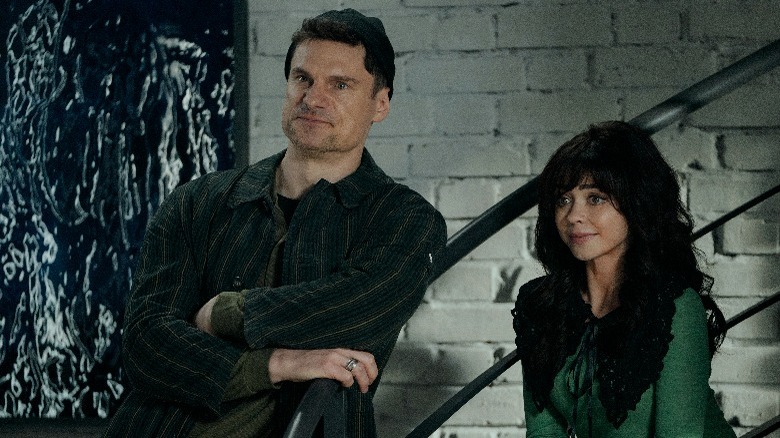 Anna Cook/NBCUniversal
Flula, what made you want to reprise your role from "Pitch Perfect 2"?
Flula Borg: Maybe I want to reprise my role because that role is dope. I got to be an A-hole and sing and dance and wear delicious mesh. Of course, things take a turn in this show, as you know and as people will see. There's a little bit of a redemption happening — a little "Shawshank Redemption," Berlin redemption.
Jameela, I was wondering if you could talk about how your experience with "Bumper in Berlin" differs from "She-Hulk."
Jameela Jamil: I didn't have to do six months of jiu jitsu, which was already exciting. But singing [and] dancing, this felt like a more humiliating role to take on, which is what drew me to it. All of the looks were so absurd. I had to throw away the last shreds of dignity that I had for this role, and that's what drew me in.
It tested all my boundaries. I find performing in front of crowds absolutely petrifying, and I had to perform in front of giant crowds and hundreds of extras every single time and slap my ass in lederhosen. [I had to] seduce people, and seduce Sarah Hyland, and seduce Flula — all these things that I don't know how to do. That made this such an exciting adventure for me. To get to do it with so many people that I love felt like the cherry on top, never mind in Berlin, my favorite city.
Were you a fan of the movie series before you joined the show?
Jamil: I was, but I was also a big fan of what Megan [Amram, showrunner] then went on to do with them. She managed to pay homage to the original franchise but also took it and ran with it, and made it so weird and meta and surreal, and she added so much. Spoof ran through the image of the original films, and she took that and amplified it. Megan's amazing, and she did a really good job of this in sandwiching a great message between a d**k and a fart joke.
Borg: Perfect.
Jamil: Then, there's a sort of pipeline from "The Good Place" straight to this show.
Jameela Jamil relates to a classic Pitch Perfect character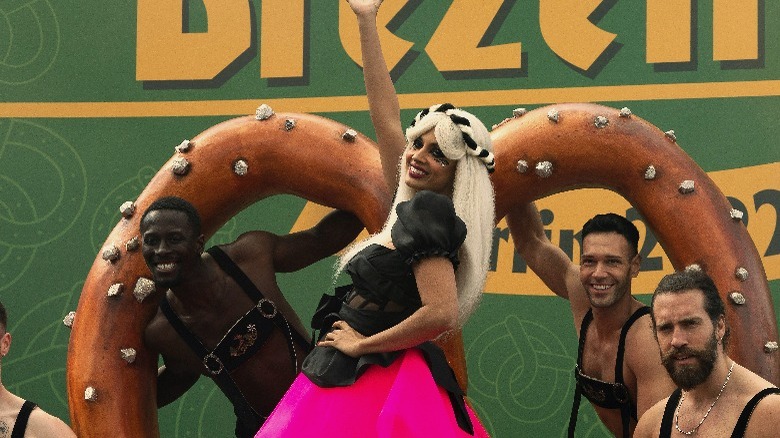 Anna Cook/NBCUniversal
Which character would you say that you relate to the most from the "Pitch Perfect" world?
Jamil: Oh, God, I have no idea. Flu, you go first.
Borg: Look, it's Pieter from the show. This man has ... Someone took a career dump on this man's head, and he's trying to deal with it and is fighting all the time. I feel like all the time, everyone's like, "You got to do better stuff. Stop sucking so hard." That's my dad speaking. So [it's] Pieter from the show.
Jamil: Maybe Amy for me — [she's] underqualified but up for it still. She's doing [things], but leaning into the imposter syndrome. It's Amy for me.
Borg: Great answer. Delete my answer. Use Jameela's. [laughs]
All six episodes of "Pitch Perfect: Bumper in Berlin" will premiere on Peacock on November 23.
This interview has been edited for clarity.