The Ultimate Eco-Friendly Holiday Gift Guide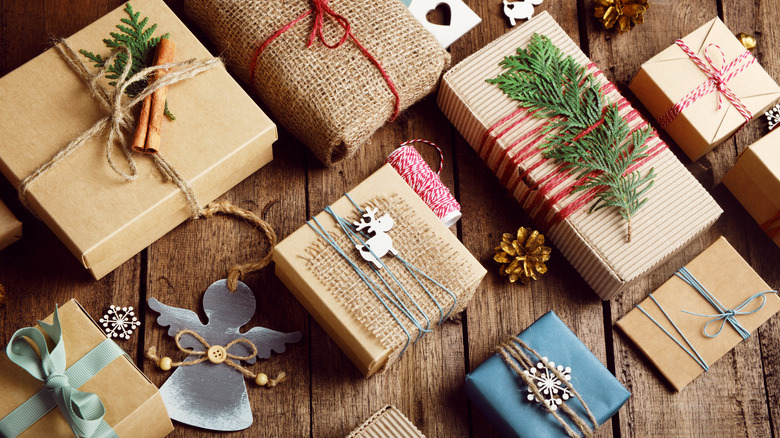 Tanyajoy/Getty Images
'Tis the time of year when it's downright rude to show up to a festive gathering empty-handed. And while the spirit of generosity is always welcome, not every gift is. Sadly, much of what we give to each other over the holidays ends up in a landfill. In 2019 alone, U.S. shoppers spent over $15 billion on unwanted gifts, according to Discover magazine, 4% of which ultimately wound up in the trash. 
Economist Impact confirms that Americans generate 25% more waste between Thanksgiving and New Year's than at any other time of year, some of which certainly includes unwanted — and ultimately unsustainable — gifts. To avoid a confused look that says "I appreciate the effort," find the perfect planet-friendly gift that will bring joy without leaving behind a trail of overconsumption and waste. Here are some of our 2022 favorites. And don't forget the eco-friendly gift wrap.  
Wholier Nooch
Looking for a gift for the home chef who has it all? Surprise your loved one with the vegan topping that has plant-based eaters raving. Wholier Nooch — gourmet, gut health-supporting nutritional yeast flakes — adds a delicious savory boost to any meal. Nooch combines nutritional yeast's nutty, cheesy umami flavor with prebiotics, probiotics, the active form of vitamin B12, and vitamin D (a nutrient in which over 40% of Americans are deficient, according to a 2011 study).
The gift box includes both flavors of Nooch — Natural and Sweet Cayenne, a blend of smoky, fiery spices. All of Wholier's products are 100% cruelty-free and arrive on your doorstep in plastic-free packaging, making this product even more thoughtful for both the recipient and the planet. Plus, Wholier is currently partnered with Eden Reforestation Projects to plant two trees for every order placed. Let the giving continue! 
Astral Tequila
For the margarita lover or mixologist in your life, Astral Tequila's super clean Blanco goes down easy — even easier when you know that with each bottle, you're helping build homes for the unhoused. In an ordinary tequila distillery, the spent fibers from the Blue Weber agave, called bagazo, would end up in a landfill. But Astral found an ingenious solution: By using an ancient brick-making technique, the bagazo from the tequila is upcycled with soil and water to create adobe bricks that are then donated to build houses in Jalisco, Mexico. 
Made lovingly under the sun and the stars, Astral's ancient, time-intensive process gives the tequila bright notes of citrus, honey, fruit, and white pepper. Astral tastes great straight, on ice, or mixed in any of the company's catalog of cocktails, making it a great alternative to a standard bottle of wine at your next holiday get-together. 
Apo.Ge Skincare
Give the gift of self-care with Apo.Ge's gentle botanical skincare line. A company built on an ethos of sustainability, Apo.Ge's unisex products come in 100% plastic-free packaging. According to National Geographic, about 70% of all plastic packaging produced by the beauty industry winds up in landfills. Notoriously non-recyclable cosmetic containers like pumps, droppers, and spray tops are nowhere to be found in this skincare line — just high-end glass jars, metal lids, and 100% biodegradable shipping materials. 
Apo.Ge is also a member of 1% for the Planet, donating 1% of its annual revenue to trustworthy nonprofits focused on global protection, preservation, and restoration. Apo.Ge's products are certified cruelty-free and work for all skin types. Rich in hemp CBD and ethically harvested manuka, these luxurious formulas target a variety of challenges, including hyperpigmentation, breakouts, overproduction of oil, inflammation, and dry skin. Minimal, multifunctional, and mmmm, does Apo.Ge smell good too. 
DAVIDsTEA
Enjoy some holiday positivitea with DAVIDsTEA — sustainably and ethically harvested, plastic-free teas in biodegradable sachets and recyclable packaging. The company's Garden to Cup subscription is its first 100% compostable option, from the tea to the tea bags to the mailer in which it is sent. DAVIDsTEA continues to reduce waste and lead the industry in product quality, customer service, and sustainability practices.
Their samplers are the perfect gift for the tea aficionado in your life. With over a dozen themed boxes featuring fair-trade blends like Blood Orange Boost, Cardamom French Toast, Lavender Buttercream, Cream of Earl Grey, Pomegrateful, and Salted Caramel Oolong, each cup will serve as a reminder of your generosity toward your loved one and the planet. A note to vegans — about 90% of all DAVIDsTEAs are vegan-friendly, but double check the ingredients for a truly crueltea-free sipping experience. 
Ecologi
Finally, a gift for the environmentalist who already has everything they need. Ecologi is a subscription-based platform that facilitates climate action. Subscribers can calculate their carbon footprint and determine which Ecologi subscription plan best offsets their personal or even business carbon emissions. Founder Elliot Coad got the idea during his morning commute. While buying a coffee like any other morning, he wondered: What climate action could I take with the money for this cup o' joe?
Thus, Ecologi was born. They've planted over 42.5 million trees and offset nearly 2 million tons of carbon to date, with a view to reducing half of the world's emissions by 2040. As an Ecologi subscriber, 85% of your individual subscription payment goes directly to funding climate solutions like forest restoration and verified carbon reduction projects. Instead of a pricey knick-knack or popcorn of the month, gift 100, 250, or even 500 trees. That's a gift that quite literally keeps on giving. 
Beyond Good Chocolates
Who wouldn't love a gift box of organic, direct-trade, plastic-free, vegan chocolate bars? Beyond Good's delicious single-origin chocolates bring the taste of Madagascar and Uganda straight from the farmers to your mouth. Instead of exporting raw goods from Africa to make chocolate bars in Europe or North America, Beyond Good keeps its chocolate at the source, employing Malagasy people to make the candy bars, paying the employees above-average wages, and adding to the local economy. 
The result is chocolate so smooth and so flavorful you'll wonder how you went so long without this affordable, ethical delight. Indulge in a variety of bright, fruity Madagascar cocoa flavors, including 80% and 70% Cocoa, Sea Salt and Nibs, and Pure Ground Vanilla. Or travel to the continent for rich, chocolatey Ugandan cocoa flavored with Salted Caramel and Toasted Hazelnut. These chocolates are sure to be a hit at any holiday gathering. 
Paradigm Eyewear
Made from recycled materials and free from single-use plastics, Paradigm Eyewear's modern everyday frames and sunglasses turn trends into classics, flattering every skin tone, face shape, and Myers Briggs personality type. The Spring collection features ISCC-certified recycled acetate from 60% bio-based renewable materials and 40% recycled plastic, and the lenses in the sunglasses use a 50-50 mix of recycled plastic and virgin Tritan material. Even Paradigm's glasses cases are made from recycled materials, and the company uses FSC paper and biodegradable polybags so it's sustainable from top to bottom.
From cat-eyes to aviators, wayfarers to Jackie Os, Paradigm has a style to suit that special someone on your list who not only wants to look great but has to know that what they're wearing is ethically made too. The company's fair wage factory runs on solar power and only uses materials from a small supply chain to reduce its carbon footprint. With Paradigm Eyewear, the future's so bright, you've got to wear shades. 
Coalatree Baseline Midlayer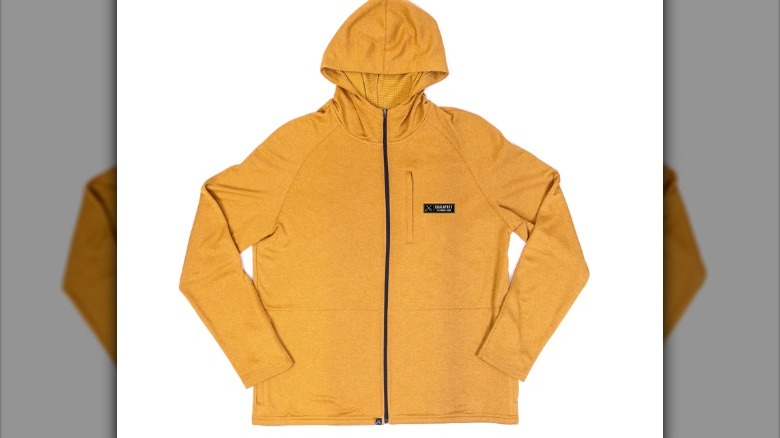 Coalatree
A sustainable closet staple for everyone, Coalatree's Baseline Midlayer is a lightweight jacket made from recycled coffee using a honeycomb fabric that retains its shape and softness. This unique fabric combination makes the eco-minded performance fleece water-repellent, stain-resistant, and even odor-resistant too. The Baseline Midlayer comes in four colors added using a waterless dye system that saves thousands of gallons of water throughout the production cycle. 
The tight-knit, UV-protective, breathable fabric ensures your Baseline Midlayer won't shed microplastics when you wash it either. Likewise, the Baseline Midlayer makes for a great all-weather gift. In the warmer months, the recipient can wear it as an outer layer, or keep it stuffed up in its self-contained zipper pouch (including a carabiner loop) just in case. During the colder months, it can be easily layered with heftier jackets, while the honeycomb knit is sure to keep the recipient warm.  
Arvin Goods Socks
Never again will receiving socks as a gift feel like a letdown. Arvin Goods makes basics both fun and sustainable; they're the only brand using discarded fabric scraps to make the best-fitting, softest, most responsibly made socks on the market. And the Seattle-based company says this is just the first step. In terms of waste generated, the apparel industry is second only to gas and oil, and 85% of all textiles wind up in landfills (via Arvin Goods). 
Arvin Goods uses more than 50% certified organic materials, hemp bio-fiber, recycled cotton, polyester, nylon, and wool to combat this wasteful, linear use of natural resources. The company even earned Amazon's prestigious Climate Pledge Certified badge for its efforts. Stock up on classic neutrals, or explore your more playful side with their funkier designs. Arvin Goods does good for consumers and inhabitants of the planet alike.