How To Decorate For A Gender-Neutral Baby Shower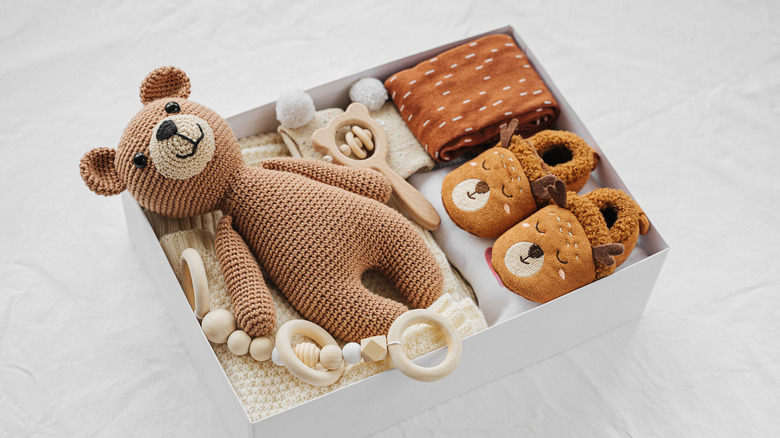 Igisheva Maria/Shutterstock
There's never a bad reason to gather family and friends together to eat cake and open gifts, but baby showers are one of the happiest. It's always nice to welcome a new life, help supply the expectant family with some much-needed supplies, and to reassure the mom-to-be that yes, she will get some sleep eventually. While some aspects of baby showers haven't changed much over the years, one feature has changed in recent years: the traditional color scheme. Gender-neutral colors and theming are becoming increasingly trendy for baby festivities, and we're totally here for it.
Why the move away from pink and blue? Web Baby Shower points out a number of good reasons. Some parents don't want the focus to be on their baby's gender identity, especially since their child may one day identify with a gender other than the one assigned at birth. Others may have opted not to find out their baby's gender until the actual birth (yes, there are some expectant parents who don't throw gender-reveal parties). And still, other parents may simply want to avoid being overloaded with clothes and quilts in stereotypical colors. 
With that in mind, here are some decorating suggestions for a gender-neutral shower that truly celebrates the whole child.
The color combos are endless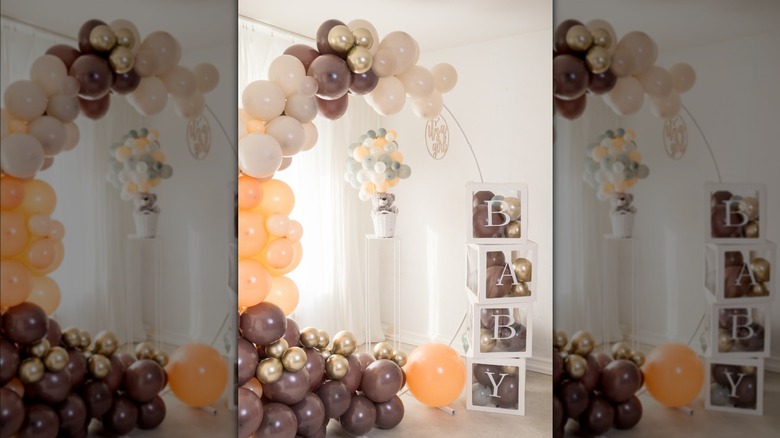 Karniewska/Shutterstock
The big advantage to throwing a gender-neutral baby shower is the freedom you have to choose a color scheme. Typically, baby showers are done up in pale or muted tones, like the orange, brown, cream, and gold example seen above. It's a beautiful look, and yet it doesn't scream "boy" or "girl." But there's no law that says you can't go with primary colors, black and white, or metallics. It all depends on your imagination and the expectant parents' style. 
Green Envelope suggests picking a theme first and then planning the decor accordingly. For example, you could host a shower themed to the beloved book and movie character Paddington Bear, who was used as a tribute to Queen Elizabeth after her death. In that case, the location would be decorated in shades of bright red (for Paddington's hat) and navy blue (for his coat), and perhaps a few brown accents to represent his fur. Naturally, the refreshments would include marmalade sandwiches.
if you can't decide on just two or three colors, then why not go rainbow? This would be an especially appropriate color scheme for same-sex parents, but this theme works for anyone. You could even ask the guests to wrap their gifts in one of the classic ROYGBIV shades to add to the festivities. 
Pick a fun theme that works with girls and boys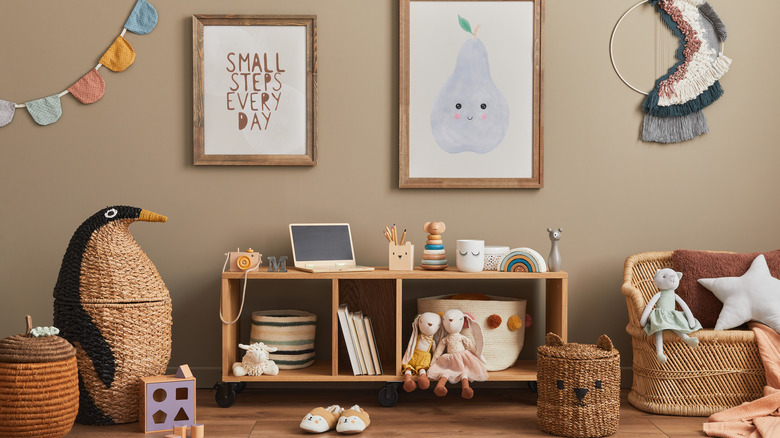 Followtheflow/Shutterstock
A baby shower's decorations should reflect the expectant parents, so think about their interests when planning the shower. Do they love the Harry Potter movie series? Then your color scheme is a no-brainer: Gryffindor red, Slytherin green, Ravenclaw blue, and Hufflepuff yellow. Do they have Disney season passes? Then Mickey and Minnie Mouse's red, black, white, and yellow would be the way to go.
For a more generic gender-neutral scheme, the sky is literally the limit: Try "Starry Night" colors of dark blue and yellow. Nature themes are also an option, per Green Envelope, and a woodland-themed party could feature sage green and brown balloons, adorable bears, bunnies, and foxes. Shutterfly also suggests thinking seasonal: spring flowers, summer beach or nautical decor, autumn leaves and acorns, and winter blues and whites. Will the baby be born close to Christmas, St. Patrick's Day, July 4, or Halloween? Theming the party to the holiday celebrates the baby without focusing on its gender.
You might also think about a theme that can be incorporated into every aspect of the party. A bumblebee shower is adorable, and you can give out little jars of honey as favors. A versatile food like apples, lemons, or pumpkins will give you both a color palette and a launching point for your menu. In conclusion, without the restrictions of gender stereotypes, you can do almost anything.