Fixer Upper's Front Yard Transformations That Will Inspire You
They say home is where the heart is, but pulling up to your address and seeing a lush garden, winding pathways, and landscaping done with intention and care not only increases your home's value, it can also be quite the mood booster.
If we've learned anything from Chip and Joanna Gaines of "Fixer Upper" — and we've learned a lot — it's that curb appeal matters. The place you leave from and return to each day has an influence on how you carry yourself in the world. Feeling proud of your home and appreciating the beauty of your front yard as you walk up to your door is an experience well worth creating. 
So, if you're aiming to give your yard a revamp, look no further than the stunning front yard transformations of "Fixer Upper." Many fans will remember the beloved Tire Swing House transformation from the show and how the understated changes to the front lawn gave the place a whole new look. This tip of wisdom carries on through many episodes. From flower boxes to newly planted trees, there is no shortage of inspiration when it comes to the mastermind duo of one of HGTV's most beloved series.
Less is more
Cottage, desert, dog-friendly, zen — there's a lot to think about when it comes to choosing the right type of yard. "Fixer Upper" has transformed some pretty drab front yards into beautiful oases framed with wild grasses and flowers. But, the best yard transformations on "Fixer Upper" often have one thing in common: simplicity. 
"When we're in the beginning stages of discussing the client's style and what design elements they want to incorporate, I always tell them to build an inspiration board on Pinterest to get a feel for what they want in their space," said Joanna Gaines in an interview with Architectural Digest. "Both Pinterest and Houzz are great starting places when searching for inspiration and nailing down your style."
The front yard transformations on "Fixer Upper" aren't complex and lavish. The fan-favorite remodel of the Carriage House features subtle changes to the exterior, but the impact is stunning. Joanna Gaines also tends to add a small pop of color to her landscaping, as noted by Nest of Posies. If you're an avid "Fixer Upper" fan, you've likely also noticed Joanna opts for this simple game changer: flower boxes (via Nest of Posies). Mounted or freestanding, adding some fresh flowers in a flower box to your porch will liven things up and is just one of many projects that can be completed over the weekend. 
Weekend curb appeal projects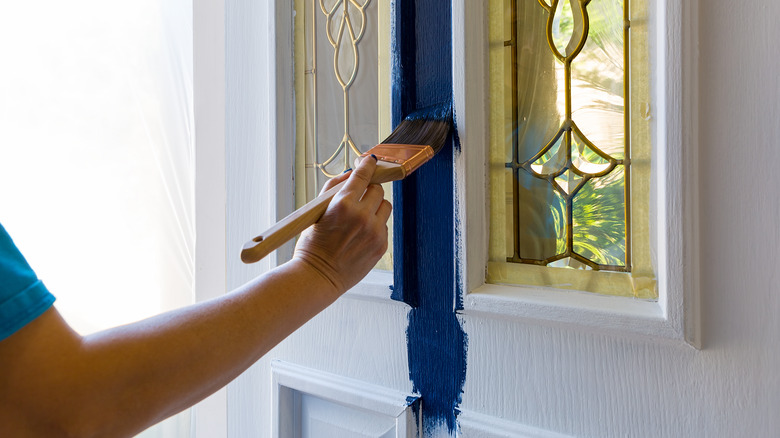 Thye-Wee Gn/Shutterstock
Tackling your yard transformation won't happen overnight — well, not for anyone except Chip and Joanna Gaines. Dividing your yard makeover into smaller projects that can be done in a day or two will really curb the overwhelming nature of remodeling. Start small and peruse the "Fixer Upper" yard transformations shown on HGTV's site. Laying down some new mulch, repainting your front door, and planting some seasonal flowers are just a few steps in the right direction that will give you the momentum you're looking for.
"Freshening up the landscape, adding new shutters, and wrapping dated columns with redwood or cedar wood. These are all things you can tackle over the weekend and without killing your budget," suggested Gaines (via Architectural Digest).
New shutters and flower boxes full of greenery are key points in just about every "Fixer Upper" transformation. For instance, when the Gaines gave a makeover to the Beanstalk Bungalow, they took a unique approach and placed potted greens in the flower boxes, making the home stand out from the rest. It's easy to get creative with a few simple building blocks in place. 
Whether the changes you're looking to make in your front yard are drastic or subtle, if you've been sitting on this project for a while and feeling unsure which direction to move in, this may just be the inspiration you've been waiting for.