Hilarious Royal Candid Moments That Were Caught On Camera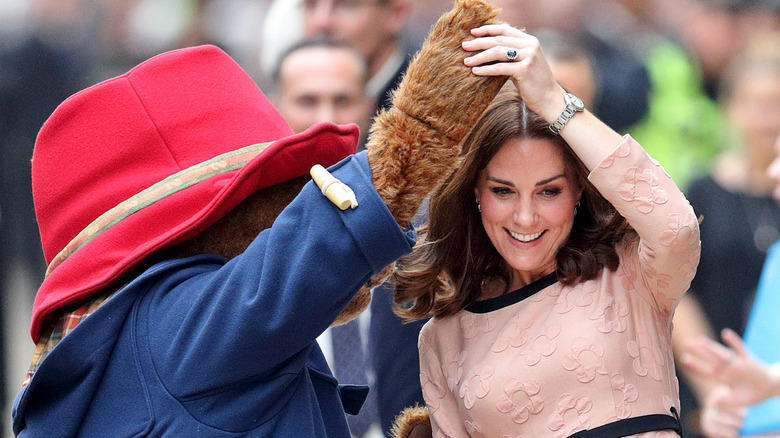 Max Mumby/indigo/Getty Images
When we think of the British royal family, it's all pageantry, high style, and perfectly proper public comments. With millions of viewers worldwide tuning in to watch royal weddings, the monarch and their families are looked to as the shining example of international grace and decorum. In other words, we expect our leaders to be perfect, and they sure do try their hardest to give us their top form.
That being said, each member of the royal family has had their share of gaffes – many of which were caught on camera. Underneath the crown jewels and sashes, they're just like us with their goofy senses of humor, awkward moments, and plenty of sass to go around. Thanks to reporters and the long memory of the internet, we've got an ever-growing archive of hilarious candid moments to keep us entertained. These are some of the funniest moments featuring the late Queen Elizabeth II, King Charles III, and other members of the royal family.
Queen Elizabeth was not afraid to clap back
The late Queen Elizabeth II was well known for being prim and proper but every once in a while, she broke character to deliver a hilarious one-liner or subtle roast. During the 2015 Commonwealth Heads of Government banquet in Malta, she had the whole room in stitches within the first few seconds of her speech.
It all started after Canadian Prime Minister Justin Trudeau toasted the queen with a few kind words: "I am deeply mindful of your majesty's long and tireless service to the Commonwealth and to its citizens." According to Daily Mail, he also remarked that the queen had "seen more of Canada than most Canadians." To this, the queen replied, "Thank you, Mr. Prime Minister of Canada, for making me feel so old."
Naturally, the whole room had a good laugh. After the royal family shared the queen's quote on Twitter, Trudeau took the opportunity to deliver this smooth response in a retweet: "On the contrary, you are forever young."
King Charles III has always been a ham – this moment is proof
Since the queen's passing in September 2022, the spotlight has been on King Charles III (via AP News). Though we've most often seen clips of the former heir apparent looking somber and businesslike in a full suit, we don't frequently get the chance to see him go off script, so to speak. As it turns out, underneath the polished exterior, this British royal has a flare for theatrics.
You may be shocked to learn that he actually used to participate in sketch comedy routines during his time at Cambridge University. In one clip, then-student Charles portrays a reporter being dragged into the water while trying to reel in a difficult catch. "Here I am, showing just how adaptable a sports commentator can be," he stated before going full tilt into his acting. The King of England flailing a fishing rod around is not a sight we'll soon forget. The video has a classically British, Monty Python-style humor, and we can't get enough of it!
Prince Harry befriends a hungry little toddler
Prince Harry has a long history of cheeky, mischievous behavior. On numerous occasions, young Harry was seen sticking his tongue out at reporters — usually from the backseat of a car. Even as an adult, he's embraced this goofy expression (via Town & Country). "I still have a naughty streak too, which I enjoy and is how I relate to those individuals who have got themselves into trouble," Harry told journalist Angela Levin, as revealed in her book, "Harry: A Biography of a Prince."
This apparently applies to toddlers,too. In 2017, Harry met a young child while watching the Invictus Games (which the prince himself founded). We promise this is the cutest video you'll see all day. The little girl got away with stealing handfuls of Harry's popcorn for several minutes before he even noticed. Rather than getting angry or ignoring her, he playfully teased her and offered to share his snack.
Paddington Bear sweeps the Princess of Wales off her feet
Catherine, Princess of Wales, is the epitome of grace. Even when she got feisty on a cricket pitch or caught her high heel in a drain, she somehow managed not to look awkward at all. Needless to say, this royal mom isn't intimidated by unexpected circumstances.
We have to imagine that when the pregnant Princess of Wales arrived at Paddington Station on October 16, 2017, she probably wasn't planning on having a waltz with a bear — but that's what happened. According to Time, this was the first event she had attended in a while due to bouts of hyperemesis gravidarum, a severe form of morning sickness. If anything, she may have been hoping for a quick meet and greet, but the costumed character, Paddington Bear, had different plans. In classic Kate fashion, she stepped into the dance without hesitation, giving us this funny little moment.
Whose turn is it to go first?
If you follow viral royal news or enjoy lipreading, you're going to love this clip. Meghan, the Duchess of Sussex, has often made headlines for breaking royal protocol — mostly by accident. Credit to her for setting some boundaries (as we all should with our in-laws), but some of these awkward moments make for great entertainment.
A particularly funny moment happened in 2018 when Meghan and the queen paid a visit to Cheshire. After meeting with various groups in the community, the two royals returned to the car. Meghan appeared not to know if she should head into the car before the queen or not — she even paused to ask the monarch herself, saying, "What's your preference?" (via Insider). In the end, the queen ushered the new duchess into the vehicle first. We can't really blame her for second-guessing this situation — you don't want to get in the queen's way!
As for who was actually supposed to enter the car first, it's not totally clear but it may have been the queen. As Metro explained, royal processions are ordered by the line of succession, with the monarch at the start. Additionally, as etiquette coach William Hanson told Elle, "The Queen always sits behind the driver. This is just a case of habit not protocol (which actually says the most important person sits diagonally behind the driver) but the Queen has always preferred being directly behind whoever is driving her." He continued, saying, "Meghan was probably not aware of this and the royal household may have forgotten to brief the Duchess of Sussex in this nuance."
Prince William teases his wife about her painting skills
Prince William and Catherine, Princess of Wales, are #couplegoals, especially when they get cheeky with each other. At the 2018 Global Ministerial Mental Health Summit, artist Dairo Vargas gave the royal couple a chance to contribute to his painting. According to People, William volunteered Catherine to go first, claiming she was the "arty one." As the princess added a light stroke to the subject's shoulder, William joked, "That's pretty much ruined the picture!" 
When it came time for him to paint, he took his jibe a step further. Grabbing the brush, he asserted, "This is how you properly ruin a picture." You have to appreciate the heir presumptive's understated but direct sense of humor — it's much like his mother's. But the Princess of Wales was the one to have the last laugh. When Vargas handed off the brush to her husband, she told him, "That's very brave of you."
Prince Louis' tantrum at the queen's platinum jubilee
If you have a toddler at home, you know just how tricky it can be to get them to settle down. Apparently, even the adorable royal children are troublemakers at times! CBS News caught a chaotic moment between Prince Louis and his mom, Catherine, Princess of Wales, at the queen's platinum jubilee celebration. When Catherine leaned down to whisper to him, the little prince suddenly slapped his little hand over her mouth. She took this moment in stride, graceful as ever, but that didn't make much of an impression on Louis, as he kept trying to cover her mouth. Every time she tried to speak to him, he writhed, stuck out his tongue, and made hand gestures to deflect her — all classic toddler tantrum tactics. We feel for Catherine, but this little goofball seems more amusing than threatening to us. As People put it, the young royal was a show-stealer. 
Prince George gets aggressive with the Christmas pudding
Like his little brother Prince Louis, Prince George has had some amusing candid moments himself. In 2019, a video of the royal family baking a Christmas dessert together went viral after the young prince got a little too enthusiastic with his mixing. What started out as a sweet holiday video ended in a "massacre" of pudding, as one YouTube user described it. It's okay, George, we love your energy!
This isn't the only time the young royal has set himself up for hilarious strings of comments online. During the queen's platinum jubilee, photographers captured some great expressions on George's face (via Twitter). As expected, audiences made the most of each expression. "Don't we all watch tennis like this?" one user asked, while another commenter mused that he'd make a good football manager. The tweet that takes the cake goes to Twitter user MattinWoolwich for his perfect caption of the young prince's most anxious-looking expression: "Prince George looks like he's sending Louis on with five minutes to go to try [to] get a winner, while William gives him the instructions."
Queen Elizabeth II tease world leaders at a G7 photo shoot
Most of us have trouble even making conversation with the higher ups in our company — can you imagine trying to make small talk with the most powerful men and women in the world? Apparently, this was no problem for Queen Elizabeth II. She was a natural at lightening the mood, and there are receipts to back it up.
While posing for a photo with the likes of then-U.K. Prime Minister Boris Johnson, U.S. President Joe Biden, and then-German Chancellor Angela Merkel, the queen cracked a joke to get everyone smiling, saying, "Are you supposed to be looking as if you're enjoying yourself?" The moment was especially hilarious due to the dramatic framing and official atmosphere of the set. As the group's laughter subsided, Johnson responded, "We have been enjoying ourselves, in spite of appearances." We have to admit, seeing a bunch of world leaders all chuckling together in the same room made us feel a little lighter about today's political climate.
King Charles the weatherman goes off script
No cap, King Charles III would make an excellent weatherman. During his 2012 visit to BBC Scotland's headquarters in Glasgow, the British royal performed a special newscast to celebrate 60 years of the network's time on air. We're sure audiences did a double take when they turned on their televisions that morning. As one YouTube commenter pointed out: "Imagine, you wake up first thing in the morning, and you're a bit tired. Then you turn the telly on to check the weather, only to see Prince Charles! You'd think there was something wrong!" 
For the bit, producers introduced Charles to their green screen weather map and had him read from the prompter, to fantastic results. It's impressive how smoothly he rattled off different city names and weather patterns, but the best parts were his cheeky, off-script remarks. At one point, he joked, "Who the hell wrote this script?" (We assume the writer then perished from embarrassment.) After describing how dismal the weather was going to be all over the country, he ended the segment with, "Thank god it isn't a bank holiday."
Watch out, your majesty – that pony wants your bouquet
From her famous royal corgis to the time she fed an elephant bananas at London's Whipsnade Zoo, Queen Elizabeth II was always a friend to the animals in her life. After receiving a pony when she was a young child, the queen fell hard for horses in particular (via People). According to the BBC, her lifelong support of the Royal Windsor Horse Show helped save numerous breeds from extinction.
It's hilariously ironic then that the queen had a hard time with a pony when she visited Stirling Castle in 2017. "Go away!" she exclaimed when the pony tried to take a bite out of her bouquet, adding, "They always eat the flowers." In the end, she still couldn't resist giving the mini steed a few pets — she even went to the effort of passing the flowers behind her back so that she could get close to him. Our favorite pets have a way of keeping us on our toes, and this is true even if you're a monarch. 
Young King Charles breakdances
We bet you never thought you would see the King of England breakdance! Thanks to archival footage, you can. In a BBC editorial video from 1985, Charles can be seen attempting to bust a move in the middle of a dance circle. While participating in a special job fair designed to help West Sussex's most at-risk populations, the then-prince tried out his street dancing skills. The clip, which has since gone viral on TikTok, prompted comments ranging from "Dad dancing at its finest" to "Please stop him NOW" (via Cosmopolitan).
At first, he looked confused and exasperated on the dancefloor but after a few awkward maneuvers, he finally fell into a rhythm and found some confidence. Whether he succeeded in this endeavor, well... that's up to you. Either way, every minute of his effort is a gift to the internet. Special shoutout to the guy (0:47) who looks like he's all too glad to be on the sidelines.
That time the Duke of Edinburgh photobombed a newscaster
The late Duke of Edinburgh had plenty of dry jokes and amusing opinions to share over the years. According to The Telegraph, he enjoyed catching people off guard so much news outlets started assigning him special "Philip watch" reporters to catch his best off-the-cuff comments. In 2017, after he announced he would retire from his royal duties, someone remarked, "I'm sorry to hear you're standing down" — to which the 96-year-old royal replied, "Well, I can't stand up much longer" (via ABC News).
Perhaps the funniest Philip moment actually goes to an older clip from 7 News. In the video, a reporter detailed the royal couple's anniversary plans while Philip walked by behind her in a procession. The duke side-eyed her for a few moments as he listened in, then stopped behind her and waited for her to finish her story. When she finally noticed him, he quipped, "Finished?" The reporter, Romilly Weeks, later said this was classic Philip behavior. When interviewed about the famous interaction in 2021, she said, "You really get a sense of his mischief and sense of fun."
Anne, Princess Royal, helps her mom with technology
Video calls brought us all closer during the pandemic and subsequent lockdowns — and by closer, we mean closer to strangling our parents for not being able to figure out how to unmute themselves or turn the selfie cam. Like the rest of us, the royal family also used video chatting to keep the ball rolling during the pandemic, and they struggled with the same technical difficulties.
As seen in a group video call from 2020, Princess Anne encountered some of the usual intergenerational issues when walking her mother through the online chatting process. When the late monarch said she could only see four out of the six people in attendance, Anne joked, "You don't need me, you know what I look like." Princess Anne, we admire your good-humored approach. At least the queen wasn't holding the camera down in her lap!