The One Food King Charles Just Banned From All Royal Residences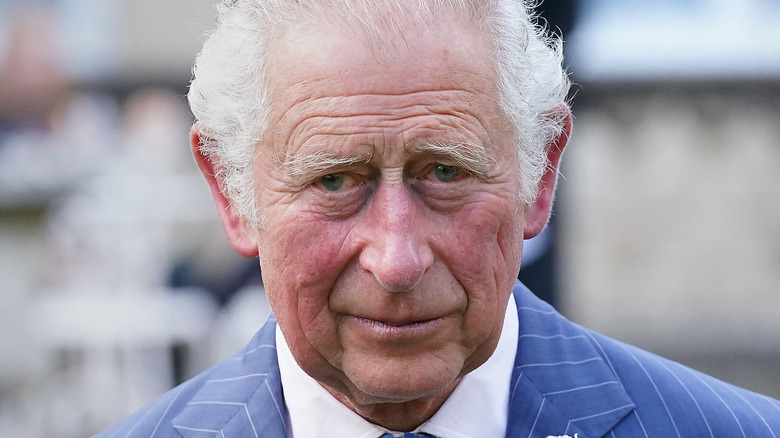 Wpa Pool/Getty Images
King Charles III has never shied away from his stance on environmental issues. During one of his last engagements as the Prince of Wales in September 2022, he spoke of his commitment to organic farming even though he was told that he was a "complete idiot for even suggesting" the idea (via The Guardian). Charles began his organic lifestyle in 1985, according to CNN, having made a "landmark speech" about humanity's impact on the environment 15 years earlier.
Described by the former chief of Friends of the Earth, Tony Juniper, as "possibly the most significant environmental figure of all time," per The Guardian, Charles highlighted "the horrifying effects of pollution in all its cancerous forms" during a visit to Cardiff in 1970 when he was 21 years old. Since then, the British monarch has prided himself on living a more sustainable life by running his own organic food farms, which supply his organic food brand, Duchy Originals (via CNN). As former royal chef Carolyn Webb told Marie Claire, "everything was based on what was in season in the garden. In asparagus season, I might serve it three or four times a week. You wouldn't dare serve asparagus or strawberries in December."
While it's more than likely that Charles eats the produce he grows on these farms, there's one food that he has outright banned from all royal residences as king (via BBC News).
This French dish has proven to be very controversial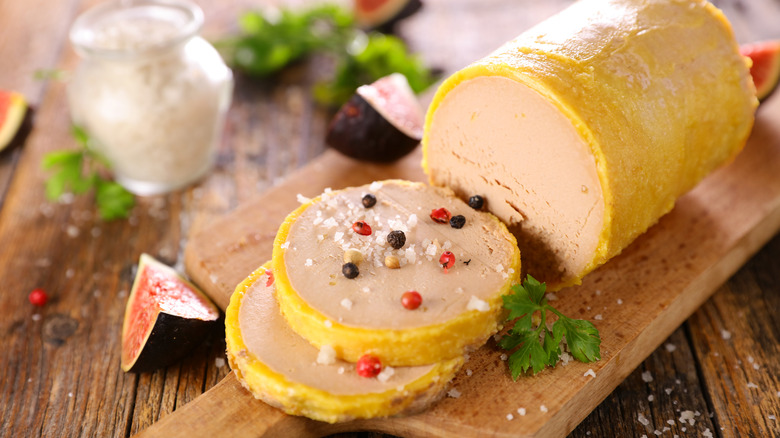 margouillat photo/Shutterstock
On November 19, it was announced that King Charles III had banned the French dish foie gras at all royal residences, BBC News reports. This includes Buckingham Palace, Windsor Castle, Balmoral, Sandringham, and Hillsborough Castle (via Homes & Gardens). Foie gras is a French "luxury food" made from fattened duck or goose liver, per Animal Equality. Served whole or as a pâte, the dish involves the enlargement of the duck or goose liver through force-feeding, otherwise known as "gavage." It's seen as a controversial dish due to animal cruelty. It has been banned from production in the U.K. since 2006, according to the Evening Standard.
As explained by ITV News, the import and sale of foie gras in Britain are still legal, and the country currently receives "an estimated 200 tons" of the product every year. However, due to the ramifications of Brexit, this may change in the near future. In addition to concerns regarding animal cruelty, the production of foie gras is extremely unstainable and carries a high carbon footprint, according to HEALabel.
It's not the first time King Charles has banned foie gras from royal residences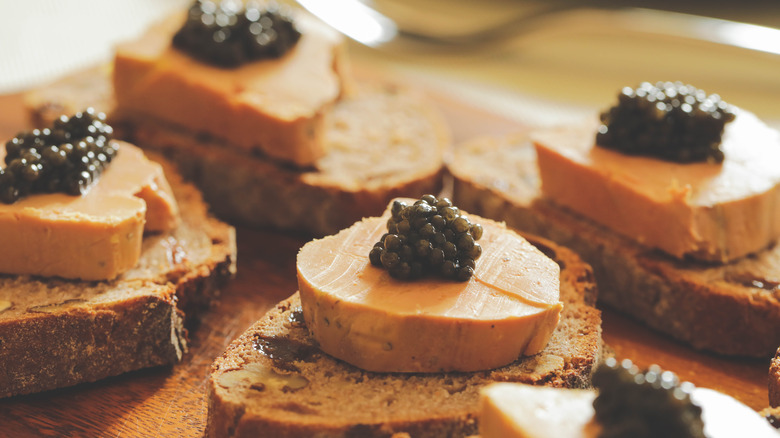 Eonaya/Getty Images
The news of King Charles III banning foie gras from all royal residences was revealed in a letter from Buckingham Palace to the animal rights campaign group Peta U.K. The group's vice president, Elisa Allen, said that others in the U.K. should "follow the King's lead and leave foie gras off the menu this Christmas." In response to Charles' decision, Peta is sending the monarch a "cruelty-free" and vegan version of the dish called "faux gras," made from a mixture of vegetables, nuts, pulses, and spices to create a "delicious, rich, and earthy" flavor, according to its creator and chef Alexis Gauthier (via Peta U.K.).
This isn't the first time Charles has banned the serving of foie gras in royal kitchens. As the Prince of Wales, Charles removed the dish from his royal homes, Clarence House and Highgrove, in 2008. "Foie gras is seen as very post and the heir to the throne is probably the poshest person in Britain," Justin Kerswell from campaign group Viva! (Vegetarians International Voice for Animals) told the Daily Mail at the time. "So for him to ban it is very good news."