Why A Dating Expert Claims MCE - 'Main Character Energy' - Is The New BDE
Andrii Yalanskyi/Shutterstock
You probably remember the iconic moment from the 2006 Nancy Meyers movie "The Holiday" when Kate Winslet's character, Iris, who's hopelessly in love with a man who clearly isn't good for her, sits down to have dinner with the famous and retired screenwriter Arthur (Eli Wallach). While sharing the woes of her love life (or lack thereof) with her new friend, Iris is struck by some painfully honest insight shared by the old man sitting opposite her at the table. "Iris, in the movies we have 'leading ladies' and we have the 'best friend.' You, I can tell, are a 'leading lady.' But for some reason, you're behaving like the 'best friend,'" Arthur tells her (via Bustle). 
Whether it was the romantic comedy starring Winslet and Cameron Diaz that gave rise to the term or it was a social media trend urging people to idealize their own lives,  the concept of Main Character Energy (MCE), has evidently now made it into the dating world. Speaking exclusively with The List, dating platform Plenty of Fish's resident dating expert Kate MacLean shares that it was "only a matter of time before MCE started applying to dating." Main Character Energy essentially means prioritizing yourself over wasting time getting to know people who don't fit your standards. 
We may not know all about the future of dating, but according to MacLean, MCE will replace BDE as the topmost dating trend for 2023. Here's why.
The pandemic has made singles more intentional about dating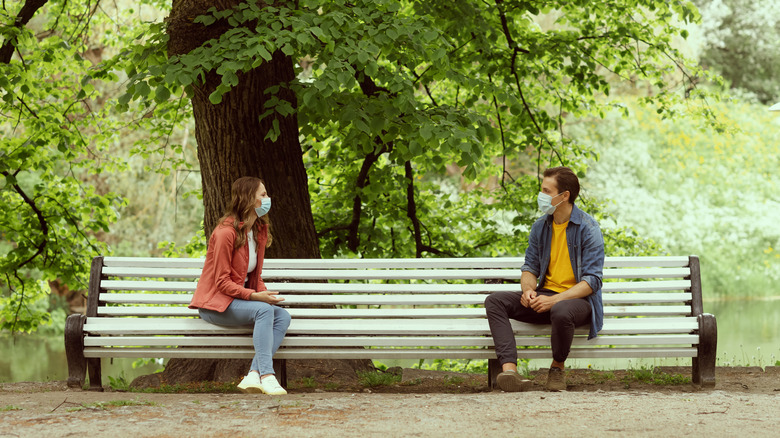 Maksim Shmeljov/Shutterstock
The reasons for why Main Character Energy is the new BDE could be varied. Dating expert Kate MacLean shares that one possible reason could be that people have continued the habit of being "intentional with their time and efforts when dating" — a trend that was born out of the COVID-19 pandemic, per Time. The pandemic has forced many singles to slow down the pace of dating with many opting to scope out their potential dates by meeting them casually for an activity they'd both enjoy before deciding to spend more time with them (via BBC). 
"The pandemic put a much needed emphasis on mental wellbeing and we think many singles had the time to reflect on what kind of people and relationships just simply weren't working for them and decided to put the focus back on themselves," explains MacLean.
Trends when it comes to love seem to evolve and change each year with positive movements that are welcome and negative dating trends like stashing that you need to watch out for. MCE, according MacLean, is a trend evidenced by a 2022 survey that was done on 8,000 participants living in the U.S. The results showed that almost 50% of singles are deliberate about their desire to prioritize themselves, with 32% of single men saying that they'd been turned down by someone they were interested in because that someone wanted to "focus on themselves."
How to embrace Main Character Energy in the new year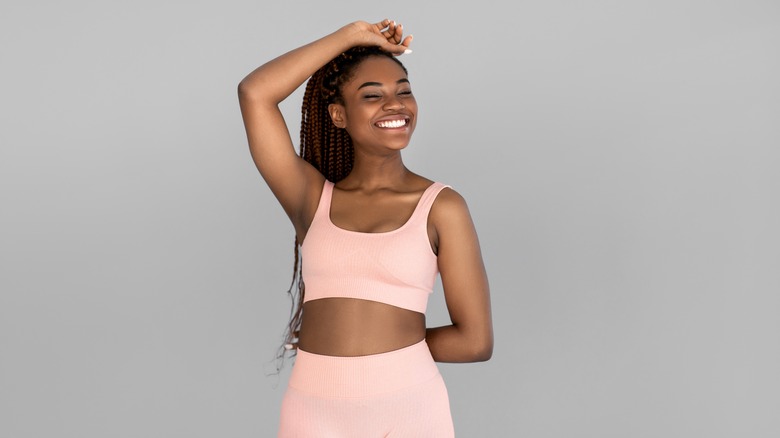 Prostock-studio/Shutterstock
Are you eager to cultivate the new BDE in your dating life? Plenty of Fish's resident dating expert Kate MacLean thinks that with the new year looming ahead of us, people looking for love are going operate with a sense of purpose when it comes to choosing experiences and people that will bring them happiness and also "bring out the best in them."
Passionately following your dreams and desires is one way to harness MCE, per Grace Mastered. It would also help if you don't procrastinate when it comes to doing the things you want to do; start living in the here and now. Seek out the friendships you want to invest time in, the hobbies that thrill you, and the experiences that you want to check off your bucket list. Maybe you can start by visiting an art museum by yourself, suggests The Oakland Post. 
"This past year was all about BDE and next year, we truly believe that MCE will be a major, positive trend for singles," shares MacLean.