Tori Spelling's Hallmark Movie Is A Throwback Classic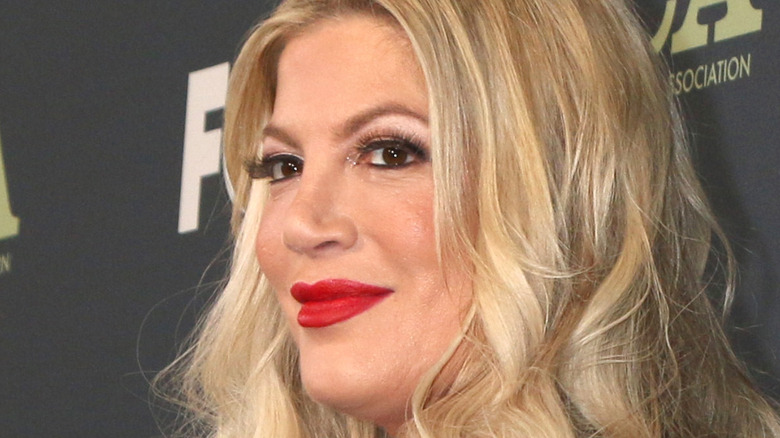 Kathy Hutchins/Shutterstock
Christmas is the time to gather close to family and friends, give thanks for everything you have and watch all the sappy Christmas movies you can find, of course! We know you've been waiting all year to wrangle everyone together to have a Christmas movie marathon, and now's as good a time as any to start planning which movies need to be added to your playlist. 
No Christmas movie playlist could be complete without featuring a Hallmark movie or two. The family-friendly brand has been delighting people around the world with their beautiful Christmas cards and movies for over 100 years now (via Hallmark Channel.) So, when the holiday season rolls around, we can't keep our minds from wandering to the best Hallmark movies to watch on Christmas.
Did you know that Tori Spelling starred in a Hallmark movie? Spelling rose to fame during her teen years when she played everyone's favorite good girl Donna Martin from hit drama "Beverly Hills, 90210." Since then, she's starred in a variety of TV shows and movies, including this Hallmark movie from 2003 which pays homage to a much older Christmas classic.
Tori Spelling plays a female version of Ebenezer Scrooge in 'A Carol Christmas'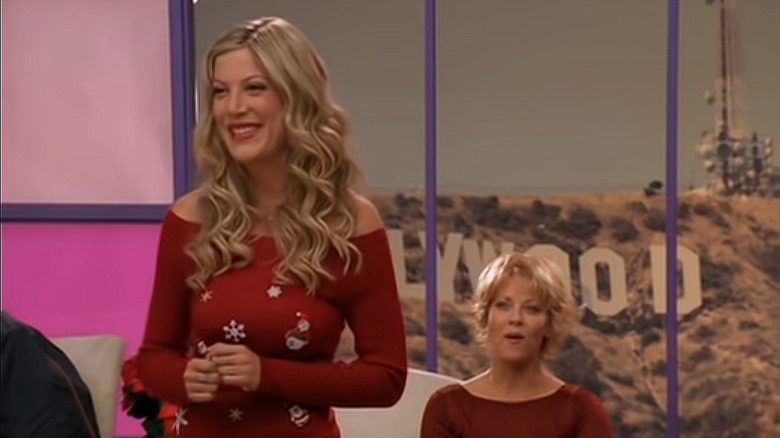 Hallmark
If you're a fan of Charles Dickens' novel "A Christmas Carol," you have to catch Tori Spelling in her 2003 Hallmark movie "A Carol Christmas." According to Hallmark Drama, Spelling's film is based on Dickens' famous tale of redemption. However, instead of a crotchety old man named Ebenezer Scrooge being the star of the show, this modern spin on the classic Christmas story follows a narcissistic TV talk show host named Carol Cartman.
Carol's motto is simple — always keep them waiting to show them who's boss. It's the only way she thinks it will get people to respect her. Spelling really gives the original Scrooge a run for his money in her role as the standoffish, power-hungry host. She is positively cruel and uncaring to all the staff at the TV show, particularly to her overworked and very stressed personal assistant, Roberta Timmins. The talk show host plans to put on a fabulous live Christmas Eve show, although she's not very excited about it. However, when she's visited by her late Aunt Marla and three ghosts of Christmas (or spirits of Christmas, as Carol prefers), her outlook on the holiday and life in general are forever changed.
The film is full of familiar faces, including William Shatner, Gary Coleman, and James Cromwell. Can't wait until Christmas to watch? You can view the entirety of "A Carol Christmas" right on YouTube.
Spelling starred in another made-for-TV holiday movie years later
There are many films that the actress has starred in during her career, but one of the things most people don't know about Tori Spelling is that "A Carol Christmas" isn't the only made-for-TV Christmas movie she's played in. While it may not be a Hallmark movie, "The Mistle-Tones" is another fun, feel-good Spelling film you need to add to your must-watch holiday movie list.
"The Mistle-Tones" is a 2012 ABC Family original musical that should be your go-to Christmas film if you enjoy rowdy musical performances and hilarious hijinks. It really feels like watching "Pitch Perfect" beautifully collide with a huge collection of Christmas decorations. The Christmas musical stars Tia Mowry and Tori Spelling as Holly and Marci, two singers with very different personalities and performance styles. After being rejected from Spelling's musical group, Mowry's character decides she'll make her own group. A Christmas rivalry like no other ensues — with plenty of recognizable songs you and your family can sing along with.
Want to see more of Spelling in a Christmas-y setting? People reported that Tori Spelling and her BFF Jennie Garth might be working with ABC to make a Christmas movie. We'll stay tuned.