Where To Find A Dupe Of Miranda Kerr's Wedding Dress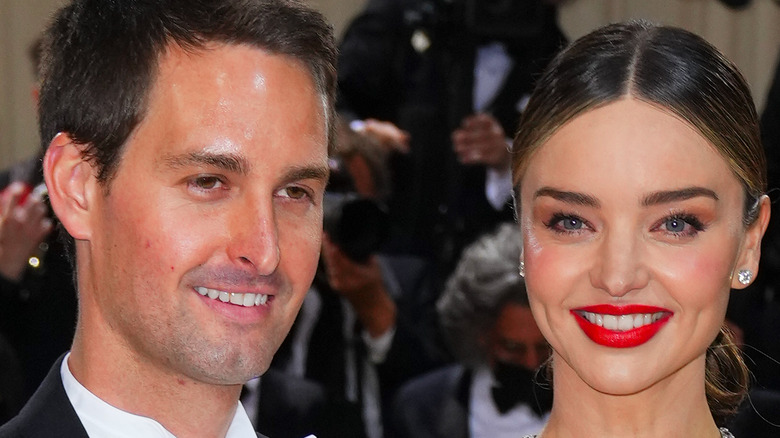 Gotham/Getty Images
On the day of her wedding in 2017, Miranda Kerr stepped out in a custom designed Dior wedding dress. Though Kerr has often bared a lot of skin as a former Victoria's Secret Model, this dress did quite the opposite. It featured a high neckline in the front and back, long sleeves, and a beautiful full skirt designed by Dior creative director, Maria Grazia Chiuri. The dress was made of silk Mikado, offering an elegant shine and glow accompanied by Dior's lily of the valley style embroidery appliqué, per Azyaamode.
In describing her present style, Kerr tells Vogue she is inspired by a classic style that is effortlessly chic. "A dress that fully covers you creates a sense of purity and mystery," Kerr tells Vogue. "I've had a lot of fun with fashion, and I used to be more wild, free, bohemian. But in this period of my life, my style is more pulled back. My greatest sources of inspiration have always been Grace [Kelly], Audrey Hepburn, and my grandmother, who at 80 has an effortless chic: a nice pant, a white blouse, a scarf, a little heel."
If you absolutely love Kerr's wedding dress, you're in luck. There are many ways you can find dupes of her dress or some of its traits for your own dress, implementing that same simple chic look on your wedding day.
Get Miranda Kerr's exact wedding dress style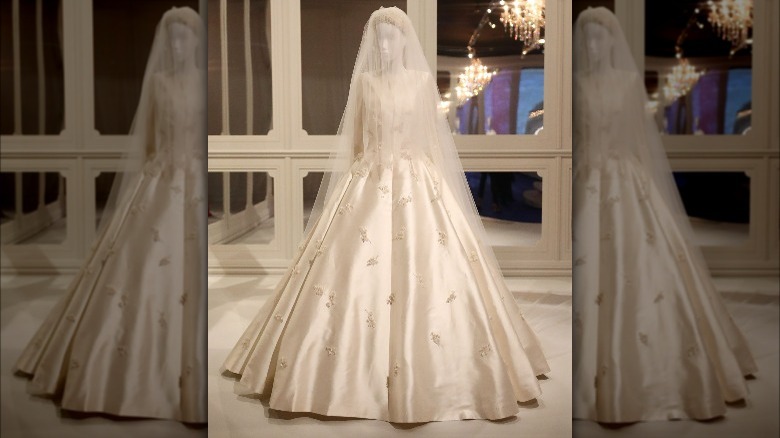 Scott Barbour/Getty Images
If you want your wedding dress to look exactly like model Miranda Kerr's wedding dress, you can find just what you're looking for through custom dress design companies. For example, TheCelebrityDresses is an online retailer where you can find countless options for celebrity dress dupes with anything they have worn from special events and award shows to weddings and more. You can find the dress and the celebrity by name to place your order at an affordable price. For Miranda Kerr's wedding dress, currently retailed at $399.99 dollars on sale, you can place your order by specifying which color you'd like, your size, and other notes you'd like to add for your made-to-fit order.
Much like TheCelebrityDresses, you can also find other designers or bridal companies that can also create the duplicate specially made for you. Etsy is a great place to find some of them. For example, YinBridal has a listing for a made-to-order dress like Kerr's where you can directly specify your details for a custom fit, with measurements such as your bust, waist, hips, bicep, neck, outer leg, height, weight, and desired dress length. SuPrettyBridal and many others offer a similar service. You can even find an exact replica of Kerr's wedding headband to fully complete the look.
Stand out features to implement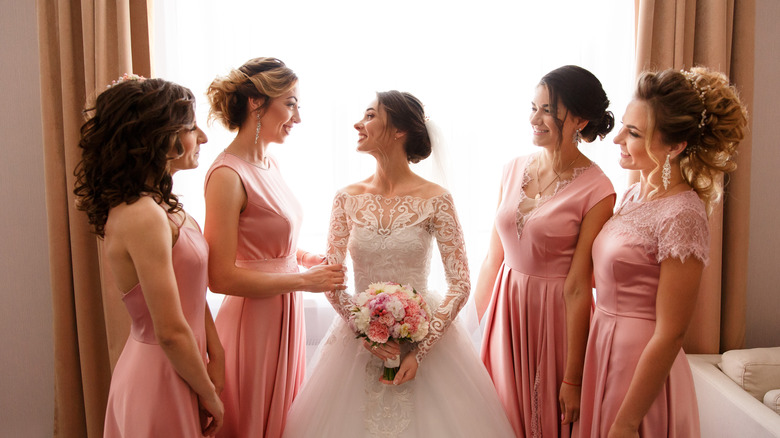 Wedding and lifestyle/Shutterstock
If Miranda Kerr's custom Dior wedding dress has only inspired you, there are ways to implement some of its distinct features for your own wedding dress without fully duplicating it to a T. Think about those stand-out features, and consider which ones are your favorite. Maybe you really admire the high neckline and long sleeves for a more covered up look. With this in mind, look for dresses with similar design. You can find a dress with the same neckline and sleeve style made of lace such as the Olivia Bottega lace A-line wedding dress with a touch of sheer detail. Olivia Bottega also offers a long sleeve dress with a shimmery top and full tulle skirt, or one with a minimalistic fabric material in the same style.
Maybe you really love the detail of the skirt and it's something you want to incorporate into your dress. Just the fabric or thickness of Kerr's dress are also features you can choose to include. Take, for example, the Lulus A-line dress that offers a similar skirt and fabric material of woven Mikado, but with spaghetti straps. Or, incorporate the high neckline and long sleeves with a different style of skirt like the ASOS wedding dress with a mermaid silhouette. Through this method, you can mix and match what you love most about Kerr's dress to create the perfect wedding dress to your liking.