How Britney Spears' Beauty Routine Has Evolved Over The Years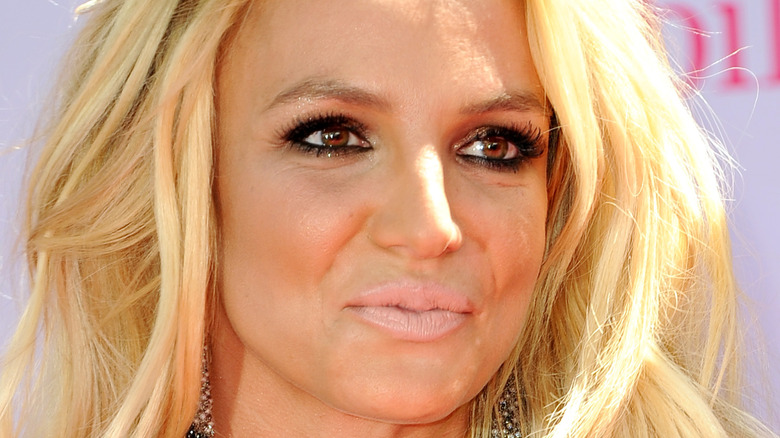 Tinseltown/Shutterstock
Pop music and Britney Spears have become one and the same. The "...Baby One More Time" singer became a household name in the late 1990s and early 2000s when she introduced the world to her mix of sassy, upbeat pop music paired with sugary-sweet vocals. It's something her dedicated fans still can't get enough of. She was only a teenager when she skyrocketed into fame, but her age didn't hold her back from breaking records. Her albums topped the Billboard charts upon release, with her second album "Oops! ... I Did It Again" reaching one million copies sold in just a single week after release (via Biography). Her continued success has only further solidified Spears' position as the Princess of Pop and one of the most recognizable singers of our day.
What fans love most about Spears, besides her fabulous vocals, is her creativity when it comes to fashion. The pop star has had a number of iconic looks since she stepped into the spotlight. From sweet, angelic schoolgirl to bold, seductive snake charmer, this is how Britney Spears' beauty routine has evolved over the years.
Spears favored blue eyeshadow during the beginning of her career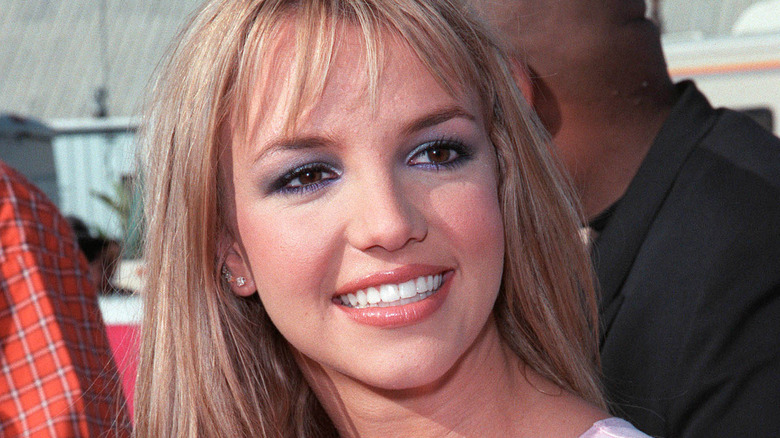 Featureflash Photo Agency/Shutterstock
In September of 1999, Britney Spears would perform at the MTV Video Music Awards in a performance oozing with style. Dressed in a charcoal gray outfit embezzled with sequins and sporting some expensive-looking sneakers, Spears delighted the VMAs audience with one of her most famous songs "...Baby One More Time." MTV shared the video of Spears' stage setup, which was made to resemble a typical high school classroom. The class was filled with bored students who would later jump up and join Britney for a top-notch dance routine.
In this YouTube video, you can see Britney rocking a similar style at the 2000 Z100's Jingle Ball in New York City. Spears and her stylists must have known that this eyeshadow color can make your eyes pop, so you'll see that Spears wore a lot of blue, shimmery eyeshadow during this time. The color was sheer enough not to draw too much attention, which added to the simple-yet-sweet look she was known for during that time.
She's using darker, more natural shades in her beauty routine now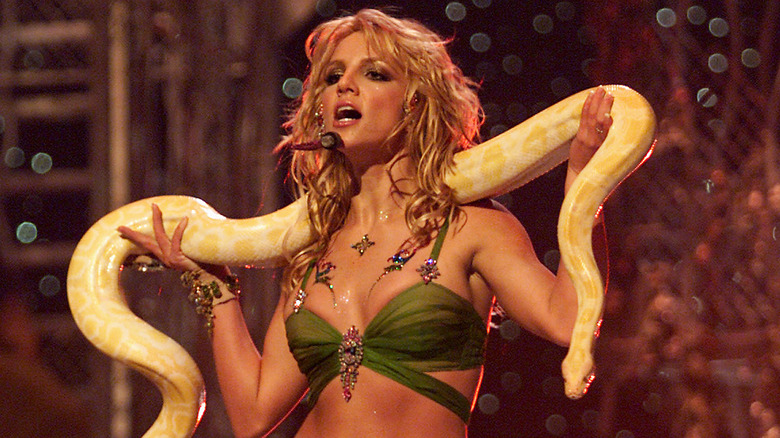 Frank Micelotta Archive/Getty Images
Near the very beginning of her career, Britney Spears embraced being a teenager, and you can see that this influenced her earlier beauty routine. From pigtails to crop tops, Spears singlehandedly made teenagers cool again.
As the 2000s progressed, Spears shed her good girl persona and took on a whole new look that would become the one that most people today think of when Spears is mentioned. Even if you weren't there to see it, everyone has heard of Britney Spears' iconic, animal-filled performance at the 2001 VMAs. According to Splinter News, one reason this performance seared itself into the memories of viewers is because of its "vaudeville" exoticness — we were too terrified to watch, but our eyes remained glued to the stage because we needed to see what would happen next.
We think another reason this performance was so powerful is because it introduced us to a bold new Britney with a brand-new look. It was around this time that Spears' beauty routine got a glow up. You would never think this was the same girl who got her start as a cast member on "The All New Mickey Mouse Club" (via Newsweek). Her normally straight hair was teased to be tousled and curly, and she began to use darker shades in her makeup palettes. This is when Spears began experimenting with her recognizable brown cat eye and heavy eyeliner. You'll still see her flaunting this beauty routine to this day.