Get The Look On A Budget: Blake Lively's Shimmery Pregnancy Announcement Red Carpet Look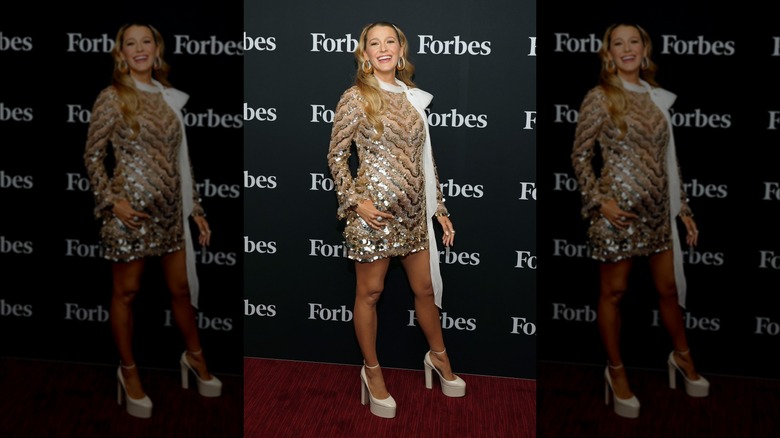 Taylor Hill/Getty Images
From 2007 to 2012, Blake Lively starred as rich Upper East sider Serena van der Woodsen on the CW's "Gossip Girl," introducing us to a range of Pinterest-worthy fashion inspiration along the way. Of course, "Gossip Girl" had its fair share of questionable style moments too — we're looking at you, Waldorf Designs. In reference to her iconic yellow bridesmaid gown from the Season 1 finale, Lively told Vogue, "This dress is one of the most critical fashion moments in 'Gossip Girl.' Eric Daman, our costume designer, was so spectacular and inventive. He took the idea of characters really having a 'look' to the next level." 
Blake Lively has worn countless memorable looks, even when she's not in character. She's specifically known for her Met Gala appearances (via Insider). Since 2009, she's been on the cover of Vogue five times and has a rumored friendship with editor Anna Wintour, per The Cut. 
In 2013, Lively married "Deadpool" actor Ryan Reynolds. The actress has praised her husband's style, even going so far as to say, "I'm very lucky to be with someone who has better taste than me,"  per Glamour. Together, the pair has three children — at a September 2022 Forbes Women in Power event, Lively announced that a fourth is on the way, wearing a shimmering Valentino mini that showed off her baby bump. Even if you're not expecting a movie star's paycheck — or a baby — it's possible to get Lively's look for just a fraction of the price.
'70s-inspired dress
Blake Lively debuted her baby bump in style at the 10th annual Forbes Power Women's Summit, per People. As Lively joked in an interview with journalist Moira Forbes, "I just like to create. Whether that's baking or storytelling or businesses or humans, I just really like creating," (via Cosmopolitan). The actress wore a sparkling gold Valentino dress with a white scarf detail, a design that retails for a staggering $14,000. This 70's-inspired long-sleeve mini may be out of the average person's price range, but it's fortunately not too hard to replicate on a budget. 
Now on sale for just $34, Boohoo sells a gold sequined long-sleeve above-the-knee dress perfect for a classy New Years' party. Alternatively, check out Nordstrom for a figure-hugging silvery fit. Though not quite in Lively's loose retro style, these options will certainly turn heads at any event — whether or not you're a famous actor.
To pay homage to '70s flower power, scroll through the virtual shelves of Asos to find this & Other Stories retro patchwork sequin mini, or check out Nasty Gal's flowing halter top dress now on sale for just $58.
Platform mary jane shoes
On the Forbes red carpet, Blake Lively wore 6-inch Mary Jane platforms that perfectly match this $129.95 Steve Madden pair. For just $76.98, you can find a similar Steve Madden shoe at Nordstrom or even a lilac design at Urban Outfitters for only $69. 
According to Glamour, Blake Lively is her own stylist. "I love design and I love fashion, and it's a way to be creative," she told the publication. "In my job I get to be creative, but it's over a period of time and so many other people are involved, whereas this is a beginning, middle, and end, and I get to be creative and there's an end date in the near future." As the actress explains, she's been able to curate relationships with several designers who have helped her build custom fits throughout her impressive fashion journey.
To complete her Forbes Summit look, Lively accessorized with a white headband, '70s glam hoop earrings, and a set of chunky rings. To finish off your own ensemble with similar accessories, look no further than Etsy's small businesses. You can buy your own pair of bedazzled statement earrings, a satin white headband, and even a collection of gold rings.