Why Mommy Influencer Taylor Paul Is So Controversial
The Mormon community is rooted in The Church of Jesus Christ of Latter-Day Saints. This worship site is headquartered in Utah, making the great state home to many Mormons and apparently mommy bloggers. Taylor Paul is one Mormon mommy blogger who has caught quite the attention, with 3.5 million followers on TikTok. Paul and her army of influencer friends rival that of Madeline Mackenzie and her Monterey crew in "Big Little Lies." But unlike Reese Witherspoon, who could leave the Mackenzie drama at work, Paul's drama is affecting her life on and off camera. 
The mother of two shares a lot of her life on the social media platform. Scrolling through her "MomTok" profile page, it's easy to feel as if you have front-row seats to the mama drama. Her page is littered with videos of the family of four in costumes, the Mormon mom group dressed in unison dancing, and the post that caused an uproar.
Taylor Paul's swinging scandal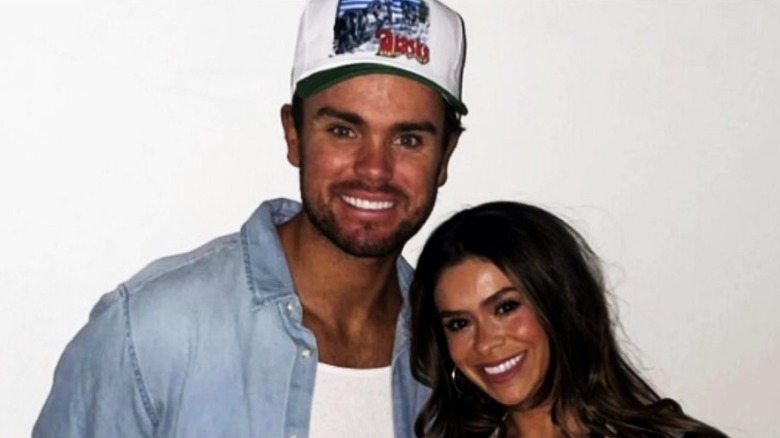 RVillalon/Shutterstock
One of Taylor Paul's recent videos is a love song to someone other than her husband, Tate Paul. Well, ex-husband. The mommy influencer has stirred controversy over the latest update in her life — a divorce. However, divorce is nothing new or surprising. Time reports the chances of a marriage ending is 39% in the United States. There are even several scientific reasons marriages fail. It was the Pauls' reason for their divorce that turned heads.
Rumors spread quickly amongst her millions of followers on what led to the happy dancing couple's split. Paul quickly cleared the air in an Instagram live, via 34th Street, spilling a few secrets from her matrimony. She admits that she and her husband were "soft-swingers." Paul describes her arrangement as intimacy where you "don't go all the way." She reveals, "we had an agreement, all of us, and I did step out of that agreement." 
On the other hand, she does not attribute the divorce to her solely stepping out of the intimacy agreement. The Pauls faced other deal-breaking relationship drama that never made it to the TikTok surface. She does however describe this controversy as "the tip of the iceberg" of their sinking marriage.
Who was a part of Taylor Paul's open relationship
Followers of mommy influencer Taylor Paul speculate who was in this soft-swingers group. Many point to Paul's peers in the MomTok sphere who she has joked about being sister wives. Although Paul does not reveal any names, she does spill that "there are three divorces in our friend group right now," via 34th Street. Only one is unrelated to the swingers debacle. So Paul might not be as alone as she thought in the relationship fallout. Despite the friends lost, she shares "MomTok has been supportive," along with those who know the behind-the-scenes truth.
Perhaps Paul's controversy has you wondering if an open relationship is right for you. In the end, it appears things turned around for good. E! News reports Paul is no longer a part of the Mormon swingers community. She seems to have moved on with Dakota Mortensen, the man in the love song TikTok. As for those worried about how the church will respond to this sexual sandal, this is what Paul had to say "the LDS Church did get the most clicks they have ever got this summer. So I don't think they're going to kick out one of their biggest marketers."