What Does It Mean When A Dress Code Is Black Tie Optional?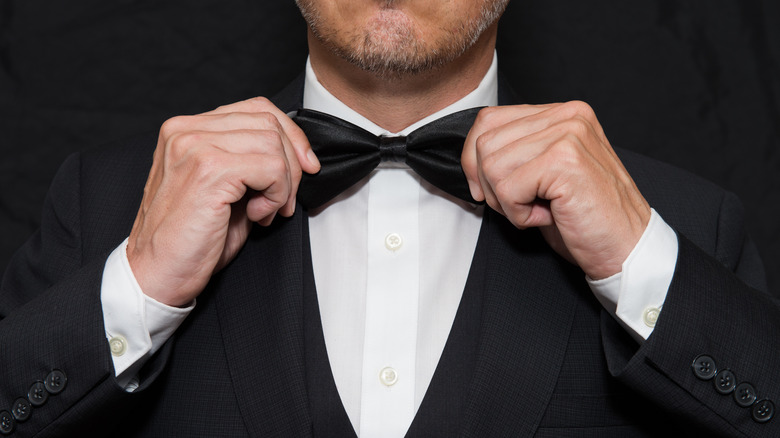 David Stuart Productions/Shutterstock
Have you ever received an invite to a wedding, opened the RSVP card to see a dress code, and felt a subtle sense of nervousness wondering if you had the right kind of clothing in your wardrobe to fit the occasion? 
Yes, there's the budding excitement for an excuse to get dressed up in your best clothes and step out for an afternoon or evening with friends and loved ones for a good time. However,  there is also that nagging feeling underlying it all: Do I have something to wear that won't make me stand out in all the wrong ways?
You're probably familiar with everyday knowledge like what you should never wear to your workplace, but dress codes when it comes to festive events — business casual, semi-formal, creative black tie, black tie, and black tie optional — can start to become a bit mind-boggling and throw you for a loop (via Emily Post). Black tie optional, in particular, can feel like a very ambiguous term, per The Knot, so let's break it down. 
This is what black tie optional means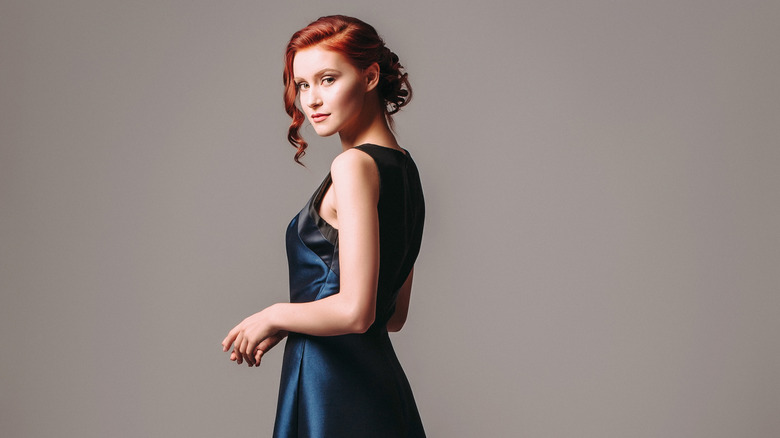 Stylish_Pics/Shutterstock
Black tie optional is a dress code that really just means that there's less rigidity in your choice of attire for the event, per Brides. What you do know, however, is that the hosts of the wedding would most likely be sporting long evening gowns and tuxedos, giving you a slight indication of just how dressed up you can get. 
Stylist Adriana Gonzalez-Ramirez, speaking to Brides, explains that black tie optional is a signal from the soon-to-be-married couple that they'd like their guests to dress up, but this is in no way mandatory. "Men are not required to wear tuxes, but it's a plus if they do. Women should wear full-length dresses, but if someone is wearing a cocktail dress, it would be acceptable," she shares. A very common dress code recently, especially at weddings, black tie optional allows for the freedom of dressing up without the pressure of having to go full-on glam if that's not your style.
While a floor-length dress would definitely fit the dress code, you can also be comfortably within the requirement if you choose a mid-length gown or even an elegant pantsuit, according to Yeah Weddings. Just make sure that your dress isn't too short. As for the color of clothing, anything that steers clear of whites and pastel shades would be appropriate, according to Gonzalez-Ramirez. Try any prints that give a luxurious feel. Lulus recommends blacks and navy blue as good choices.  
How do you accessorize with a black tie optional dress code?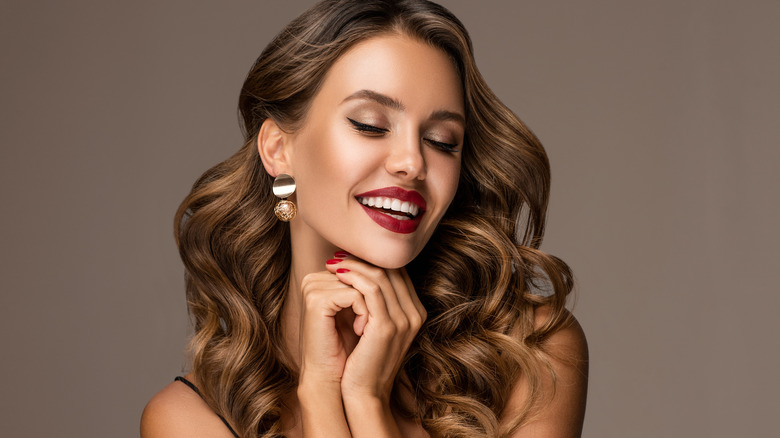 Sofia Zhuravetc/Shutterstock
Your choice of clothing is not complete without accessories — more specifically jewelry, hair, makeup, and shoes. How should you be embellishing your black tie optional dress code with these specifics? 
When it comes to jewelry, you may want to steer clear of excessively lavish accessories, per Yeah Weddings. Stylist Adriana Gonzalez-Ramirez recommends wearing pieces that highlight who you are (via Brides). A classic pearl necklace is a good option, according to The Socialite's Closet. 
As for shoes, heels are the most natural and safe choice just because they look dressy with any gown, but they're not the only option available. Elegant sandals or flats would work too. Hair and makeup for black tie optional evens give you a chance to really get creative. Gonzalez-Ramirez recommends going all out with the makeup and picking hairstyles that break away from your usual look.
Dressing up for weddings and other festive events like engagement parties doesn't have to feel overwhelming if you understand the nuances behind the dress code. Black tie optional may sound confusing at first, but once you know the intricacies of the dress code, it's actually quite simple.