How The Kennedy Clan Plans To Honor Meghan And Harry For Standing Up To The Royal Family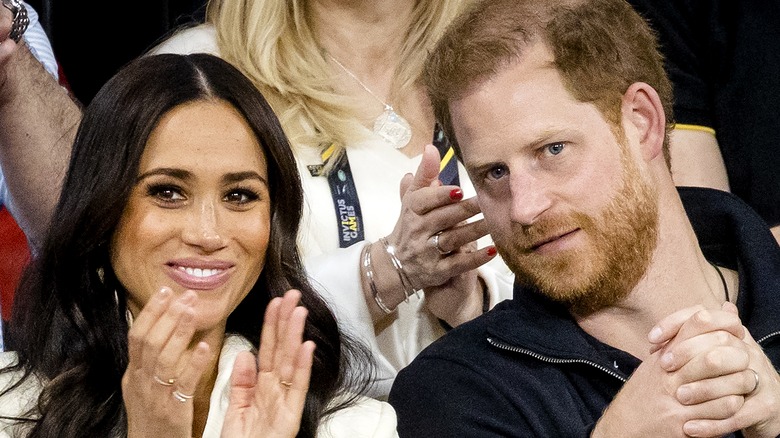 Anp/Getty Images
Originally known as the Robert F. Kennedy Memorial, the Robert F. Kennedy Human Rights organization honors inspiring individuals for their courage and determination to stand up for human rights across the world. Led by the late politician's daughter Kerry Kennedy, who is a human rights lawyer and activist, the organization "is united by a commitment to realize Robert Kennedy's dream of a more just and peaceful world." It holds many award ceremonies throughout the year, including the Book and Journalism Award, the Human Rights Award, and the Ripple of Hope Award.
The laureates for the 2022 Ripple of Hope Award have been announced and include Ukrainian president Volodymyr Zelensky, Siris co-founder Frank Baker, Bank of America CEO Brian Moynihan, and Invenergy CEO Michael Polsky. There will also be a posthumous award for professional basketball player and civil rights activist Bill Russell, who died this year (via The Guardian). 
Prince Harry and Meghan Markle, the Duke and Duchess of Sussex, are also listed among the nominees for their "unwavering commitment to social change" through their charitable work and standing up to the royal family.
Harry and Meghan have been recognized for their work with the Archewell Foundation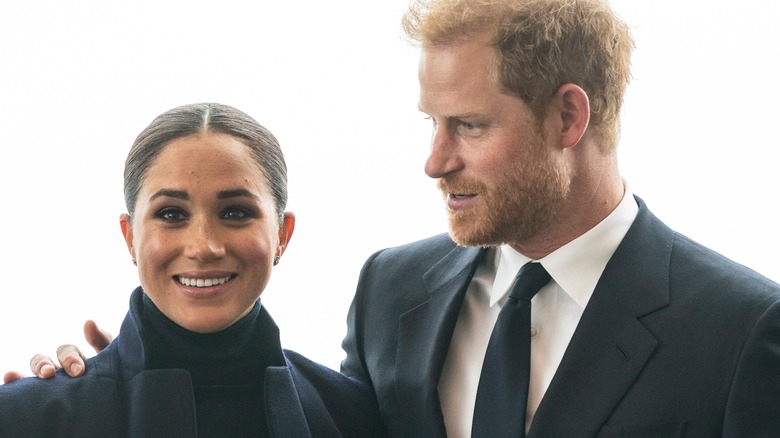 lev radin/Shutterstock
Prince Harry and Meghan Markle, the Duke and Duchess of Sussex, have been chosen as Ripple of Hope Award laureates for their charitable work through the Archewell Foundation. Founded by the couple in April 2020 (via People), the organization is described as "an impact-driven non-profit" that strives "to uplift and unite communities ... online and offline — one act of compassion at a time." The Archewell Foundation partners with various other charities and projects that the Duke and Duchess of Sussex support, including the Aspen Institute, Center for Human Technology, Global Citizen, World Central Kitchen, and Mind.
In a press release announcing the honor (via Robert F. Kennedy Human Rights), Kerry Kennedy said Meghan and Harry were chosen for always having "stood out for their willingness to speak up and change the narrative on racial justice and mental health around the world," adding that they "embody the type of moral courage that my father once called the 'one essential, vital quality for those who seek to change a world that yields most painfully to change.'"
Kerry Kennedy called the Sussexes heroic for standing up to the royal family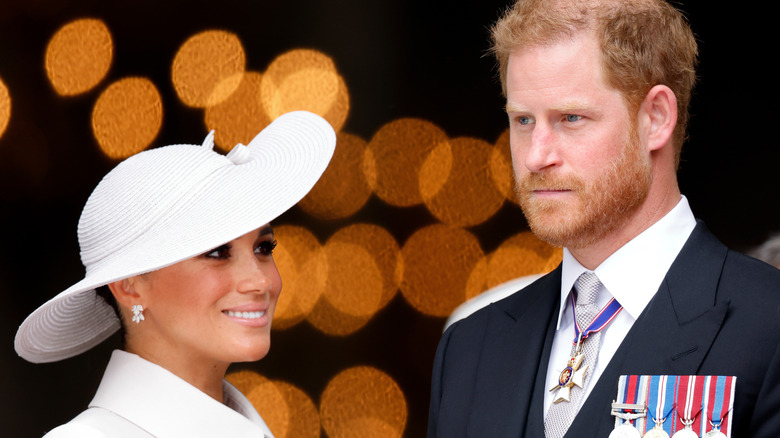 Max Mumby/indigo/Getty Images
In having "demonstrated a lifelong commitment to building strong and equitable communities, advancing the global dialogue around mental health, and advocating for a better world" (via Robert F. Kennedy Human Rights), Prince Harry and Meghan Markle will now be counted among former recipients of the Robert F. Kennedy Ripple of Hope Award like former presidents Bill Clinton and Barack Obama.
Kerry Kennedy also highlighted how impressed she was by the Duke and Duchess of Sussex standing up to "the oldest institution in UK history and told them what they were doing wrong, that they couldn't have structural racism within" the royal family (via Time), as she told Spanish online news site El Confidencial's Vanitatis. 
She commended them for their courage and how the couple acknowledged that "if they did this there would be consequences ... [but] they have done it anyway because they believed they couldn't live with themselves if they didn't question authority," Kennedy explained. "I think they have been heroic in taking this step."