Get The Look On A Budget: Kendall Jenner's Puddle Pants And Chic Flats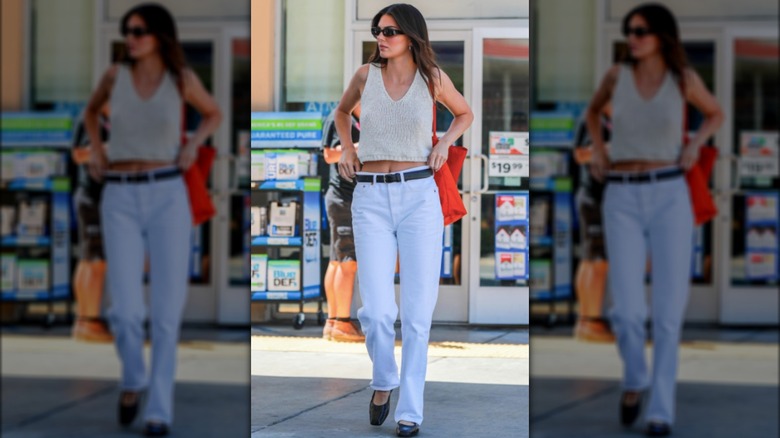 Backgrid
Whether you know her from her family's reality series "The Kardashians" or from walking the runway, Kendall Jenner is a famous face that most people recognize. Everyone knew the eldest Jenner sister from the long-time E! series "Keeping Up With the Kardashians," but the talented star began to make a name for herself outside of her family at a young age. Jenner began modeling for Forever 21 at 14 and before long was walking runways for Chanel, Balmain, and Tommy Hilfiger (via L'Officel). The Los Angeles-born star became the highest-paid model in 2018 — Jenner's astonishing net worth might surprise you.
Not only is Jenner known for what she wears on the runway, but she's also known for her casual yet chic street style. When it comes to the latest fashion, Jenner isn't just following trends, she's setting them. From her leather jackets to her signature jeans, Jenner fans constantly try to recreate her looks for less. A recent look? A trendy outfit incorporating both puddle pants and ballet flats.
Kendall Jenner fans can get her trendy puddle pants for less
Even if she's out running errands, you can always trust Kendall Jenner to be dressed to the nines. Who What Wear captured "The Kardashians" star at a gas station wearing a pair of puddle jeans, one of the biggest trends of fall 2022. Glamour refers to the rise of puddle pants as an "offshoot of the baggy denim trend of the '90s" that became popular after people emerged from the lounge-set-filled days of quarantine. While puddle pants might not be as comfortable as a pair of sweats, they are much roomier than tight and restrictive skinny jeans. 
Jenner's exact pair of pants is unknown, but one can imagine that her denim came with an expensive price tag. If you are looking for a pair of white jeans — which is now a year-round wardrobe essential, according to Vogue — like Jenner's, you can purchase a close dupe from Gap for under $80. While these Gap jeans are a little more high-waisted than Jenner's pair, you can purchase these jeans one or two sizes up to achieve a similar baggy look.
Alternatively, the Raey low-rise baggy jeans are also very similar to Jenner's pair. These $137 jeans are not quite white but are a very faded light-wash blue. Like Jenner's denim, this pair is low-rise and has a long inseam to give you that slouchy yet chic appearance. 
You can easily invest in budget-friendly ballet flats
Kendall Jenner complemented her white puddle jeans with a pair of ballet flats to complete her trendy fall look. While her slingback ballet flats may look modest, that was not reflected in the price tag. If you were to purchase Jenner's exact flats from The Row, this splurge would set you back hundreds of dollars.
Luckily, there's a great dupe for these black slingback flats at Mango for $69.99. These chic black flats share the same sling-back detail as the pair from The Row. However, the Mango shoes have slightly different straps and also include silver hardware. The main difference between the two shoes lies in the toe shape. While the slingback flats from the Row have a square toe, the Mango shoes have a pointy toe.
Sam Edelman also has a dupe for slingback flats from the Row. This $71.95 pair also closely mimics Jenner's, with the slingback detailing and the sleek design. Though they are also pointy-toed and include ruched detailing on the strap, these ballet flats will give you the look you need to recreate this effortlessly chic look.