How To Make A Budget-Friendly Thanksgiving Feast From Items At The Dollar Store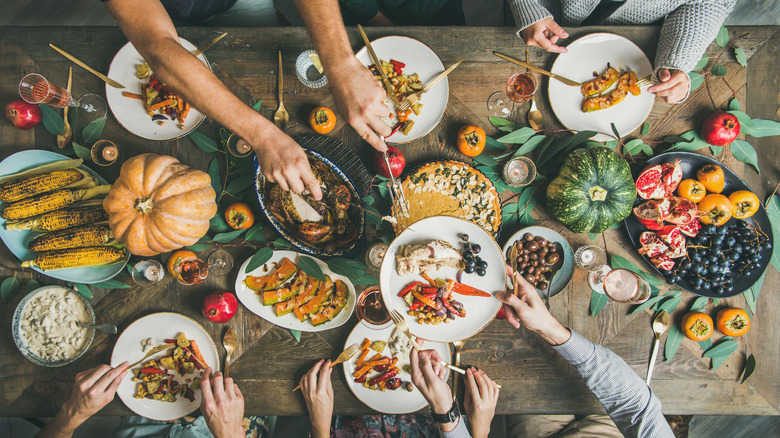 Foxys_forest_manufacture/Getty Images
As we approach Thanksgiving, we have officially reached the holiday season. Whether it's putting up holiday decorations, enjoying pumpkin-flavored everything, or finding the perfect gifts for your family and friends, no matter what your favorite part of the holidays is, there's one thing we can all agree on: 'tis the most expensive season. 
From a big Thanksgiving dinner to a cozy, intimate Friendsgiving, if you're hosting your Thanksgiving celebration this year, you're already aware that there's a lot of pressure. Not only do you have to cook and clean, but you have to purchase loads of ingredients, and that can really add up. Sure –– it's easy to think that being on hosting duty is a great time to splurge and get only the best of the best, but since we're about to embark on gift-giving season, now definitely doesn't feel like the best time to shell out a lot of money for most of us. 
If you feel like your job as Thanksgiving dinner host means you're going to need a big Thanksgiving dinner budget, stay tuned; you're gonna wanna hear this. There's actually a way to serve up an incredible Thanksgiving dinner entirely made up of ingredients from the dollar store (via The U.S. Sun). 
The thrifty Thanksgiving dinner hack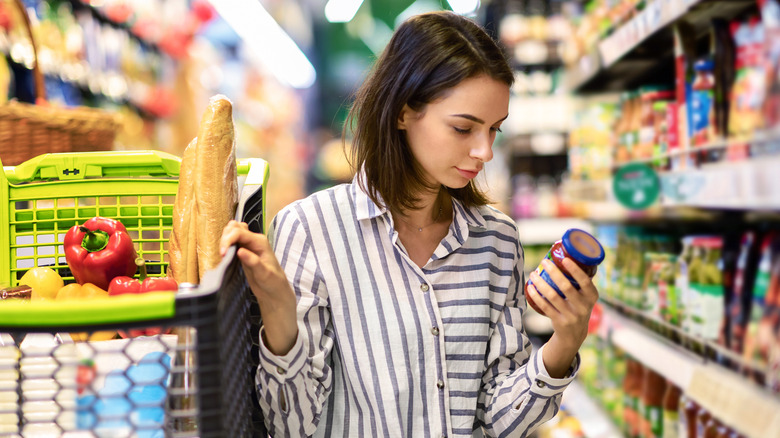 Prostock-studio/Shutterstock
Thanksgiving dinner isn't just any dinner; the food is super important, and traditionally, there's a lot of it. TikToker and bargain hunter, Janelle Rohner, recently posted a video to the app that opened with a voiceover saying, "If you're on a budget this year and you're stressed out, I got you." 
Rohner proceeds to demonstrate picking up many classic Thanksgiving foods at the 99 Cents Only Store, and we are amazed. She starts by showing a box of instant mashed potato mix that costs only $2.99. The store also has potatoes you can use to make your own homemade mashed potatoes, and most 99 Cents Only Stores offer a ten-pound bag for only $4.99 (per The U.S. Sun). Rohner also shows Campbell's Turkey Gravy, canned cranberry sauce, and canned sweet potatoes –– all for $2 a can or less.
Rohner then shows that the dollar store offers solutions to Thanksgiving-related budget worries that stretch beyond side dishes. She shows pie crusts and apple filling for dessert and Martinelli's Sparkling Cider for beverages, all for low prices. Last but certainly not least, she also addresses the Thanksgiving menu elephant in the room –– sorry –– turkey in the room. Turkey can be pricey, but Rohner has a great alternative. She says, "I know turkey is traditional. But very, very, very budget-friendly and easy is a rotisserie chicken at Walmart: $6.97." That's one seriously thrifty and delicious-sounding holiday meal.
Planning an inexpensive Thanksgiving menu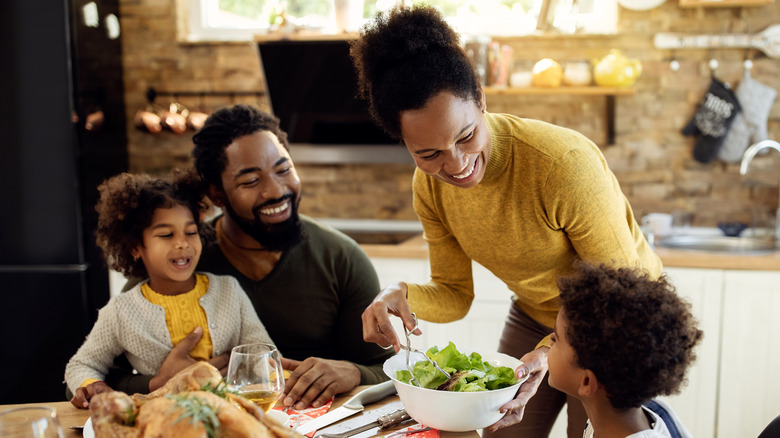 Drazen Zigic/Shutterstock
Besides seeking out classic sides at the dollar store, another great tip for staying budget-friendly this Thanksgiving is creating a menu with exclusively less expensive options and going from there. For appetizers, homemade spinach artichoke dip and stuffed mushrooms are crowd-pleasers that also happen to be easy on the wallet (via Food Network). As for sides, cornbread, roasted sweet potatoes, and brussels sprout salad are filling, inexpensive options. There are, of course, some classic staples that already tend to be on the cheaper side, so it's worth it to include them in your meal. This goes for things like green bean casserole, stuffing, mashed potatoes, and warm apple pie for dessert.
Furthermore, when planning out your Thanksgiving dinner menu, opt for canned foods and frozen vegetables where you can (per Opportunity Financial). Try to keep dishes and drink options on the simple side. Also, keep in mind that one great thing about Thanksgiving is the leftovers, so think about how you can plan to have leftovers ahead of time; that way, you can get more than just one meal out of the food you're buying. Plus, since you know this dinner is going to be delicious, you're definitely going to want to eat it again anyway.