The Best Electric Toothbrushes Of 2022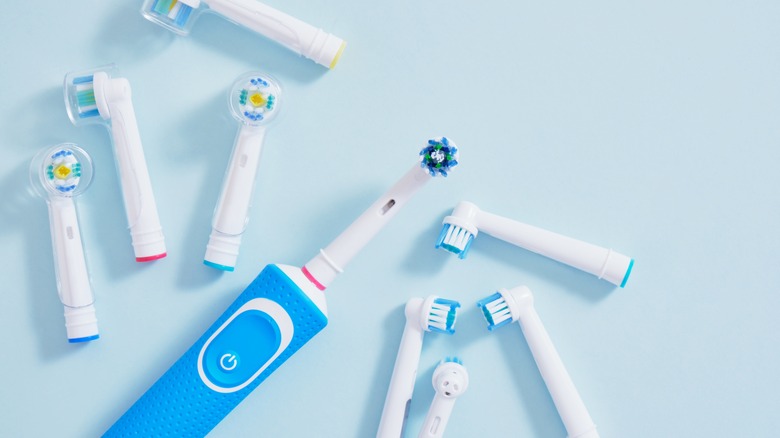 TShaKopy/Shutterstock
We may receive a commission on purchases made from links.
As dentists remind us constantly, brushing your teeth twice a day is key to maintaining your oral health. Brushing in the morning and before you go to bed can help keep plaque and bacteria from growing and spreading in your mouth. Any decent toothbrush with soft or medium bristles will help keep your teeth and gums clean.
While many people opt for a manual toothbrush, an electric toothbrush often provides more effective results. According to Biltmore Avenue Family Dentistry, electric toothbrushes remove plaque better than manual ones, have built-in timers to ensure you're brushing for the proper amount, and have a pressure sensor so your teeth and gums don't get irritated.
Electric toothbrushes are also accessible in terms of usage. For people who have mobility issues and don't have as much control over their hands and wrists, electric brushes don't need to be moved too much. They're also good for the environment since many brands create attachments, allowing you to keep the brush itself and switch out the head when needed (via Healthline).
Although electric toothbrushes are accessible when it comes to use, they're not always accessible in price. We've compiled a list of the best electric toothbrushes of 2022 for every budget, many of which are on sale with Black Friday deals!
The best electric toothbrushes of 2022 under $50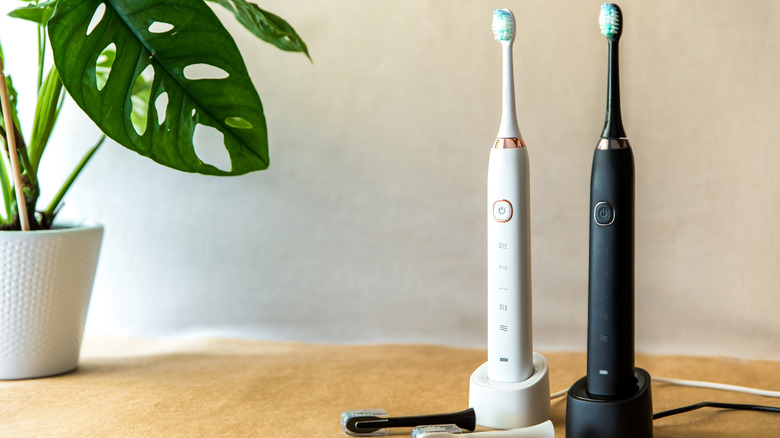 Damian Lugowski/Shutterstock
The Oral-B Pro 1000 Power Rechargeable Electric Toothbrush has a 4.6 rating on Amazon, with 78% of purchasers giving the electric brush five stars. The soft-bristled toothbrush is $29.94 and fits with other Oral-B brush heads such as the Precision Clean and 3D White attachments. It has a pressure sensor that alerts you when you're brushing too hard and comes with a two-minute timer to let you know when to stop brushing.
The Phillips Sonicare 4100 Power Toothbrush is a great toothbrush for people who are new to using electric brushes. At $29.99, the brush gets rid of up to five times more plaque than a manual toothbrush. It has two intensity settings and a two-minute timer. It fits with other brush head replacements and has a battery life of up to two weeks.
For frequent travelers, the Phillips One Sonicare Rechargeable Toothbrush is the best option. The sleek electric toothbrush will only run you $25.99, which is affordable compared to other toothbrushes. The brush has a two-minute timer and a 30-second timer that remind you to brush a different part of your mouth. It comes with a case for traveling and has a battery life of up to 30 days.
The best electric toothbrushes of 2022 under $150
Brizmaker/Getty Images
For a multi-use product, try the Waterpik Complete Care 5.0 Water Flosser and Triple Sonic Toothbrush is a two-in-one product for $79.99. The device is equipped with a Waterpik flosser and an electric toothbrush that has three different brushing speeds and modes. It also comes with five water flosser tips, two brush heads, and a travel case.
The Snow LED Electric Teeth Whitening Toothbrush has an LED light to help whiten teeth as you brush. The 2022 New Beauty Award-winning toothbrush uses a two-minute timer with 30-second intervals to let you know how long you should be brushing. It also has a charging case, two LED brush heads, and a long-lasting battery, all for $119.20.
As suggested by several dentists, the Rotadent ProCare Professional Rotary Toothbrush is another great option. Dental Care Stamford says that the Rotadent brush is an ideal electric toothbrush thanks to its performance in clinical trials and its patented micro-filament bristles that are gentle on the gums and clean more effectively than other brushes. It's said to remove up to 92% of plaque within the first minute of brushing. The brush is $149 and comes with a charger and two brush heads; a short tip one and a hollow tip one.