How To Get Ariana Grande's '60s Inspired Hairstyle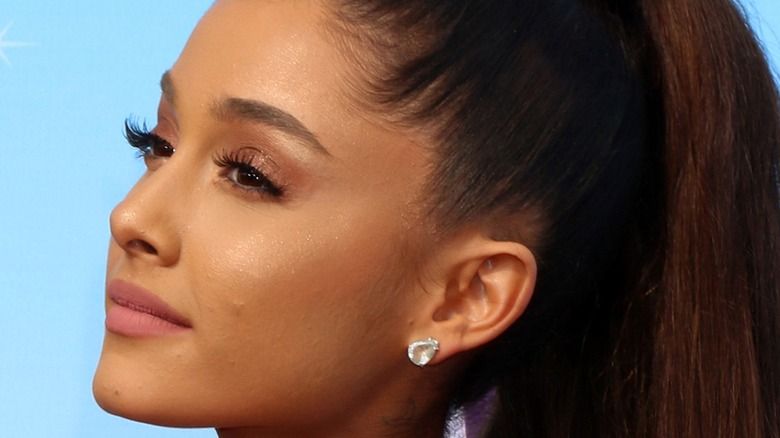 Kathy Hutchins/Shutterstock
One of our favorite Ariana Grande hair eras is that of her '60s hairdo. The rounded bouffant shape, the feminine flip, the potential for accessorizing–this hair does it all. Former First Lady Jacqueline Kennedy Onassis is largely credited with bringing this particular hairdo to the American masses in the 1960s; when the first-ever televised presidential debate between her husband, John F. Kennedy, and Richard Nixon was aired in 1960, she was in attendance — with her stylish hair — gracing television screens and inspiring women's new hairstyles, per Leon Studio One.
Similarly debuted on-screen in her 2020 "Positions" music video, in which Grande alternates between roles as a housewife and president, Grande's hair remained front and center. Grande's hair stylist for the video, Josh Liu, told Byrdie that he updated Grande's trademark ponytail by giving it a vintage spin. "The beauty concept was presidential beauty and the first person who came to mind was the absolutely iconic Jackie Kennedy Onassis," he said. With that said, I delved deep into iconic mod hair of the 1960s and ran with it: go big, go home, go presidential."
The hairdo soon became a Grande signature, and around the world, fans of the pop superstar wondered: what would it take for my hair to do this?
The step-by-step process
Hairstylist Josh told Byrdie how to recreate Ariana Grande's memorable '60s-inspired hairstyle. Spoiler alert: you're going to need a lot of hair spray.
First, to make the hair more malleable, Liu advises you to texturize it; spray the roots of your hair with either a volume spray or some kind of texture spray as prep. Next comes arguably the most important part of the process: thoroughly teasing the hair with a fine-tooth comb so it begins to take its shape. The tease is the base upon which the rest of the hair is built, so it is better to slightly overdo it than underdo it; the tease can be brushed out but not easily rebuilt, says Liu, and this tease should be "densely packed." To lock the tease in place, spray it with a strong hairspray or press it with a flatiron — Liu uses a T3 Lucia ID straightener, but feel free to use your own or another expert-recommended hair straightener. 
It is wise to section your hair while teasing for the best results, per Hair.com, and be mindful that teasing your hair too much could cause breakage or matting if not properly cared for. When you're ready to take out the tease, use conditioner on your hair before getting into the shower as a detangler, per Cosmopolitan.
Popstar hair like Ariana Grande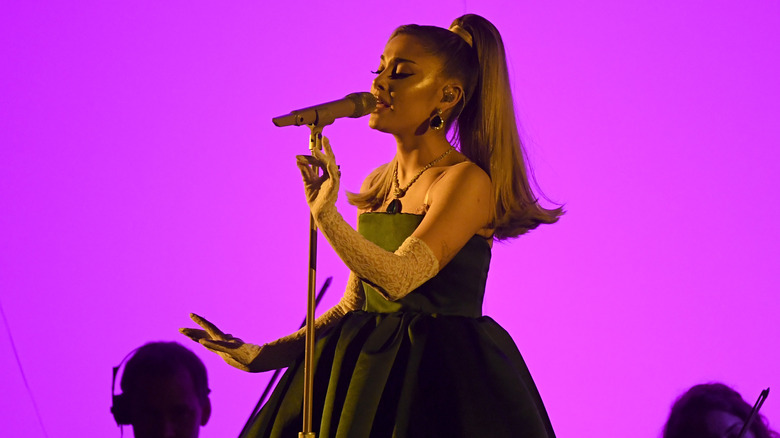 Kevork Djansezian/Getty Images
Then, to refine the shape and look of the hair, Josh Liu told Byrdie to brush the top of your hair over the tease and douse it with hairspray again. Now, the hair is ready to come to life with curls. Beginning with the ends, curl the hair up to your ears and pin it in place. Then, of course, spritz the curl with some more hairspray! Repeat this process until all of your hair is curled. 
If you want to achieve beautiful curls without heat, you could also try pin curls to achieve those glamorous spirals. First, spritz the hair with a little water. After taking a section of hair from the front of your head, wrap it around two fingers, and pin the hair to your head with a bobby pin, per Pop Sugar. Repeat the process to the back of your head. Your curls are done when the hair has dried. Next, remove the pins and brush the hair out from the bottom, says Liu, presumably to not brush out the teased hair so much that it loses its volume. Then, finish the look off with — you guessed it — one last round of hairspray.
The '60s called — they said you and Ari look amazing!