The Essentials You Need When Dressing For A Winter Wedding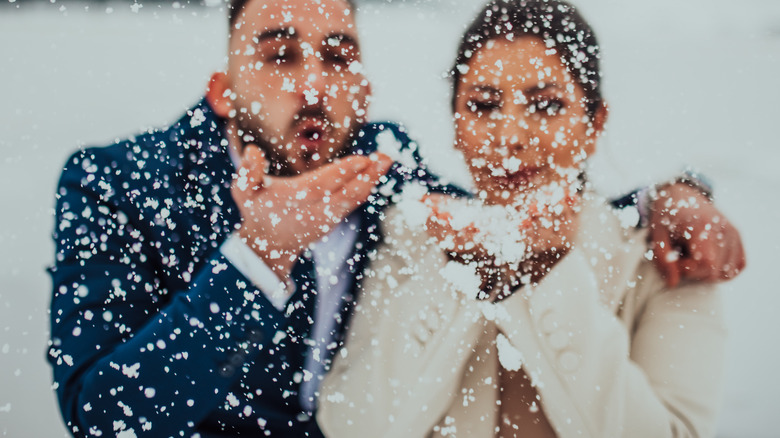 Minet Zahirovic/Getty Images
"Friends" characters Phoebe Buffay (Lisa Kudrow) and Mike Hannigan (Paul Rudd) will forever be credited for making winter weddings look romantic despite the snow and biting cold (via IMDb). There's an undeniable magic to winter weddings that can only be explained by the festive atmosphere in the air and the beautiful white backdrop the season offers, per Inside Weddings. Winter weddings are actually a great way to avoid the rush of peak season, be original, and reap the benefits of having no clamminess in the air to mess up your hair and makeup, according to Vaughn Barry Photography. 
If someone you know has decided to take the less-conventional route and plan a wedding during one of the coldest months of the year, you might catch yourself spending extra time contemplating your outfit as a guest to the event. You want to look presentable and stylish but you also want to keep warm. Contrary to what you might be fearing, winter weddings actually present an array of clothing options for guests (via Budget Savvy Bride). 
Here are some essentials you'll need when dressing for a wedding during the frosty season. 
Scarves, shawls, coats, tights, and more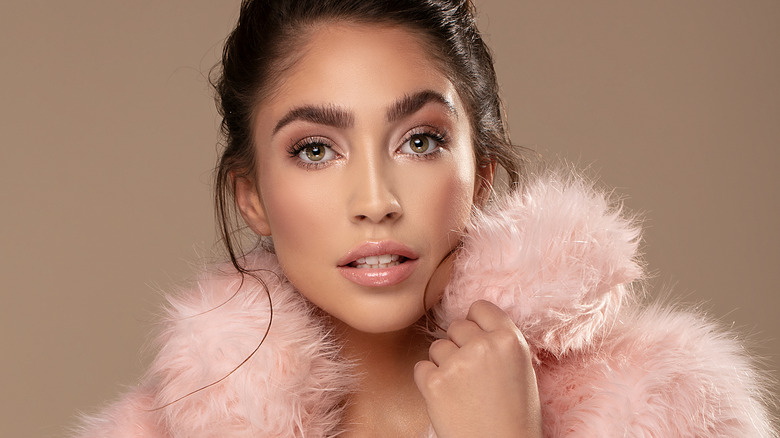 Neonshot/Getty Images
Stylist Chriselle Lim shares that it's not necessary to forgo an elegant ensemble just because it's snowing outside. You can simply pair some of your favorite festive fall dresses with a heavier coat or jacket for a winter wedding. Since wool coats tend to look bulky on the wearer, you can style them with a belt so it's a snug fit (via Glamour). Winter weddings generally tend to be formal so long wool coats make perfect outerwear, reports Wedding Wire. Just make sure the jacket or coat is sophisticated and not too casual-looking. As for what you'll be wearing under the coat, the choice of fabric becomes more significant with a winter wedding. Thicker materials like velvet and wool are good options. The length of the dress could be long or short, depending on how warm your accessories are. 
Scarfs are some of the best winter accessories you can own, especially for weddings, per Budget Savvy Bride. If you're not going to be spending a lot of time outdoors between wedding venues, shawls do the trick of keeping you warm and making you look elegant (via Wedding Wire). Tights are another smart item you can add to your ensemble, according to Lim, per Glamour.
With footwear, there are a few things to keep in mind. Designer Melissa Sullivan told Wedding Wire, "Winter weddings are a great excuse to break out your favorite classic footwear — closed-toe, rounded, and pointed pumps are very popular given their elegance and warmth." 
Choosing colors for a winter wedding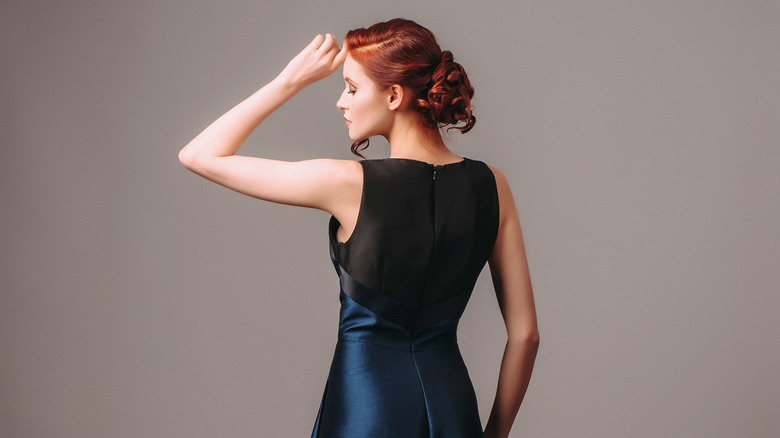 Stylish_Pics/Shutterstock
As a guest dressing for a winter wedding, you may want to think about colors too. While summer welcomes florals, those warm prints won't suit the coldest months of the year (via Brides). Founder of luxury womenswear label Markarian Alexandra O'Neill explains, "Heavier fabrics in rich, deep-hued prints or brocades and velvets are always perfect for winter weddings." In fact, one of the reasons why winter weddings are exciting is the fact that you have a choice between all the colors of the winter season, per Wedding Wire. 
While the rich colors of copper, red, burgundy, black, navy blue, deep purple, and emerald green are popular choices, this doesn't mean you can't dress in brighter shades like orange and pink, according to The Knot. Designer Melissa Sullivan thinks winter weddings are the perfect time to stand out in a crowd with your choice of color (via Wedding Wire). 
Do you have a winter nuptial coming up soon? Or maybe you have more than a handful to attend. These clothing essentials might make you rethink what winter clothing items are important to add to your winter wardrobe, just so that you're prepared to pull them out for more festive occasions like weddings.